Vancouver TheatreSports™ (VTS) is tickled pink to present Romance Week from Tuesday, February 5 to Thursday, February 14 at The Improv Centre on Granville Island. Ticket prices start at $10.75 – less expensive (and less fattening!) than a box of chocolates – and are available online at www.vtsl.com.
It's common knowledge that romance thrives when sprinkled liberally with laughter. There's no better place for a little romance and a lot of laughter than at a VTS show. Did you know that The Improv Centre is one of Cupid's favourite hangouts? Many patrons have told us that their first date with their now partner was at a VTS show. In fact, there have even been some marriage proposals made during our shows – no joke!
So forget the boring box of chocolates for Valentine's this year and bring your 'someone special' for a week of 'improv and chill' as VTS celebrates the fun and funny of romance with three special shows during Romance Week. VTS' talented improvisers will win your heart and put the 'ha-ha' in 'Ha-ha-ppy' Valentine's with:
Love Matches– classic TheatreSports™ matches with a romantic twist.
Love Unscripted– an improvised rom-com celebrating all the inane clichés and funny, awkward moments you'd expect to see in any romantic comedy as suggested by the audience.
Red Hot Improv– taking its cue from today's hook-up culture. If you think OK Tinder is steamy, you'll want to swipe left on Red Hot Improv's xxx-rated hilarity. (NC17)
Romance Week 'climaxes' with My Funny Valentine – VTS' special Valentine's Day event on Thursday, February 14 – which will be hosted by none other than Cupid along with the Goddess of Love, Aphrodite. My Funny Valentine features an all-out love battle of epic proportions as three 'improv couples' duke it out in an audience-inspired competition to prove that love conquers all. This full evening event will also include special roving characters, a 'Love Astrologer' who will check your 'Love Chart' (are your sun signs compatible?), personalized improvised love sonnets you can take with you, and drink specials such as personal-size bottles of sparkling Henkell Rosé.
Are you single and think love stinks? Come on down anyway! Grab a gaggle of equally single friends and have a fun night together. Memories created by an evening of laughter will last a lot longer than any bouquet of roses.
Tickets at www.vtsl.com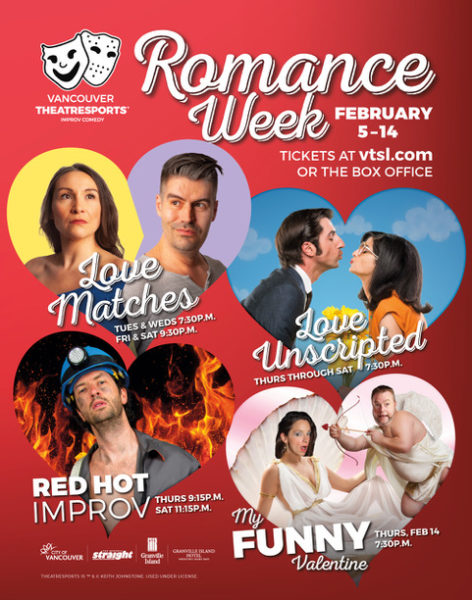 For performance times during Romance Week and further information on Vancouver TheatreSports™, please visit the following platforms:
Website: www.vtsl.com
Facebook: www.facebook.com/VanTheatreSports
Twitter: www.twitter.com/VanTheatreSport
Instagram: www.instagram.com/vantheatresports
YouTube: www.youtube.com/user/vantheatresports/featured