Théâtre la Seizième is thrilled to present the world premiere of its newest production, Le Soulier, from Wednesday, February 27 to Saturday, March 9 at Studio 16 (1555 W. 7th Avenue). Written by award-winning Quebec playwright David Paquet, and directed by Esther Duquette and Gilles Poulin-Denis, this dark comedy is full of touching and relatable characters trying so very hard to be happy.
Melanie's son Benoit, age 8, has a pain that won't go away so she takes him to the dentist. This results in an epic meltdown. You see, with Benoit, nothing is ever simple. Once in the dentist's chair, the story unfolds and Benoit turns out to have a lot more than cavities inside his mouth. Melanie – with the help of a kind, alcoholic receptionist and a dentist who prefers plants to people – must face the fact that her son's problems are much larger than a simple toothache.
David Paquet, recipient of the 2010 Governor General's Award for French-language drama and the 2017 Prix Michel-Tremblay for his play Porc-épic, has written a hilarious and unsettling play in which empathy triumphs over illness. With Le Soulier, as in his previous work, David Paquet has successfully developed a colourful language that transports the audience into a Baroque universe with a hint of magical realism. Under the appearance of a whimsical comedy, Le Soulier is actually a drama about mental health issues. The addressed topics – behavioural disorders, psychological suffering and the empathy it can inspire, exhaustion, and self-medication – are dealt with a light but dark and always appropriate humour.
Directed by Esther Duquette and Gilles Poulin-Denis (Straight Jacket Winter), Le Soulier will be brought to life by award-winning Vancouverites Annie Lefebvre, Joey Lespérance and France Perras, along with the young and talented Félix Beauchamp from Toronto; and will reunite Jessie Award winners Drew Facey (set and costume design), Malcolm Dow (sound design), and Itai Erdal (lighting design). In addition, Théâtre la Seizième welcomes major Canadian dance figure Noam Gagnon (movement) and Aidan Hammond (stage management) to the production.
February 27 – March 9, 2019 |Studio 16 | 1555 W. 7th Avenue 
Opening Night:  February 27, 8:00pm
Performance Times:  Tuesday-Saturday, 8:00pm (with English surtitles Tuesday-Thursday & Saturday)
Tickets:  From $26 at www.seizieme.ca | 604.736.2616
Post Show Talkback:  March 1st, French | March 9, bilingual
Le Soulier will be presented with English surtitles every evening of the run except on Fridays.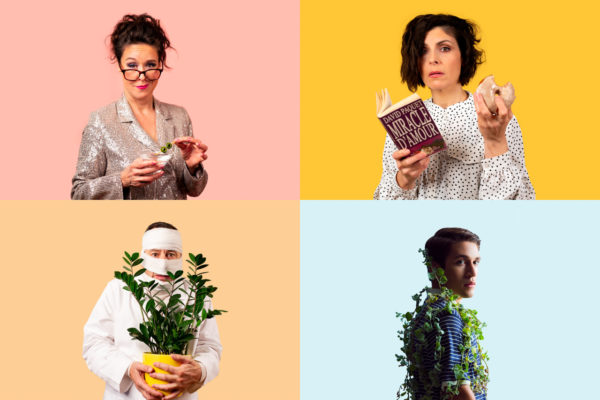 Credits for Le Soulier:
Playwright:  David Paquet
Producers:  Théâtre la Seizième
Directors:  Esther Duquette & Gilles Poulin-Denis
Performers:  Félix Beauchamp, Annie Lefebvre, Joey Lespérance, & France Perras
Set/Costume Design:  Drew Facey
Sound Design:  Malcolm Dow
Lighting Design:  Itai Erdal
Movement:  Noam Gagnon
Stage Management:  Aidan Hammond
For more information on Théâtre la Seizième, please visit the following platforms:
Website: www.seizieme.ca
Facebook: www.facebook.com/seizieme
Twitter: www.twitter.com/seizieme
Instagram: www.instagram.com/laseizieme