Chicago's Manual Cinema Returns with Multimedia Production
Featuring Shadow Puppets, Video Projection, and a Six-Piece Live Band
The Chan Centre for the Performing Arts at the University of British Columbia presents the dazzling multimedia work No Blue Memories: The Life of Gwendolyn Brooks on February 24, 2019, at 7pm in the Chan Shun Concert Hall as part of the Beyond Words series. The late poet was a radical and disruptive presence within the national literary scene, becoming the first African-American to win the Pulitzer Prize in 1950. In this ambitious creation, innovative art-collective Manual Cinema collaborates with Chicago-based poets Eve L. Ewing and Nate Marshall to craft an inspiring biographical narrative, featuring a live six-piece band and original score by Jamila Woods and Ayanna Woods.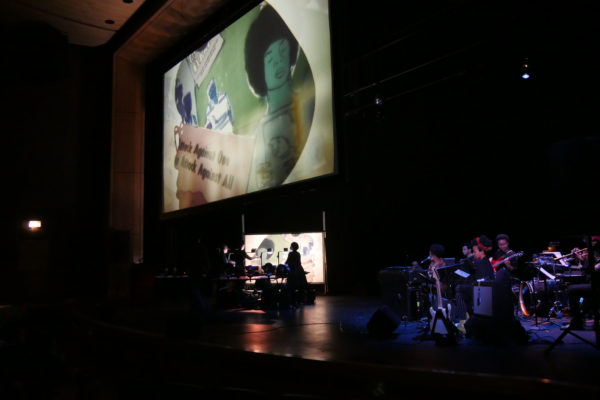 "Manual Cinema creates magic, pure and simple. Through the unlikely pairing of high-tech digital equipment and old-school overhead projectors they are known for completely captivating audiences," says Wendy Atkinson, Programming Manager at the Chan Centre and curator of Beyond Words. "Two years ago they performed here to rave reviews and when I heard about their most recent project — a biography of poet Gwendolyn Brooks that also includes a live band — I couldn't resist inviting them back!"
Born in 1917 in Kansas and raised in Chicago, Gwendolyn Brooks worked for decades as an acclaimed artist, mentor to aspiring poets, and advocate for schoolchildren. She became one of the most widely read authors in America, using her poetic eloquence to convey the black experience. The Pulitzer Prize-winning Annie Allen was a collection of poignant portraits, and was the first of Brooks' many boundary-breaking accomplishments. She was the first black woman to become a poetry consultant for the Library of Congress, the first to be inducted into the American Academy of Arts and Letters, and was appointed Poet Laureate of Illinois in 1968.
No Blue Memories traces the political arc of her career and the development of her craft. Manual Cinema's production uses a combination of exquisite shadow puppetry, vintage overhead projectors, multiple screens, actors, live feed cameras, multi-channel sound design, and live music. Written by Ewing and Marshall — also known collectively as Crescendo Literary, a name taken from a Brooks composition — the evocative performance poetically explores her legacy. Fellow Chicago-based soul singer Jamila Woods collaborated with multi-instrumentalist Ayanna Woods for the original score, which will be performed live. The multimedia work was commissioned by the Poetry Foundation for Brooks' centenary in 2017 and premiered in Chicago.
Manual Cinema was founded in 2010 and is a performance collective, design studio, and film/video production company. They combine handmade shadow puppetry, cinematic techniques, and innovative sound and music to create immersive visual stories for stage and screen. With expertise in choreography, movement, composition, interactive media, and puppeteering, Manual Cinema's Co-Artistic Directors, Drew Dir, Sarah Fornace, Ben Kauffman, Julia VanArsdale Miller and Kyle Vegter are a formidable force whose talent has taken them around the world. They return to the Chan Centre by popular demand following a sold-out show in February of 2017 when they delighted audiences with their award-winning gothic masterpiece Ada/Ava in the Telus Studio Theatre.
Chan Centre Connects Events (chancentre.com/connects)
A series of ancillary events programmed in conjunction with Chan Centre performances, exploring the role of arts and artists in society.
Telling Stories with Shadows: A Workshop with Manual Cinema — Sat, Feb 23, 7pm at the Vancouver Art Gallery (750 Hornby St). Manual Cinema provides a behind-the-scenes look at their immersive storytelling techniques and inventive cinematic language in this two-hour interactive workshop. $25.
Pre-Show Talk with Jillian Christmas — Sun, Feb 24, 6:15pm in the Royal Bank Cinema at the Chan Centre. Jillian Christmas, local poet and former Artistic Director of Verses Festival of Words, explores Brooks' legacy and literature. Free for ticket holders.
About the Beyond Words Series
The Chan Centre's Beyond Words series was launched in 2012 to explore the power of storytelling through performance as an agent of change and means of igniting conversation. Previous events have included sold-out engagements with avant-garde multimedia artist Laurie Anderson, as well as Inuit throat singer Tanya Tagaq and trailblazing Greenlandic mask dancer Laakkuluk Williamson Bathory. In fall 2018, the series presented Hawaii's first official poet laureate Kealoha.
About the Chan Centre for Performing Arts at UBC (chancentre.com)
Since 1997, the Chan Centre for the Performing Arts in UBC's Arts & Culture District has earned an international reputation for its striking design, stellar acoustics, and exceptional programming. From classical, jazz, theatre, and opera to world music, the Chan Centre is a vital part of UBC campus life where artistic and academic disciplines merge to inspire new perspectives on life and culture. Past performers and guest speakers include: Wynton Marsalis, His Holiness the Dalai Lama, Renée Fleming, Dan Savage, Yo-Yo Ma, Buena Vista Social Club, Sigur Rós, Aida Cuevas, Trombone Shorty, Jane Goodall, Chick Corea, Herbie Hancock, Goran Bregović, and Bobby McFerrin.
LISTING INFORMATION
Chan Centre Presents
No Blue Memories: The Life of Gwendolyn Brooks
Date:
Sunday, February 24, 2019 at 7pm
Ticket Prices:
From $20
Address:
Chan Centre for the Performing Arts
University of British Columbia
6265 Crescent Road
Vancouver, BC V6T 1Z1
Box Office:
604-822-2697 / chancentre.com
In person at the Chan Centre ticket office
Open Tue–Sat, 12pm–5pm
Website:
chancentre.com