Valentine Romance at Ladurée

Ladurée celebrates the day of love with red rose theme in limited edition boxes, pastries, and romance menu
Roses are red and this Valentine's Day, prepare to be romanced by Ladurée's new love collection named "Ladurée à la folie", based on the classic French Daisy Petals game. But instead of daisies, red rose petals and sweet words are featured in the Ladurée Romance menu and limited edition items: macaron gift box designed by French stylist and illustrator Marie-Victoire de Bascher, Poppy Religieuse, and Ginger-Raspberry Saint-Honoré pastries.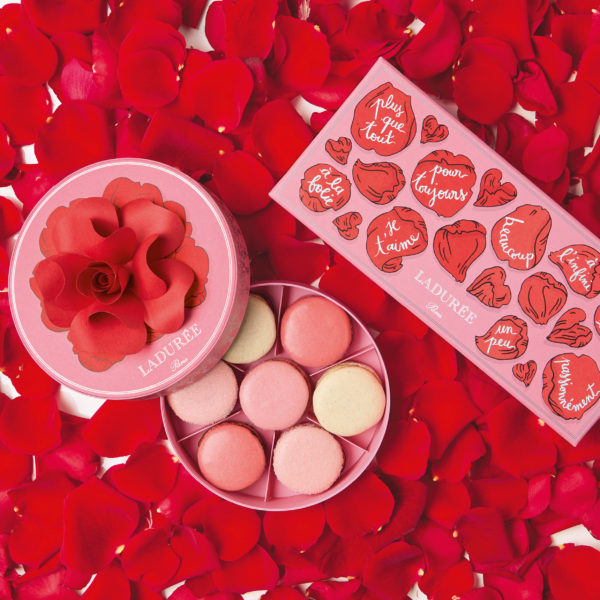 "Valentine's Day is a beautiful time to celebrate those we love," says Olesya Krakhmalyova of Ladurée Canada. "Maison Ladurée is known for creating enchanting, timeless, and enduring collections, and "à la folie" is no exception. The symbol of the red rose is prevalent throughout but done in a playful way – a great homage to the traditional Daisy Petals game. We look forward to having people visit our two locations in Vancouver – either to pick-up gifts for a loved one, to sit down and enjoy our Romance menu, or to treat themselves."
The exquisite de Bascher designed seven-piece macaron gift box ($38) is round, pink, topped with a large paper red rose, and features a quirky design. Customers can select from Ladurée Vancouver's 14 macaron flavours (such as rose, vanilla, strawberry candy, raspberry, orange blossom) and each flavour will have a hidden word underneath.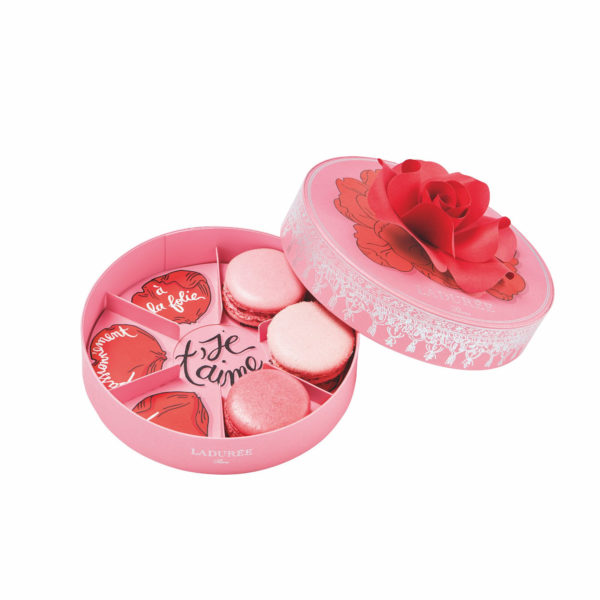 The Ladurée Romance menu ($50 per person or $60 with the Royale Ladurée cocktail) is available February 14 to February 17, 2019 and includes: tea, coffee, or hot chocolate, two macarons, a Valentine's Day pastry, two mini viennoiseries, finger sandwiches, and a fruit salad featuring a delightful combination of pomelo, apple, lychee, raspberry, pomegranate, and rose petals.
For the pastries ($11 each), the Poppy Religieuse features a poppy-flavoured cream, cherry compote, semi-candied cherries, and coated in red marzipan with white chocolate hearts. The Ginger-Raspberry Saint-Honoré is composed of light vanilla cream, a raspberry confit with fresh ginger, and topped with lime Chantilly and white chocolate hearts. Customers can purchase both together in a special two-piece pink and red pastry box, also designed by de Bascher, for a romantic dessert for two at home.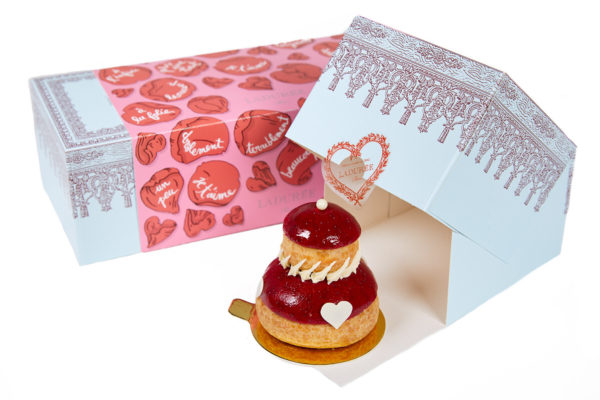 Other Valentine's Day gifting options include the classic Ladurée macaron boxes in various colours, luxury hampers (gift boxes starting at $108), teas, and chocolates.
Vancouver Ladurée Boutique and Tea Salons are located at 1141 Robson St., and inside Holt Renfrew at 737 Dunsmuir St. Pastry selection may vary depending on the location. Pre-orders welcome.
About Ladurée
Ladurée is a world-renowned luxury French pâtisserie, with a rich history dating back to 1862. Ladurée is best known for creating the world's most delectable macarons, presented in exquisite gift boxes, alongside delicious pastries, sweets and savoury treats. Around the world, Ladurée tea rooms offer irresistible culinary delights in elegant and traditional surroundings: a veritable hymn to innovative sweets and pastries.
In 2016, Olesya Krakhmalyova opened Canada's first Ladurée in Vancouver. Now, Ladurée has three boutiques and salons in the country: Ladurée Yorkdale (3401 Dufferin Street, Toronto), Ladurée Robson (1141 Robson St., Vancouver), and Ladurée Holt Renfrew (737 Dunsmuir St., Vancouver).
www.ladureecanada.ca | Instagram: @ladureecanada | Facebook: LadureeCanada