Eleven of Canada's top chefs competed in three gruelling competitions on Feb 1 and 2, with one goal, to win gold and stand on the podium as the Canadian Culinary Champion for 2019.  The 13th annual Canadian Culinary Championships took place in Kelowna, B.C. and the competitions were exciting for competitors, judges and guests.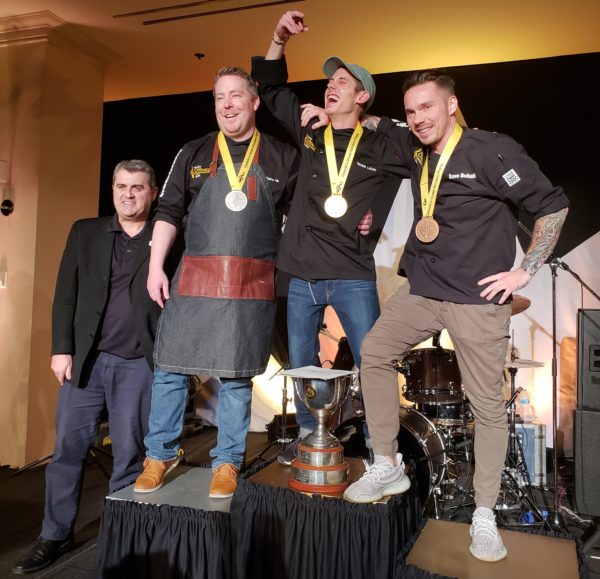 The Canadian Culinary Champion for 2019 is Chef Yannick LaSalle of Restaurant Les Fougères in  Chelsea, QC.  His final dish was "Fennel with sea buckthorn, Eastern township duck magret <<Le Rougié>> & Quebec saffron, paired with 2016 Barrel Select VQA Chardonnay from Meldville Wines.  Chef LaSalle's response when he realized he was on the top of the podium: "I am so happy I just can't stop smiling, my team did a great job and I'm so honoured to be here." There is definite bragging rights being named the best chef in Canada, and in addition, a great prize: a trip to West Africa or South America to visit a chocolate plantation – donated by Cocao Barry.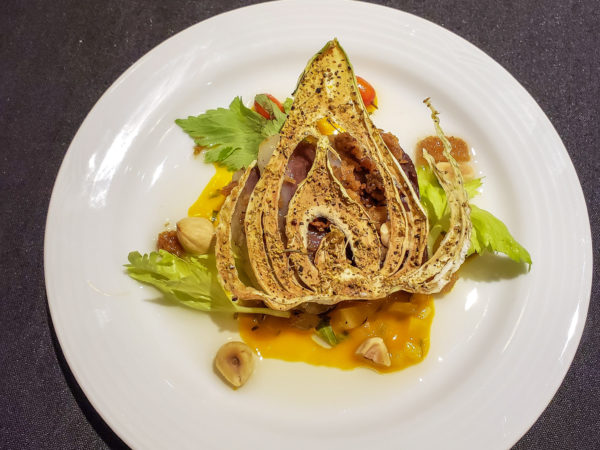 Charles Part, Yannick's mentor and owner of Les Fougères competed in the Canadian Culinary Championships in Banff Alberta. A great story to show how a mentor sees his mentee compete in the same competition and ten years later takes home the gold.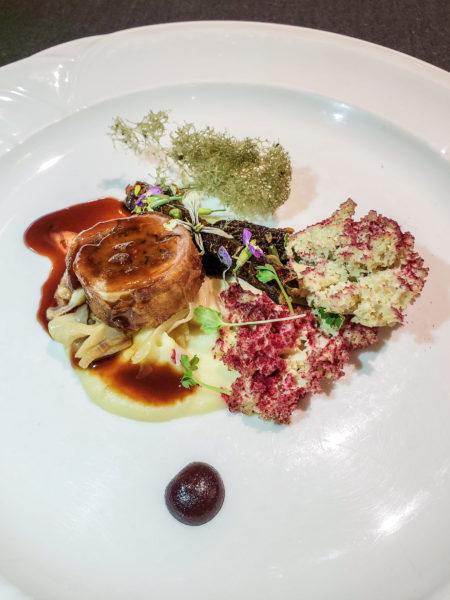 The second and third place winners also wowed the judges and guests alike with their creativity. The bronze was awarded to: Chef Dave Bohati from Murrieta's in Calgary and the silver was awarded to
Chef Christopher Hill from Taste Restaurant Group – Saskatoon, Saskatchewan.  The bronze winning dish was "Smoked Brant Lake AB Wagyu Beef Cheeks" Kabocha Squash, Jerusalem Artichoke, Marrow, Saskatoon Berry paired with Tantalus Vineyards 2016 Pinot Noir and the silver was "After The Fire" confit duck leg, wild boar sausage, birch aerated foie gras, parsnip, beetroot, morel, cabbage, sour cherry, syrup salsify bark, juniper jus, new growth flowers, Reindeer moss and smoke paired with Meyer Family Vineyards 2017 Pinot Noir.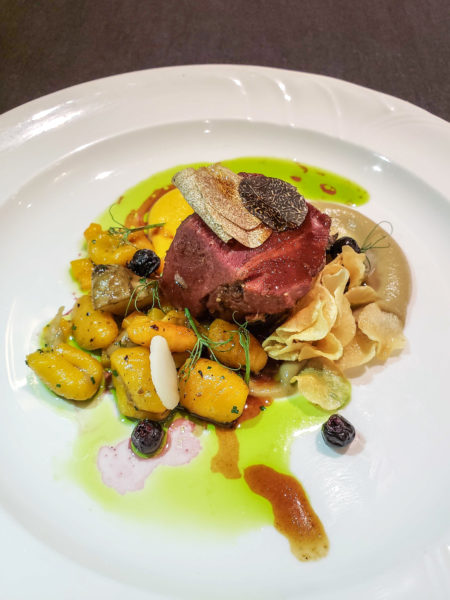 The two-day competition started with the Mystery Wine Competition on Friday where chefs were tasked with creating a dish that they felt perfectly paired with the unlabelled wine they received less than 24 hours before.  Chefs were given $500 to shop for ingredients to provide a small plate for the 400 guests in attendance. Attendees were able to taste the chefs' creations and cast their own ballot.  2016 Vista's Edge Cabernet Franc from Mission Hill Family Estate in West Kelowna, British Columbia was unveiled as the mystery wine late Friday and the People's Choice for Competition I was Chef Takashi Ito, from AURA Waterfront Restaurant + Patio in Victoria, British Columbia.
The second competition was The Black Box Competition II held at Okanagan College Saturday morning.   This competition is the most intensive and the most exciting to watch, because the chefs had just one hour to prepare a dish using the following seven mystery ingredients:
Chestnuts – my Neighbour Sylvia Koal, Koal Orchards.
Quinces – Mikuni wild harvest of Vancouver.
Saffron – True Saffron Producers Inc from Northumberland County in Ontario.
Sweet Potatoes – Assiniboine Community College.
Lion's Mane Mushrooms – Gruger Family Fungi in Nisku, Alberta.
Buckwheat Groats – Tony Marshall of Highwood Crossing in High River, Alberta.
Yoghurt – Produced by Shepherd Gourmet Dairy, St Mary's ON, supplied by Natures Fare West Kelowna
This was the first time that the black box had only vegetarian ingredients, a sign of the new Canada's Food Guide?
The final event at the Delta Hotels by Marriott Grand Okanagan Resort was the hottest ticket in town. The chefs culinary expertise was on full display, and as per the guidelines, each chef paired their dish with a Canadian beverage.  Guests were amazed to see that one chef paired his dish with a craft beer, two chefs paired with their dish with sake and the rest of the chefs paired with wines representing Nova Scotia, Ontario and BC.   The evening was hosted by Dominick Gauthier, COO of B2ten and coach to gold medalists in freestyle skiing Jennifer Heil and Alexandre Bilodeau and there was some great music and dancing when Bill Henderson and Chilliwack rocked it out for the guests!
James Chatto, Canadian Culinary Championships National Culinary Advisor and Head Judge, "This year marks were closer than ever, after competition I it was very close between gold and silver, this year the pack was really tight; we saw chefs who stumbled in the black box soar tonight in competition III and in the end the marks were very close, well done to all of our competitors."
"The food tonight was spectacular, we enjoy attending this event every year and dining on food from top chefs from across the country," stated a group of guests attending the Grand Finale, Competition III.
As well as indulging in amazing food and wine, Saturday night guests were able to bid for unique experiences including;
A trip to St. Lucia in the Caribbean with multi-platinum singer-songwriter, Johnny Reid and frontman Bill Henderson of Chilliwack
The Ultimate Napa Adventure with David Lawrason and Canadian Rock Band 54-40
An Exclusive Culinary Weekend in Downtown Kelowna for Three Couples
Life in the Fast Lane…Adventure in the South Okanagan
Stephen Leckie, Co-Founder of Canadian Culinary Championships said, "This city graciously and enthusiastically hosted chefs, judges and guests from across the country again this year.  Tonight, the chefs definitely were the stars as they inspired us with their creativity and determination!  It was great to feel the buzz here tonight. The Canadian wineries, the craft breweries, a craft distillery, and the elite athletes in attendance – everyone came together to celebrate Canadian Excellence and gave Canadian youth the opportunity to be extraordinary in sport, music and food."
Proceeds from this memorable two-day event support three Canadian beneficiaries: B2ten, MusiCounts and Community Food Centres Canada.
The other Chefs who competed at the 2019 Canadian Culinary Championships:
British Columbia
Takashi Ito – AURA waterfront restaurant + patio, Victoria
Edmonton
Davina Moraiko – RGE RD
Winnipeg
Jesse S. Friesen – The Merchant Kitchen
Toronto
Elia Herrera – Colibri
Ottawa/Gatineau
Yannick LaSalle – Restaurant Les Fougères, Chelsea, QC
Montreal
Jason Morris – Pastel
New Brunswick and PEI
Irwin MacKinnon – Papa Joe's, Charlottetown, PEI
Nova Scotia
Thomas Carey – Fresh Twenty One, Dartmouth
Newfoundland and Labrador
Katie Hayes – Bonavista Social Club, Bonavista Peninsula
The Canadian Culinary Championships wishes to thank our presenting sponsor Deloitte, national sponsors The Globe and Mail, Big White Ski Resort, Borgo San Felice, Mission Hill Winery, gold sponsor Valley First and regional supporters Okanagan College, Delta Hotels by Marriott, Okanagan College and the Culinary Arts Department, Kelowna International Airport, Castanet and 101.5 EZ Rock Kelowna.
Event information:
Images: Canadian Culinary Championships
Official Website: http://greatkitchenparty.com/ca/culinary-championships/
Official Instagram: @greatkitchenparty   Twitter: @gkitchenparty    Facebook: @greatkitchenparty
Official Hashtag: #CCC2019
Canadian Culinary Championships – The Canadian Culinary Championships is the national finale of the Canada's Great Kitchen Party regional events which are held annually in the fall.  The regional events have been created to elevate and celebrate three pillars of Canadian culture – sport, music and food.  The purpose: providing young Canadians the opportunity to be extraordinary in the same pillars. High performing athletes are provided the support they need to compete on the world stage. Musical instruments are purchased for schools, enabling students to discover the magic of music. And kids learn from leading Canadian chefs how to grow, cook and share healthy food addressing food security for all youth. Canada's Great Kitchen Party and the Canadian Culinary Championships support B2ten, MusiCounts and Community Food Centres Canada.
In each of the eleven cities, 8 – 10 chefs compete with a dish of their choice paired with a Canadian wine, beer or spirit.  To be invited to compete locally is a notch in the belt. To get on the podium is very difficult.  To win gold is a major achievement! To be crowned the top chef in Canada at the Canadian Culinary Championships is a career changer! www.greatkitchenparty.com/ca/culinary-championships/
The Sport Beneficiary: Canada's Great Kitchen Party will support Canadian athletes through the purpose and legacy of B2ten. B2ten exists to have significant impact on sport in Canada. B2ten contributes to amateur sport and the greater good of society by providing optimal training and preparation services to elite amateur athletes; investing in the development of Canada's coaches and professional service providers; and developing a legacy of enhanced sport, play and well-being.
The Music Beneficiary: Canada's Great Kitchen Party will provide musical instruments for children in 20 schools every year. MusicCounts is keeping music alive in schools and communities across Canada by putting musical instruments into the hands of children that need them most. MusicCounts is Canada's music education charity, affiliated with the JUNO Awards and supported by many of Canada's top musicians. The instruments they supply last over 15 years and well over 800,000 children have known the joy of music as a result of their programs.
The Food Beneficiary: Canada's Great Kitchen Party will support Canadian children to gain the skills and confidence they need to become the next generation of food leaders through unforgettable mentorship sessions with talented Canadian chefs. Community Food Centres Canada and their affiliate food organizations offer high-impact food programs that bring people together to grow, cook, share, and advocate for good food for all.
Media release and images provided by Christina Ferreira, Impact Events.
Something is wrong.

Instagram token error.