Chef Takashi Ito receives People's Choice Award with his pairing with Mystery Wine Vista's Edge Cabernet Franc from Mission Hill Family Estate
Canadian Culinary Championships Competition #1 closes,
chefs prepare for final day of events.
The 2019 Canadian Culinary Championships closes off competition #1 with Chef Takashi Ito, from AURA waterfront restaurant + patio in Victoria, and representing British Columbia chosen by the 400 guests to receive the People's Choice award. Chef Ito created a dish Seared pork belly & gnocchi, Winter Squash Puree, Black Sesame Tenkasu to pair with this years' Mystery Wine 2016 Vista's Edge Cabernet Franc from Mission Hill Family Estate in West Kelowna, British Columbia. The award does not affect the official judging scores to determine the 2019 Canadian Culinary Champion but it is a valuable win for Chef Ito.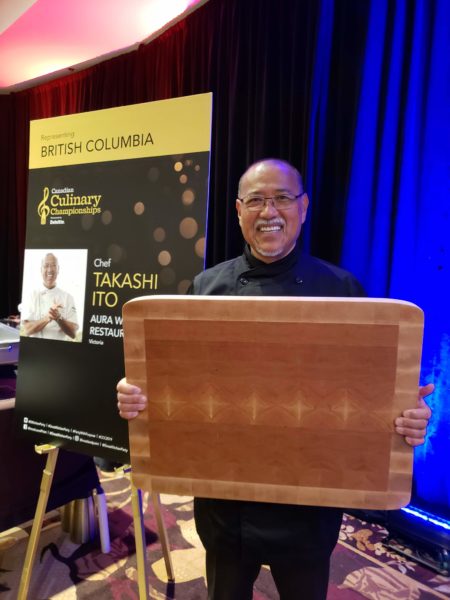 "Wow, I'm so happy what a great way to end the day," says Chef Ito.
The Mystery Wine Competition is the first competition in the two-day, three competition culinary triathlon. The eleven competitors each won the Gold in Canada's Great Kitchen Party qualifying competition in their respective cities; and, Thursday evening received a bottle of the unlabelled Mystery Wine. Chefs were then tasked with trying to identify what varietal the wine was and to create a dish that would pair well with the wine.  This morning Chefs went shopping in Kelowna.  The challenge was not only to present a dish that paired with the Cabernet Franc wine but to also feed the 400 guests attending the event with a budget of $500. Some of the chefs are familiar with local suppliers and shops having visited the area in the past while others had not been to Kelowna before and arrived a few days early to explore the city and meet with suppliers.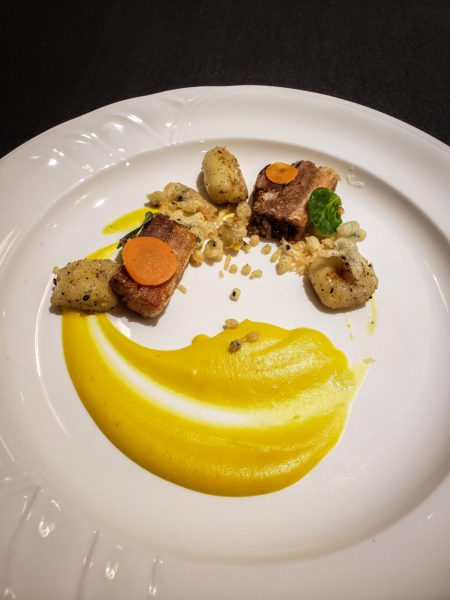 David Lawrason, national wine advisor for Canada's Great Kitchen Party was key in choosing the Mystery Wine for this year's competition. "When selecting a wine, we look for a wine that will challenge our competitors and bring out their creativity. The Cabernet Franc from Mission Hill Family Estate was selected and tonight we saw the diversity in the room show; chefs were creative, innovative and did a great job in pairing their dishes."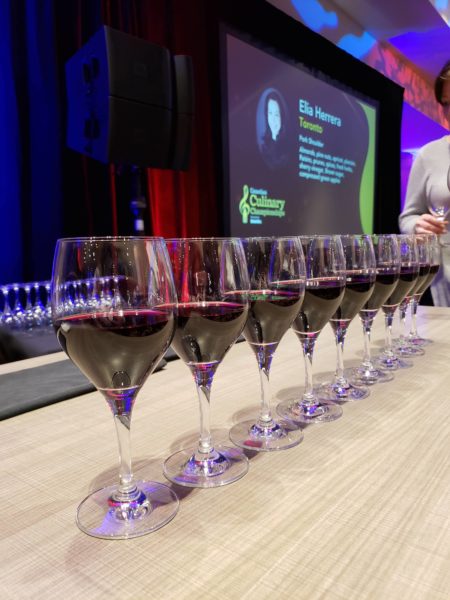 The competition continues February 2nd when the chefs take part in the challenging Black Box competition at Okanagan College starting at 8am and then they close off the two-day competition with the Grand Finale at the Delta Grand Okanagan Resort.  On Saturday night, three chefs will be standing on the podium.
Chefs Competing at the 2019 Canadian Culinary Championships:
British Columbia
Takashi Ito – AURA waterfront restaurant + patio, Victoria
Edmonton
Davina Moraiko – RGE RD
Calgary
Dave Bohati – Murrieta's
Saskatchewan
Christopher Hill – Taste Restaurant Group
Winnipeg
Jesse S. Friesen – The Merchant Kitchen
Toronto
Elia Herrera – Colibri
Ottawa/Gatineau
Yannick LaSalle – Restaurant Les Fougères, Chelsea, QC
Montreal
Jason Morris – Pastel
New Brunswick and PEI
Irwin MacKinnon – Papa Joe's, Charlottetown, PEI
Nova Scotia
Thomas Carey – Fresh Twenty One, Dartmouth
Newfoundland and Labrador
Katie Hayes – Bonavista Social Club, Bonavista Peninsula
The Canadian Culinary Championships wishes to thank our presenting sponsor Deloitte, national partners The Globe and Mail, Big White Ski Resort, Borgo San Felice, Cacao Barry; Gold partner Valley First and regional supporters Okanagan College, Delta Hotels by Marriott Grand Okanagan Resort, Kelowna International Airport, Castanet and 101.5 EZ Rock Kelowna.
Event information:
Images: Canadian Culinary Championships
Official Website: http://greatkitchenparty.com/ca/culinary-championships/
Official Instagram: @greatkitchenparty   Twitter: @gkitchenparty    Facebook: @greatkitchenparty
Official Hashtag: #CCC2019
Canadian Culinary Championships – The Canadian Culinary Championships is the national finale of the Canada's Great Kitchen Party regional events which are held annually in the fall.  The regional events have been created to elevate and celebrate three pillars of Canadian culture – sport, music and food.  The purpose: providing young Canadians the opportunity to be extraordinary in the same pillars. High performing athletes are provided the support they need to compete on the world stage. Musical instruments are purchased for schools, enabling students to discover the magic of music. And kids learn from leading Canadian chefs how to grow, cook and share healthy food addressing food security for all youth. Canada's Great Kitchen Party and the Canadian Culinary Championships support B2ten, MusiCounts and Community Food Centres Canada.
In each of the eleven cities, 8 – 10 chefs compete with a dish of their choice paired with a Canadian wine, beer or spirit.  To be invited to compete locally is a notch in the belt. To get on the podium is very difficult.  To win gold is a major achievement! To be crowned the top chef in Canada at the Canadian Culinary Championships is a career changer! www.greatkitchenparty.com/ca/culinary-championships/
The Sport Beneficiary: Canada's Great Kitchen Party will support Canadian athletes through the purpose and legacy of B2ten. B2ten exists to have significant impact on sport in Canada. B2ten contributes to amateur sport and the greater good of society by providing optimal training and preparation services to elite amateur athletes; investing in the development of Canada's coaches and professional service providers; and developing a legacy of enhanced sport, play and well-being.
The Music Beneficiary: Canada's Great Kitchen Party will provide musical instruments for children in 20 schools every year. MusicCounts is keeping music alive in schools and communities across Canada by putting musical instruments into the hands of children that need them most. MusicCounts is Canada's music education charity, affiliated with the JUNO Awards and supported by many of Canada's top musicians. The instruments they supply last over 15 years and well over 800,000 children have known the joy of music as a result of their programs.
The Food Beneficiary: Canada's Great Kitchen Party will support Canadian children to gain the skills and confidence they need to become the next generation of food leaders through unforgettable mentorship sessions with talented Canadian chefs. Community Food Centres Canada and their affiliate food organizations offer high-impact food programs that bring people together to grow, cook, share, and advocate for good food for all.
Media release provided by Christina Ferriera, Impact Events.