The Dance Centre's popular Discover Dance! series celebrates the energy and exuberance of bhangra, with two performances by South Asian Arts. Originally a Punjabi folk dance celebrating the harvest, bhangra has become a global phenomenon. In this explosive performance, South Asian Arts will showcase bhangra's vitality, its deep connections to music and rhythm, and its evolution. The performances will be followed by a moderated artist talkback.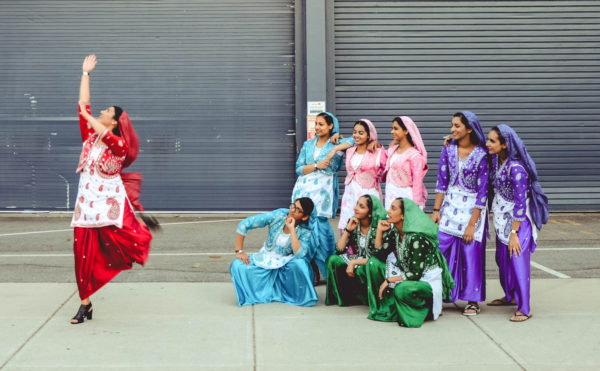 South Asian Arts was co-founded by Gurpreet Sian and Raakhi Sinha in 2005. The company is active in promoting South Asian dance, music, and culture via dance and music classes, professional performances and workshops, guest lectures, and children's cultural summer camps. They have travelled across British Columbia and taught over 30,000 students in both elementary and secondary schools, and offered the first university-accredited Bhangra dance class in North America at Simon Fraser University.  South Asian Arts have also produced comedic plays, musicals, and dance dramas with New Works, the PuSh Festival, neworldtheatre, and the Cultural Olympiad.
The Dance Centre presents the Discover Dance! series
South Asian Arts
Thursday March 14, 2019 at 12 noon and 6pm
Scotiabank Dance Centre, 677 Davie St, Vancouver
Tickets: 12 noon show $15/$13 students, seniors, children
6pm show $22/$18 students, seniors, children
Tickets Tonight 604.684.2787 www.ticketstonight.ca
Info: 604.606.6400 www.thedancecentre.ca
The Dance Centre was established in 1986 as a resource centre for dance professionals and the public in British Columbia, and now offers a range of activities unparalleled in Canadian dance. The Dance Centre offer programs and resources supporting the professional development of artists, presents public performances and events, manages Scotiabank Dance Centre, one of Canada's flagship dance facilities, and works to promote BC dance.
Facebook.com/thedancecentre | Instagram.com/thedancecentrebc | Twitter.com/dancecentre
2018-2019 Discover Dance! season:
September 20 Thai Dance Company
October 4 Company 605
November 22 Dancers of Damelahamid
March 14 South Asian Arts
April 18 Ballet BC
May 16 Jacky Essombe
Discover Dance! Media sponsors: OMNI Diversity Television, City TV, Vancouver Courier
Official hotel sponsor: Holiday Inn Vancouver Downtown Hotel & Suites
The operations of The Dance Centre are supported by the Canada Council for the Arts, the Government of Canada, the Province of British Columbia, the BC Arts Council, and the City of Vancouver through the Office of Cultural Affairs.
The Dance Centre
Scotiabank Dance Centre, Level 6, 677 Davie Street, Vancouver BC V6B 2G6 Tel 604 606 6400 www.thedancecentre.ca
Media release and images provided by Heather Bray, The Dance Centre. Feature image: Derek Stevens.
Something is wrong.

Instagram token error.