Turning Point Ensemble, always innovative combining old and new music,  has created a fascinating collaboration of composers and writers in a theatrical presentation and concert in Words & Music presented at the ANNEX on March 9 & 10th @7:30pm. Words & Music includes a new theatrical mini-opera, Old Man and the Sea by Rita Ueda and a new collaboration between poet Renée Sarojini Saklikar and Owen Underhill, Bee Studies.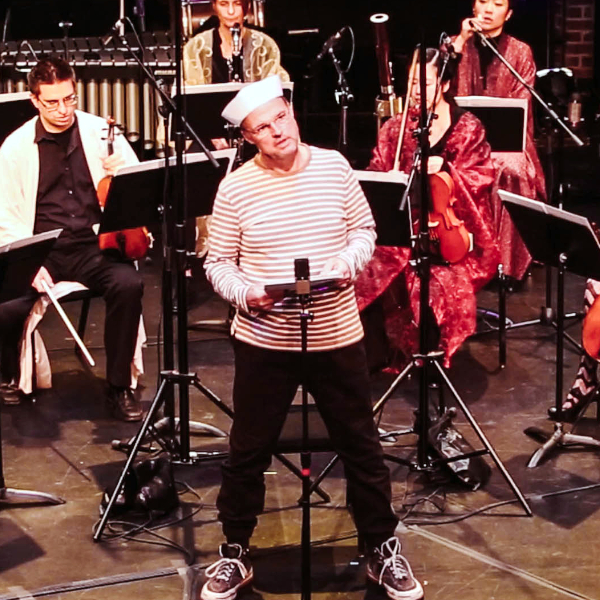 Owen Underhill explains: "This evening brings together variations of how words can be combined with contemporary music.  We are featuring the telling of a classic tale using opera, a set of poems read by their author and fanciful songs featuring soprano voice."
The Old Man and the Sea, composed by Rita Ueda, is based on the short novel by Ernest Hemingway with a libretto by Rod Robertson. Ueda's unique composition takes one musically under the sea and interacting audibly with marine wildlife. It features TPE co-founder Jeremy Berkman as a trombone soloist who personifies the marlin. Performed by the full TPE ensemble, this theatrical production under the direction of Israeli Opera director/choreographer Idan Cohen, is absolutely riveting with a dynamic performance of the Old Man by baritone Willy Miles-Grenzberg.   
Following is the premiere of Bee Studies by Owen Underhill with texts from renowned Vancouver poet, Renée Sarojini Saklikar's recently published book of science and poetry entitled Listening to the Bees with an original composition by Underhill featuring soprano Dorothea Hayley.  A special bonus of the evening is a performance of some witty and rarely heard songs from the 1930's, Duet for Duck and Canary and Frogs by the great unheralded Mexican composer Silvestre Revueltas plus his most-heralded work Ocho por Radio.
Enjoy a unique, exhilarating evening of words and music, as only Turning Point Ensemble can provide.
Dates & Times: Sat. March 9 & Sun March 10 @7:30pm
Venue: ANNEX, 823 Seymour St.  Vancouver
Ticket Prices: $33 Adults, Seniors/Students $20 (plus tax & services fees)
Tickets & info: turningpointensemble.ca
Creative Team:
Composer and Conductor: Owen Underhill
Composer: Rita Ueda
Libretto: Rod Robertson
Poet: Renee Sarojini Saklikar
Mexican Composer: Silvestre Revueltas
Opera Director: Idan Cohen
Singer/Soloist/Soprano: Dorothea Hayley
Singer/Soloist/Baritone: Willy Miles-Grenzberg
Artists:
Violin: Mary Sokol Brown and Domogoj Ivanovic
Viola: Tawnya Popoff
Cello: Becky Wenham
Bass: David Brown
Flute: Brenda Fedoruk
Oboe: David Owen
Clarinet: Liam Hockley
Bassoon: Ingrid Chiang
Horn: Steve Denroche
Trumpet: Marcus Goddard
Trombone: Jeremy Berkman
Piano: Jane Hayes
Percussion: Martin Fisk
Links:
Web: www.turningpointensemble.ca
Facebook: @TurningPointEnsembleVancouver
Twitter:  @TPE_Vancouver
Instagram: @tpe_vancouver
Hashtag: #TPE
Video link: https://bit.ly/2DYq4XA
About Rita Ueda – Composer
Rita Ueda is a composer, sound designer, and music teacher in Vancouver, Canada. Her recent works include forty years of snowfall will not heal an ancient forest for the Vancouver Symphony Orchestra, Escape from the Evil Alien Surfblasters for 8 hand piano ensemble, and Still Shaking from the Latte, a piano solo for Misuzu Kitazumi-Burns, a member of the LA Piano Unit.
Her as the snowflakes return to the sky for string orchestra was awarded 2nd prize in the 2010/11 International Gustav Mahler Composition Competition, and it will be performed next season by the Vienna Radio Symphony and the Vienna Chamber Orchestra.
Rita was born in Hakodate, Japan, to a family of musicians, poets, dancers and engineers. She moved to Vancouver, Canada with her family in 1971. Rita studied composition and sound design at Simon Fraser University and the California Institute of the Arts. Her teachers include Rudolf Komoros, Rodney Sharman, Wadada Leo Smith, Morton Subotnick and Stephen L. Mosko.
About Renée Sarojini Saklikar – Poet
Renée Sarojini Saklikar writes thecanadaproject, a life-long poem chronicle that includes poetry, fiction, and essays. Published work from the project appears in journals, anthologies, and newspapers, including, ti-TCR / a web folio (The Capilano Review), Literary Review of Canada, The Vancouver Review, Geist, Poetry is Dead, SubTerrain, Arc Poetry Magazine, Ryga, a journal of provocations, and many more. Her first completed book from thecanadaproject is Children of Air India, un/authorized exhibits and interjections, (Nightwood Editions, 2013) winner of the 2014 Canadian Authors Literary Award for poetry and a finalist for the 2014 Dorothy Livesay Poetry Award.
Trained as a lawyer at the University of British Columbia, with a degree in English Literature, Renée was called to the British Columbia Bar in 1991. In 2010, Renée graduated from Simon Fraser University's The Writers Studio and is currently a mentor and instructor for SFU's writing and publishing program. She is also the co-founder of the poetry reading series Lunch Poems at SFU and serves as an advocate on the national council of The Writer's Union of Canada.  She recently published a book of science and poetry, Listening to the Bees.
About Turning Point Ensemble
The Turning Point Ensemble is a Vancouver based large chamber ensemble comprised of many of British Columbia's most accomplished instrumentalists. Their mandate is to present rarely heard concert music for a large-sized chamber ensemble, increasing the understanding and appreciation of music composed during the past hundred years, linking the music of earlier times to the music of today, promoting Canadian and international works through dynamic programming and outstanding performance.
Since its first public performance, the 16-member Turning Point Ensemble has become a distinctive fixture in the Vancouver arts scene, described by reviewer John Keillor as "…among Vancouver's musical treasures, polished, original and scintillating". With a growing national and international reputation, Turning Point Ensemble is renowned for its quality of musical performance, innovative programming and multidisciplinary collaboration. 
Owen Underhill, Artistic Director & Conductor
Owen Underhill is a composer, conductor and faculty member in the School for the Contemporary Arts at Simon Fraser University. Owen, with Jeremy Berkman and other ensemble members, was one of the co-founders of the Turning Point Ensemble. From 1987 – 2000, he was the Artistic Director of Vancouver New Music. In addition to serving as the conductor of the TPE, Owen has conducted with groups such as the CBC Radio Orchestra, Vancouver Symphony, and the National Arts Centre Orchestra. Underhill has a special commitment to Canadian music and innovative interdisciplinary collaboration and was honoured as one of 50 special ambassadors for Canadian music as part of the Canadian Music Centre's 50th birthday celebrations.
As a composer, Underhill writes for diverse combinations including orchestra, voice and choir and music for dance. His Canzone di Petra (2004), a piece for flute and harp commissioned by Heidi Krutzen and Lorna McGhee, was the winner of the Western Canadian Music Outstanding Composition Award in the fall of 2013.
Media release and image provided by Bonnie Allan, Bonnie Allan PR. Photo – photog Tim Matheson, Turning Point Ensemble  with baritone Willy Miles-Grenzberg.  
[wdi_feed id="2″]