OneCoffee Asks for National Strategy to Encourage the Use of
100% Compostable Coffee Pods
One year after the launch of its revolutionary single-serve coffee pods, Western Canada's largest roaster seeks a federal response to a Canadian waste crisis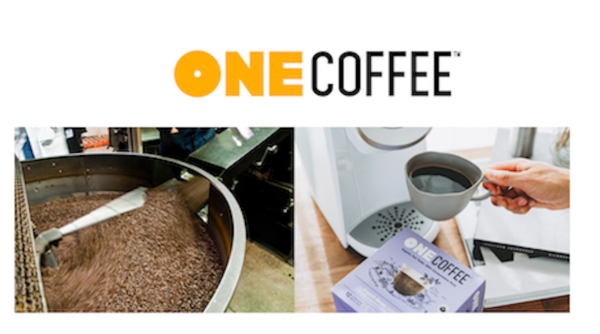 OneCoffee Organic Single Serve Coffee announced the next step in its solution to Canada's plastics waste crisis by launching a Change.org petition aimed at mandating the use of 100% compostable coffee pods across Canada.
Canadians brew — and then discard — 1.5 billion single-use coffee pods each year. That works out to just over 40 pods per Canadian, per year.
As most people already know, the great majority of those plastic pods end up in dumps and landfills or adding to the estimated eight million tonnes of plastics added to our oceans annually.
With recycling increasingly curtailed by China's ban on Canadian waste imports, the future of sustainability is composting. That's why OneCoffee Organic Single Serve Coffee — roasted by the largest coffee roaster in Western Canada and one of the largest roasters in the country — launched a revolutionary, 100% compostable, single-serve coffee pod last year.
The pods are 100% commercially compostable but there are no applicable green-bin composting standards across the province of British Columbia, much less Canada.
While continuing to work with BC Liberal MLA for Richmond-Queensborough Jas Johal, who introduced a private members' bill to force all single-serve pods to be 100% compostable and accepted by green-waste contractors, OneCoffee has decided to address the federal government, specifically Catherine McKenna, Minister of Environment and Climate Change.
"As we said last year when we launched our 100% compostable pods, weunderstand change takes time," says Gary Senez, Senior Vice President of OneCoffee. "But despite two of the largest roasters in the country proving consumer demand for compostable pods, independent waste management companies are reluctant to change the way they do business. Both OneCoffee and our largest competitor, based in Ontario, offer 100% compostable coffee pods and people are buying them. But composting facilities aren't accepting them, for whatever reason."
"We are calling on the Minister to help promote the use of these revolutionary, made-in-Canada compostable technologies. This Change.org petition is the first step in alerting the Minister to this ongoing crisis, and the solution we have created right here at home."
The Change.org petition calls on Catherine McKenna, Minister of Environment and Climate Change, to ban the sale of non-compostable coffee pods across Canada and to enact legislation requiring all green-waste contractors across the country to accept 100% biodegradable coffee pods at their facilities.
"There is absolutely no reason Canada should be in a plastics coffee pod waste crisis when cutting-edge, made-in-Canada solutions already exist," adds Senez. "The time has come to take plastics waste in Canada seriously."
OneCoffee 100% compostable, organic, fair trade, single-serve coffee pods are available at major retailers and specialty stores across Canada and Amazon.com in the United States.
Find OneCoffee:
Facebook:/OneCoffeeOrganic
Instagram:/onecoffeeorganic
Website:http://onecoffee.com/
Media release and images provided by Kate MacDougall
, Camber Communications. 
[wdi_feed id="2″]