The Vancouver Art Gallery presents
Mowry Baden
Exhibition Surveys Internationally Renowned Artist's
Participatory Works Eliciting Surprise, Curiosity and Wonder
Governor General's Award-winning artist Mowry Baden will be presented in a career survey exhibition at the Vancouver Art Gallery from March 9 to June 9, 2019. The BC-based artist is known internationally for his participatory sculpture and installation works, many of which have been commissioned as public artworks by cities across North America. From seat belts and reconfigured industrial devices, to purpose-built rooms in which ping-pong balls ricochet off the walls, this exhibition welcomes visitors to test out Baden's innovative sculptures dating back to the 1960s.
"Mowry Baden is a singular artist who, over much of his lifetime, has produced an extraordinarily unique body of work informed by wry humour and immense imagination," says Kathleen S. Bartels, Director of the Vancouver Art Gallery. "Incorporating objects both found and constructed, his art is known to have effects of all kinds on viewers who may find themselves bewildered, delighted and amazed by his sculptures. We are excited to bring so many of Baden's works together for this exhibition—including select examples from the Gallery's own collection."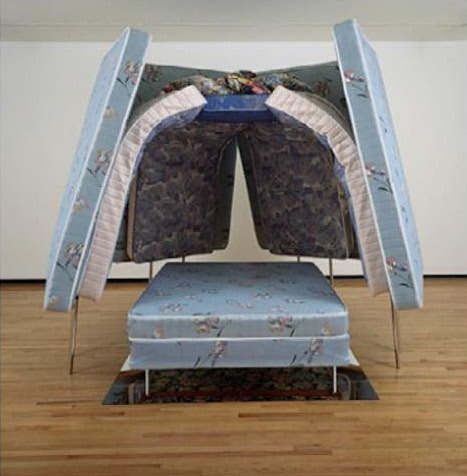 Over the past fifty years, Mowry Baden has been influenced by fields of perceptual psychology, science and architecture. His work often creates tasks and directs movement with the aim of disrupting the participant's reliance on vision, thus instilling a heightened sensory awareness. The most important element of Baden's practice is the provocation of what he terms "a perceptual crisis" in the viewer. Kinesthesia is the driving force behind much of his output, which is an awareness of the position and movement of the body.
The exhibition features fifteen of Baden's sculptural works, along with drawings and sketches from his journals. This includes the sculpture Cheap Sleeps Columbine (1994), a structure comprised of mattresses seemingly afloat in the air due to strategic placement of a mirror on the floor. Marsupial(2013) is walk-in device on wheelbarrow made of steel, aluminum, fabric and rubber not meant to move but instead envelope the viewer, offering refuge and privacy in a public space. The form of the piece evokes the pouch in which marsupials carry their unseeing young as they grow and develop. Part playground equipment, part industrial device, Trisector (2013) can be turned by the viewer in grasping three yellow "mop buckets," which appear commonplace, but are in fact cast in bronze. As a result, these objects are unexpectedly heavy to manoeuvre. Such works and more will be installed on the Gallery's second floor for viewers to witness and experiment with.
Artist Biography
Born in Los Angeles in 1936, Mowry Baden has lived and worked in Canada since 1971. He received his Bachelor of Arts at Pomona College (1958) and his Master of Arts from Stanford University (1965). Baden has both practiced and taught sculpture for almost five decades. He initially came to Canada to teach at the University of British Columbia in 1971 later moving to Victoria in 1975 where he taught at the University of Victoria for twenty-two years. Baden is a recipient of awards including Governor General's Award for Visual and Media Arts (2006) and the John Simon Guggenheim Memorial Foundation Fellowship (2014). His work has appeared in exhibitions at the Museum of Modern Art, New York; Barbican Gallery, London; National Gallery of Art, Washington; National Gallery of Canada, Ottawa; Art Gallery of Greater Victoria and the Vancouver Art Gallery, among many others. Baden has also been commissioned to create public art works in Seattle, San Francisco, Santa Barbara, Pittsburgh, Washington, Victoria and Vancouver.
Mowry Baden is an exhibition organized by the Vancouver Art Gallery and curated by Grant Arnold, Audain Curator of British Columbia Art.
Presented in conjunction with this exhibition, Displacement will be on view March 9 to June 9, 2019:
This exhibition of contemporary works from the Vancouver Art Gallery Collection features art that evokes displacement as a tool to elicit viewer reactions ranging from empathy and understanding, to the unexpected and disruptive. It includes work by Sonny Assu, Aganetha Dyck, Teresa Marshall, Ken Lum, Robert Therrien, Luanne Martineau, Patrick Traer, Renee van Halm, Holly Ward, Tim Paul, Myfanwy MacLeod, and others who have employed diverse strategies in their sculptural forms to initiate many various effects.
Public Program:
March 19 | 7 PM
Artist Talk: Mowry Baden with Barbara Fischer and Kim Adams
Room 4East at the Gallery
Pioneering artist Mowry Baden will be joined by Barbara Fischer, Executive Director and Chief Curator of the Art Museum at the University of Toronto, and sculptor Kim Adams—both former students of Baden. Together, they will discuss Baden's lasting impact on divergent practices that encompass art and architecture, and connect sculptural practices with audiences and place.
$10 Members | $12 Senior/Students | $15 General
Tickets available at vanartgallery.bc.ca
For more up-to-date information on Public Programs, visit vanartgallery.bc.ca
Image 1 – [Mowry Baden, Marsupial, 2013, steel, aluminum, fabric, rubber, Collection of the Artist]
Image 2 – [Mowry Baden, Cheap Sleeps Columbine, 1994, mattress, boxspring, pillow, wood, steel, mirror, Collection of the Vancouver Art Gallery, Gift of the Artist]
About the Vancouver Art Gallery (vanartgallery.bc.ca)
Founded in 1931, the Vancouver Art Gallery is recognized as one of North America's most respected and innovative visual arts institutions. The Gallery's ground-breaking exhibitions, extensive public programs, and emphasis on advancing scholarship all focus on historical and contemporary art from British Columbia and around the world. Special attention is paid to the accomplishments of Indigenous artists, as well as to the arts of the Asia Pacific region—through the Institute of Asian Art that the Gallery founded in 2014. The Gallery's programs also explore the impacts of images in the larger sphere of visual culture, design and architecture.
The Vancouver Art Gallery is a not-for-profit organization supported by its members, individual donors, corporate funders, foundations, the City of Vancouver, the Province of British Columbia through the BC Arts Council, and the Canada Council for the Arts.
The Vancouver Art Gallery is situated on traditional, ancestral, and unceded territory of the xʷməθkʷəy̓əm (Musqueam), Sḵwx̱wú7mesh (Squamish), and səl̓ilwətaɁɬ (Tsleil-waututh) peoples, and is respectful of the Indigenous stewards of the land it occupies, whose rich cultures are fundamental to artistic life in Vancouver and to the work of the Gallery.
Facebook: @VancouverArtGallery
Twitter and Instagram: @VanArtGallery