The Dance Centre presents the Global Dance Connections series
Simon Mayer
Sons of Sissy
The traditional folk dances and music of the Alps are joyously subverted in Austrian choreographer/musician  Simon Mayer's Sons of Sissy. Four virtuosic male performers deploy their bodies, voices and instruments with skill, stamina and impeccable timing, reformulating Austrian dances and music to liberate themselves from convention and disrupt masculine stereotypes. Part weird folk music quartet, part experimentally playful ritual dance combo, the Sons of Sissy present a funny and touching take on their heritage and their masculinity. This creation by one of Europe's most exciting and original young choreographers premiered in 2015, and continues to tour internationally: this will be the Canadian premiere.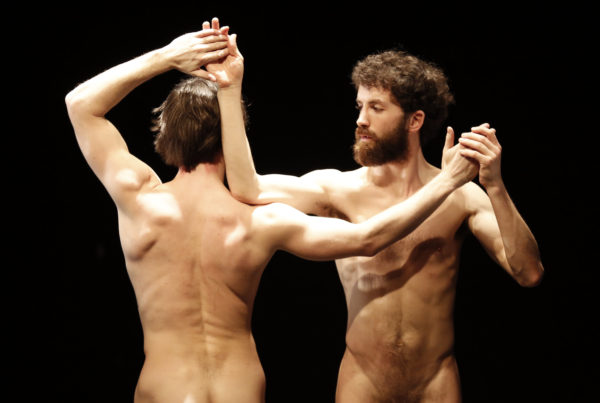 Simon Mayer is an Austrian performer, choreographer and musician. He studied at the Vienna State Opera Ballet School, and at the Performing Arts and Research Studios in Brussels (PARTS, directed by internationally-acclaimed Anne Teresa De Keersmaeker) and was a member of the Vienna State Opera Ballet. He founded his own band Rising Halfmoon as a singer, songwriter and guitarist in 2009. As a dancer, choreographer and musician he has worked with leading artists including Anne Teresa de Keersmaeker/Rosas, Wim Vandekeybus, and Zita Swoon. His choreographic repertoire includes solos, duets and group pieces that have been performed internationally. He received the outstanding artist award from the Austrian Chancellery in 2017 and the Annerkennungspreis des Lande Oberösterreich (Recognition Award of Upper Austria) in 2018. Simon was Artist in Residence at Theatre de L'L in Brussels and with his brothers co-founded the interdisciplinary Spiel Festival, which takes place on an organic farm in northern Austria. He teaches contemporary dance, community dance, traditional dance and voice techniques, and is a guest teacher at the Music and Arts University of Vienna.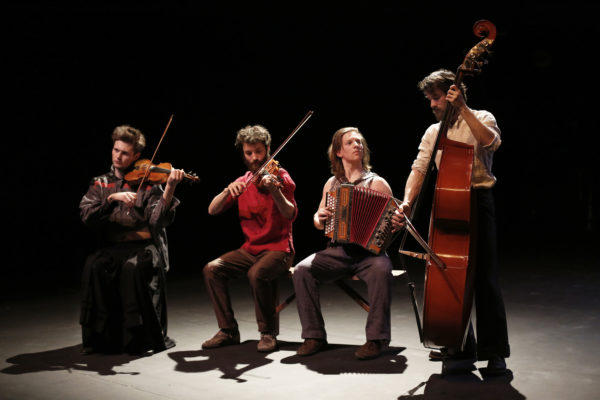 Sons of Sissy
Thursday-Saturday April 4-6, 2019 at 8pm
Post-show talkback April 5
Scotiabank Dance Centre, 677 Davie Street, Vancouver
Tickets $33/$25 students and seniors: 604.684.2787  ticketstonight.ca
Sons of Sissy
Idea, choreography, performance, music Simon Mayer
Co-creation, performance, music Matteo Haitzmann, Patric Redl, Manuel Wagner
Special instruments Hans Tschiritsch
Stage and costume design Andrea Simeon
Light Design Martin Walitza, Hannes Ruschbaschan
Light design on tour Sveta Schwin
Artistic consultant Frans Poelstra
Technical direction on tour: Jan Maria Lukas
Lighting design on tour: Sveta Schwin
Creation production:Sophie Schmeiser, Elisabeth Hirner
Touring production: Hiros, Kopf hoch
Production: Sophie Schmeiser, Elisabeth Hirner
Co-production: Kopf hoch, brut Wien, Gessnerallee Zurich, zeitraumexit Mannheim and Tanz ist Dornbirn.
Touring production: Sophie Schmeiser and Hiros
With the kind support of the City of Vienna's Department of Cultural Affairs, the Arts Division and the Culture Division of the Federal Chancellery of Austria, Kulturland Oberösterreich, Vlaamse Gemeenschap, Kunstenwerkplaats Pianofabriek (Brussels), WP Zimmer (Antwerp), im_flieger, Kunst- und Kulturverein SPIEL.
Thanks to: Simon Zöchbauer, Julian Rubisch, ALMA (Marlene Lacherstorfer, Julia Lacherstorfer, Evelyn Mair, Marie-Therese Stickler), Godi Burgstaller, Chris Standfest, Andrea Amort, Munderfinger Goaßlschnalzer, Altstädter Bauerngmoa, Pramtaler Volkstanzgruppe, Elio Gervasi/Raum 33
Global Dance Connections
Contemporary dance series 2018-2019
November 6-8 WArd/waRD-Ann Van den Broek
January 21-22, 28-29 Company 605
January 24-26 Liu Kuan-Hsiang
January 31-February 2 Victoria Hunt
April 4-6 Simon Mayer
May 23-25 Davida Monk
The Dance Centre was established in 1986 as a resource centre for dance professionals and the public in British Columbia, and has evolved into a multifaceted organization offering a range of activities unparalleled in Canadian dance. Its goal is to support the development of dance and to develop an environment where it can thrive. The Dance Centre offers programs and resources supporting the professional development of artists, presents public performances and events, manages Scotiabank Dance Centre, one of Canada's flagship dance facilities, and works to promote BC dance.
Facebook.com/thedancecentre | Twitter.com/dancecentre | Instagram.com/thedancecentrebc