Chocolate is mom's cup of tea at Mon Paris Pâtisserie
Chef Elena Krasnova designs chocolate creations and hosts charming tea party 
Celebrated pastry chef Elena Krasnova has created a unique collection of sweet chocolate gifts and will be hosting a special Afternoon Tea for Mother's Day. Chocolate flower pots and teacups designed just for mom adorn the shelves of Mon Paris Pâtisserie (4396 Beresford St., Burnaby). The stage is set for a charming Parisienne afternoon of celebrating mom over tea and scrumptious sweet and savoury treats.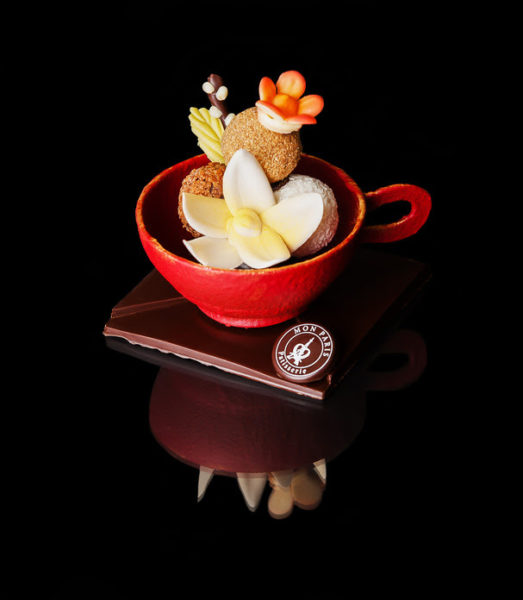 Exclusive Chocolate Mother's Day Gifts
• Chocolate Teacup, $15: made with premium milk chocolate, filled with three signature truffles and embellished with white chocolate flowers. 
• Chocolate Flower Pot, $12.50: milk chocolate pot filled with chocolate flowers.
Mon Paris Mother's Day Afternoon Tea
Celebrate mom on Sunday, May 12, with a special Mother's Day Afternoon Tea.
Mon Paris Afternoon Tea Menu 
• Selection of savoury sandwiches 
• Selection of mini desserts
Morther's Day Afternoon Tea is priced at $45 per person and includes a selection of premium teas, savoury and sweet treats. You can add a little sparkle to your afternoon with a glass of Champagne for $10. Seating times at 11 a.m., 1:15 and 3:30 p.m. are available by reservation only and can be made in person, through email at info@

null

monparis.ca or by phone at 604-564-5665.
About Elena Krasnova 
Born in Russia, Chef Elena moved to Vancouver in her early twenties where she attended university, collecting several degrees—including accounting—prior to pursuing a career in pastry. Realizing that number crunching wasn't for her, she plunged into her true passion, moving to Paris to study at the famed Ferrandi l'Ecole de Gastronomie before working at France's oldest and most storied patisserie, Dalloyau. Elena brought her international experience home to B.C. with the launch of Mon Paris Pâtisserie in January of 2017.
Mon Paris Pâtisserie 
Address: 4396 Beresford St, Burnaby B.C. 
Media release and images provided by Katharine Manson, Katharine Manson Communications. Feature image: Elena Krasnova MonParis Photo credit Erich Saide
[wdi_feed id="2″]