Bar Willow Offers First QUINI SOMM Digital Wine List Experience in Regina
Instant Wine Search and Food Pairing Empowers Restaurant Guests at the Table and From Home
Quini® (www.quiniwine.com), the leading wine sensory data and self-serve ready-to-use analytics solutions company, today announced that Regina, SK based Bar Willow (www.barwillow.ca) has deployed Quini's benchmark-setting digital wine list and staff training solution, QUINI SOMM™.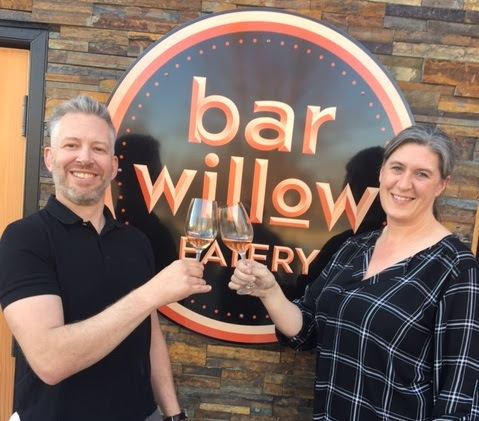 Part of a major re-branding and renovation project, Bar Willow, formerly known as Willow On Wescana, becomes the first full service restaurant in Regina to offer the QUINI SOMM experience.
With a quick scan of a QR code and couple taps on a user's smartphone, patrons or staff can now narrow down Bar Willow's rich wine list to specific options that match the guest's taste and plate choice.
Also accessible from home or the office, on Bar Willow's website, the Quini-powered digital wine list comes complete with the restaurant sommelier's easy-to-understand tasting notes and wine scores, consumer wine reviews and ratings, and advanced search by country, varietal and wine profile.
"QUINI SOMM was developed to address the two main issues that persistently face restaurateurs and affect profits, namely staff wine knowledge and an intimidated guest," said Roger Noujeim, Quini's chief executive officer. "With a simple solution, restaurant patrons and staff at Bar Willow can now choose the right wine within seconds."
Added Noujeim: Bar Willow has closed the elusive and costly restaurant staff wine knowledge gap, and virtually eliminated guest intimidation with wine."
"Bar Willow promises a memorable dining experience and a wine journey that is second to none," said Bar Willow co-owner Amanda Carter. "To that end we wanted to make choosing wine pleasant, accurate and instant. Nothing we looked at came close to what QUINI SOMM can deliver."
Continued Carter: "Our guests want to spend their time connecting with friends and associates, not flipping through endless pages or swiping through bottle photo after bottle photo on a tablet. We're proud to be first in Regina to offer QUINI SOMM, both to engage guests with wine, even before they arrive, and to empower our staff."
To experience the QUINI SOMM wine list publisher in real-time, please visit Bar Willow's wine list page.
To schedule a demonstration of the QUINI SOMM system, please contact Quini at sales@nullquiniwine.com.
About QUINI SOMM
QUINI SOMM is a mobile training, wine list management and guest engagement system with built-in analytics. QUINI SOMM is offered as a turnkey solution that includes wine list and professional tasting notes upload, six wine list categories, training and tech support.
Media release and images provided by Roger Noujeim, Quini Wine. 
[wdi_feed id="2″]