Olivia C. Davies/O.Dela Arts presents
Matriarchs Uprising
Indigenous Women Dancing Stories of Transformation

Matriarchs Uprising is a celebration of contemporary dance by Indigenous women, offering a packed program of performances, events and circle conversations across three days. Curated by The Dance Centre's Artist-in-Residence Olivia C. Davies and coinciding with National Indigenous Peoples Day, highlights include rich and powerful solo works by Australia's Mariaa Randall, Maura Garcia Dance from the United States, and Canada's acclaimed Kaha:wi Dance Theatre, Jessica McMann and Cheyenne Rain LeGrande from the Prairies, and locally-based artists Raven Spirit Dance and Starrwind Dance Projects.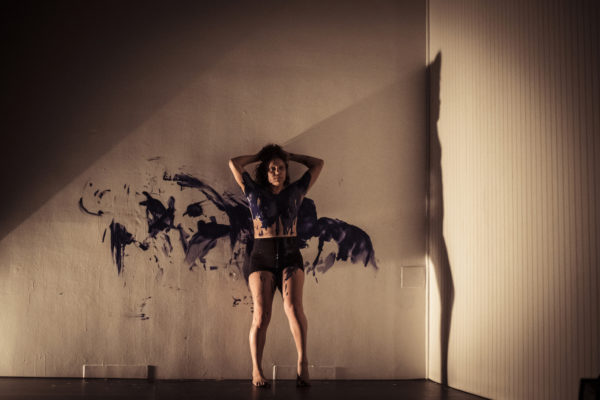 "Matriarchs Uprising brings together Indigenous women who are nurturing the art of contemporary dance so that it may be appreciated by audiences from all backgrounds," says Davies, Artistic Director of O.Dela Arts. "The performances are accompanied by artist talks to provide deeper insight into the creative impulses guiding the creators. Master classes are opportunities for professional dancers of all backgrounds to come together and practise contemporary Indigenous methodologies. Circle conversations and studio showings provide space for meaningful engagement through dialogue with the artists. As we witness Indigenous people around the world rise up to confront colonial power structures, I am inspired by these women who use their artistry to hold space for past, present and future in artistic presentations."
PERFORMANCES
Cheyenne Rain LeGrande (Canada) + Mariaa Randall (Australia)
Thursday June 20, 7pm | 8EAST, 8 East Pender St, Vancouver
Post-show artist talkback
In Painting the Dance, Mariaa Randall creates her world with one step, one gesture, one movement. Linking country to stories and stories to country, she creates a world that reflects her, that she can be seen in. A place where her image is controlled by her. Mariaa belongs to the Bundjalung and Yaegl people of New South Wales, and has choreographed with companies and artists including Jacob Boehme (Blood on the Dance Floor) and Ilbijerri Theatre Company. Nehiyaw Iskois a performance by Nehiyaw Isko emerging artist Cheyenne Rain LeGrande, in which she explores her body in relation to institutional space.
Raven Spirit Dance (Canada) + Kaha:wi Dance Theatre (Canada)
Friday June 21, 8pm | Scotiabank Dance Centre, 677 Davie St, Vancouver
Post-show artist talkback
Frost Exploding Trees Moon is a solo choreographed and performed by Michelle Olson of Raven Spirit Dance following the journey of a woman traveling her trap line. She finds a place to set up camp, builds her temporary home, and settles into the centre of her world of breath and perception. The piece tracks a physical human journey as well as a spiritual one. It asks: How does one house one's spirit? What keeps us close to earth and what makes us long for stars?
Blood, Water, Earth is an embodied incantation, weaving performance, video and music/song. Channeling the ancestral, elemental and sacred, the imagery explores what is woman, from warrior, creator, sustainer of life, and huntress. Blood Water Earth places a Konkwehon:we worldview in the vanguard and is inspired by the concepts emerging from Kaha:wi Dance Theatre's triptych series on Re-Matriation: Re-Quickening, Blood Tides and Skennen. Created and performed by internationally-acclaimed Artistic Director Santee Smith with key collaborators Louise Potiki Bryant (video designer), Cris Derksen (composition) and Andy Moro (lighting design).
Jessica McMann (Canada) + Maura Garcia Dance (USA)
Saturday June 22, 8pm | Scotiabank Dance Centre, 677 Davie St, Vancouver
Post-show artist talkback
Cree dance artist and musician Jessica McMann's iihksiisiinatsiistostiimao nipaitapiitsiin is an excerpt of a full-length solo in development. It layers indigenous creation methods with two years of land-based research on Alberta's Nose Hill and the Ghost River, and shares personal histories connected to land and displacement. Soundscapes, visuals, and movement create an intimate space, where we witness a personal story that draws us into a different time.
Maura Garcia's They Are Still Talking pays homage to our connection to our ancestors through air, gesture, intergenerational trauma and laughter. We are physically formed from all that our ancestors were. As we speak, the air that travels through our bodies carries their essence. Using dance, music and sculpture, this expressive work blends elements of narrative and ritual.
CREATIVE LABS | CIRCLE CONVERSATIONS | MASTERCLASSES | SHOWINGS
All take place at Scotiabank Dance Centre, 677 Davie St, Vancouver. 
Creative Lab: Poetry in Motion with Mariaa Randall
Thursday, June 20, 1-4pm
Poetry in Motion invites participants to create movement from one of their favourite poems or write their own as source for creative movement and choreographic expression.
$15-30 (pay what you can). To register: email info@nulloliviacdavies.ca by June 15
Creative Lab: Community Connections through Indigenous Dance
Friday June 21, 5-7pm
Indigenous dance artists cultivate meaningful dance-related activities in their communities by sharing stories using traditional and contemporary dances. This lab features an opportunity for peer-to-peer knowledge exchange geared towards facilitators and community-engaged artists of all disciplines.
With Jessica McMann, Maura Garcia, Olivia C. Davies.
Free admission
Open Rehearsal and Studio Showing
Saturday June 22, 1pm-3pm
Choreographers Starr Muranko and Olivia C. Davies share excerpts of new works in development and host talkbacks with witnesses.
Free admission
Circle Conversation: Alone and Surrounded
Saturday June 22, 6-7pm
An examination of the practice of creating solo works that are imbued with ancestral spirit; where we are alone and simultaneously surrounded by spirit. With Starr Muranko, Mariaa Randall, Michelle Olson.
Free admission
Master Classes with Contemporary Indigenous Choreographers
For ages 16+, some dance experience required.
June 20, 10-11.30am Kaha:wi Dance Theatre | $20
June 22, 10-11.30am Raven Spirit Dance | $20
Thursday-Saturday June 20-22, 2019
Scotiabank Dance Centre, 677 Davie St, Vancouver + 8EAST, 8 East Pender St, Vancouver
Tickets: $30/$22 students & seniors/3-show pack $75
Tickets Tonight 604.684.2787 www.ticketstonight.ca
Info www.thedancecentre.ca
Supported through The Dance Centre's Artist-in-Residence program
Skwachàys Artists in Residence Exhibit
June 15- August 15
Matriarchs Uprising curator Olivia C. Davies has established a multifaceted practice which honours her mixed-blood mixed-blood Anishinaabe heritage, and is grounded in feminism, social justice, and our relationship to the land and our environment. As part of a major Dance Centre residency this season, Davies has curated a program of public events including CoexisDance Western Edition, pairing improvising musicians and dancers; Home: Our Way, a community arts writing and movement workshop; and the inaugural Matriarchs Uprising Festival of Contemporary Indigenous Dance.
The Dance Centre was established in 1986 as a resource centre for dance professionals and the public in British Columbia, and has evolved into a multifaceted organization offering a range of activities unparalleled in Canadian dance. The Dance Centre offers programs and resources supporting the professional development of artists, presents public performances and events, manages Scotiabank Dance Centre, Canada's flagship dance facility, and works to promote BC dance.
Facebook.com/thedancecentre | Twitter.com/dancecentre | Instagram.com/thedancecentrebc
Media release and images provided by Heather Bray, The Dance Centre. Feature image: Mariaa Randall  photo: Pippa Samaya