Stone's Throw Productions Presents
HENRY V by William Shakespeare
In association with Pacific Theatre as part of the Stone's Throw Festival Apprentice Series
"And let us, ciphers to this great account, on your imaginary forces work."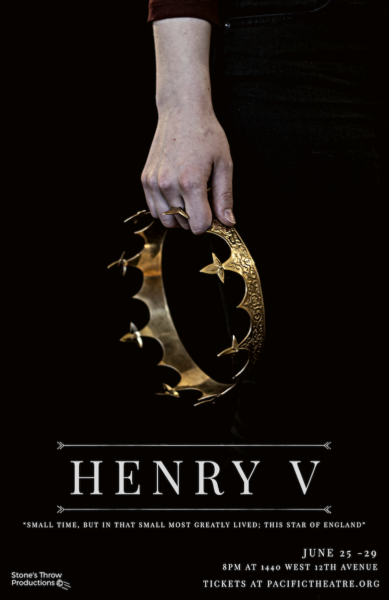 Newly appointed Henry V must bear the heavy English crown as he leads his army through an invasion of France in a bid to fully establish his rule over Western Europe. The English swing between stunning victories and seemingly insurmountable odds as their determined monarch wrestles with the responsibility of his birthright. Shakespeare's famous epic is reimagined by a group of friends gathered in mom's basement, their real world battles the driving force behind the ultimate bedtime story for one lucky little sister.
Stone's Throw Productions is thrilled to present this female led retelling of an old classic as part of our Stone's Throw Festival Apprentice Series. "For a long I time perceived Henry as this paradigm of masculine heroism; an inspirational and fearless leader." says actor Shelby Wyminga. "Henry's context may be heightened, but at the core of this story is a human being dealing with overwhelming circumstances, experiencing fear and loneliness and yet needing to press on for the sake of the people around him. That's something I as a woman find excruciatingly relatable."
Ten year old ensemble member Cayleigh Elcheshen brings a playful energy to an often heavy play. "I was nervous at first because with all the professional people I didn't want to make a mistake but everyone treated me just like one of them and not a little kid so I didn't worry about it anymore." The ensemble approach to the production has turned this version of Henry V into one big game of war.
Henry the V by William Shakespeare
June 25 – 29 Wednesday to Saturday 8 pm – Saturday matinee 2 pm
Pacific Theatre, 1440 West 12th at Hemlock, Vancouver
$15. available at pacifictheatre.org or 604-713-5518
ARTISTIC TEAM
Directed by Kerri Norris. Featuring Shelby Wyminga, Cayleigh Elcheshen, Valeria Ascolese, Paige Fraser, Rami Kahlon, Rose McNeil, Lindsay Nelson, Anni Ramsay, JC Roy, Crystal Weltzin, and Naomi Wong. Movement and Choral Direction by Nicole DesLauriers. Fight Choreography by Stephen Elcheshen. Sound Design by Tyler Dumoulin. Lighting Design by Nigel Brooke. Stage Management by Natalie Hoogstra.
PACIFIC THEATRE and STONE'S THROW PRODUCTIONS ONLINE: www.pacifictheatre.org
f: www.facebook.com/pacifictheatre i: @pacifictheatre
www.facebook.com/StonesThrowPT @stonesthrowpt
Media release and images provided by Shelby Wyminga, Pacific Theatre.
[wdi_feed id="2″]