Culinary Partnership between Air Canada and Chef David Hawksworth Celebrated with World's Best Business Class Lounge Dining Award from Syktrax
Global travellers choose Air Canada and Chef Hawksworth's cuisine as world's best in 2019 Skytrax World Airline Awards
Air Canada is recognized as providing its customers with the
World's Best Business Class Lounge Dining
in the
2019 Skytrax World 
Airline Awards
. Held on June 18, 2019 at the International Paris Air Show, the highly-coveted award acknowledges Air Canada's Signature Suite at Toronto Pearson International Airport for providing eligible Signature Class travellers with a sophisticated pre-boarding experience. The Signature Suite features menus by renowned Canadian chef, David Hawksworth, offering elevated and ingredient-driven menus, including à la carte dining and a self-service buffet menu.
An internationally acclaimed benchmark, the Skytrax World Airline Awards represent the thoughts and opinions of more than 21 million global travellers voting in the world's largest airline passenger satisfaction survey. Air Canada was also awarded Best Airline in North America for the eighth time in the past ten years; as well as receiving Best Business Class in North America for the second straight year, where Chef Hawksworth's partnership also extends to developing in-flight business class menus and select dishes in Maple Leaf lounges across Canada.
"Congratulations to our friends at Air Canada for this important recognition at the 2019 Skytrax World Airline Awards," says Chef David Hawksworth. "Four years into our partnership we continue to be honoured to provide Air Canada passengers with our take on contemporary Canadian cuisine in both the lounges and up to 35,000 feet."
"We're overjoyed to have Air Canada's Signature Suite awarded World's Best Business Class Lounge Dining by Skytrax," says Andrew Yiu, Vice-President, Product at Air Canada. "This award is a true testament to our continued commitment enhancing all aspects of our travel experience. We would like to thank Chef David Hawksworth and his culinary team for their valued contribution; we are proud of this partnership and look forward to continuing our collaboration."
Located in Terminal 1 of Toronto Pearson International Airport, Air Canada's Signature Suite launched in 2017 to help elevate the travel experience for select customers booked in International Signature Class. With many travellers expressing the desire to enjoy a proper meal prior to their international or overnight flight, Air Canada partnered with Chef Hawksworth to boost its culinary offerings with seasonally-inspired menu designs exclusive to the Signature Suite, International Business Class flights and select Maple Leaf Lounges.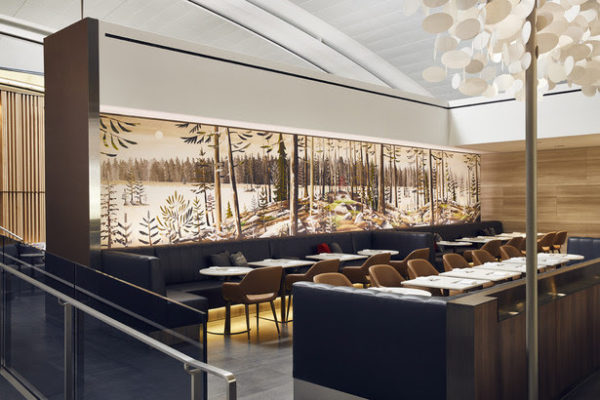 Chef Hawksworth, alongside Development Chef, Stephanie Noel, continues to collaborate with and guide Air Canada's in-flight caterers and Maple Leaf Lounge providers to create a selection of engaging dining options that represent the regional flavours of Canada. Air Canada remains a valued sponsor of the
Hawksworth Young Chef Scholarship Foundation
which enables Canada's most established Chefs to mentor, recognize and inspire young chefs working in professional kitchens across the country, while elevating Canada's culinary reputation on the world stage.
To discover Air Canada's range of tools, services, news, offers, and exclusive advantages for business travellers, visit
www.aircanada.com/business-travel
.
About Air Canada
Air Canada is Canada's largest domestic and international airline serving nearly 220 airports on six continents. Canada's flag carrier is among the 20 largest airlines in the world and in 2018 served nearly 51 million customers. Air Canada provides scheduled passenger service directly to 62 airports in Canada, 54 in the United States and 100 in Europe, the Middle East, Africa, Asia, Australia, the Caribbean, Mexico, Central America and South America. Air Canada is a founding member of Star Alliance, the world's most comprehensive air transportation network serving 1,317 airports in 193 countries. Air Canada is the only international network carrier in North America to receive a Four-Star ranking according to independent U.K. research firm Skytrax, which also named Air Canada the 2019 Best Airline in North America. For more information, please visit: aircanada.com/media, follow @AirCanada on Twitter and join Air Canada on Facebook.
About Hawksworth Restaurant Group
Led by Chef David Hawksworth, Hawksworth Restaurant Group comprises some of the city's leading restaurants and cafes including the highly acclaimed Hawksworth restaurant, located in the heart of the city and the more casual and Nightingale restaurant in Coal Harbour.  The group operates two Bel Café locations, in downtown Vancouver and the Kitsilano neighbourhood and a robust catering division that services the city's prestigious galas, weddings, corporate events and office boardrooms.  The Hawksworth Young Chef Scholarship Foundation was established in 2013, uniting leading chefs and culinary experts in the mission to inspire and nurture young talent across the county.  In 2015 Chef Hawksworth became the culinary partner to Air Canada to design Canadian-influenced seasonal dishes exclusively for Air Canada flights in International Business Class,  Maple Leaf Lounges and the Signature Suite.  Chef Hawksworth is currently working on his first cookbook to publish Spring 2020.  For more information visit www.hawksworthrestaurantgroup.com
Media release and images provided by Annabel Hawksworth, Hawksworth Communications.
[wdi_feed id="2″]