The BC Ale Trail has selected 10 of the best local craft beers, by breweries showcasing the latest and freshest in the province, so beer lovers can sample brews right from the source just in time for summer.  
Each beer was hand-crafted and inspired by the warm-weather adventures and experiences the province is known for, and most include special ingredients such as mango, cucumber or even jalapeño pepper! 
B.C.'s top 10 summer beers include: 
Would Crush Raspberry Wheat Ale by Twin Sails Brewing (5.1% ABV | 12 IBU*) Picked as Best in Show at the Okanagan Fest of Ale in April, this gorgeous beer is absolutely jammed with raspberries. It has a creamy mouth feel thanks to the use of flaked and malted wheat. Both beautiful to look at and very, very tasty, this is the perfect summer patio beer. 
Twin Sails Brewing can be found on the Port Moody Ale Trail.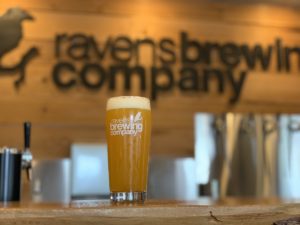 Two To Tango Mango Jalapeño Gose by Ravens Brewing (4.4% ABV | 5 IBU) This Abbotsford brewery already has one world-class Gose in its lineup — its Corvus Lingonberry Lime Gose won a World Beer Cup gold medal last year. This beer features a unique and unusual combination of mango and jalapeño, balanced by a touch of lime and salt. 
Ravens Brewing can be found on the Fraser Valley Ale Trail.  
Freshly Squeezed Juicy IPA by Backroads Brewing (6.8% | 60 IBU) Jam-packed with juicy goodness, this beer features copious amounts of hand-zested grapefruit and a healthy dose of fresh squeezed grapefruit and other citrus fruit juice.  Add to this an absurd amount of late addition/dry hopping with Simcoe and Mosaic hops and the result is a big, juicy IPA.  
Backroads Brewing can be found on the Kootenay Rockies West Ale Trail.  
CuLeKö Cucumber Lemongrass Kölsch by Foamers' Folly Brewing (5% ABV | 20 IBU) Located in Pitt Meadows, Foamers' Folly makes lots of interesting and unusual beers. This one featuring cucumber and lemongrass is ideal for the summer. 
Foamers' Folly will be part of the new Maple Ridge Ale Trail coming later this year.  
Monkey's Lunch Banana Hefeweizen by Monkey 9 Brewing (5.1% ABV | 12 IBU) A golden yellow wheat beer that bursts with banana flavour thanks to the special German yeast used, no bananas were actually used (or harmed) in the process. 
Monkey 9 Brewing can be found on the New West, Delta, Surrey & Richmond Ale Trail.  
Swedish Gymnast by Twin City Brewing (5 ABV | 24 IBU) One of this Port Alberni brewery's core beers since it opened, this "blonde with lots of hops" is a light and refreshing beer that bursts with tropical hop flavours. 
Twin City Brewing can be found on the Vancouver Island Part 2 Ale Trail.  
Sluice Juice Pale Ale by Barkerville Brewing (5% ABV) Hazy and golden, this juicy beer features big aromas of apricot, peach and tangerine. It's a popular pick for locals and tourists alike at this Quesnel-based brewery. 
Barkerville Brewing can be found on the Northern BC Ale Trail.  
Mango Brut IPA by Marten Brewing (6.2% ABV | 0 IBU) Vernon's brewpub is featuring this champagne-esque IPA infused with mango and dry hopped with fruity and citrusy American and Australian hops.  
Marten Brewing can be found on the Kamloops-Shuswap-Vernon Ale Trail.  
True Love Kölsch by Bad Tattoo Brewing (4.5% ABV | 10 IBU) The cheeky label for this beer features a "True Love" tattoo followed by "Lager, Pilsner, Kolsch" — true love indeed! Bad Tattoo uses a classic strain of German yeast for its authentic taste, resulting in a light, crisp and very refreshing ale with slight aromas of peach and almond blossom in the nose.  
Bad Tattoo Brewing can be found on the Penticton Ale Trail. 
Margarita Kettle Sour by Tapworks Brewing (4.6% ABV | 10 IBU) Loaded up with an absolutely loco amount of lime and the perfect proportion of salt, this might just taste more like a margarita than some margaritas! 
Tapworks Brewing can be found on the Sunshine Coast Ale Trail. 
Note: 
* For lovers of beer, but newbies to the world of beer classifications, IBU stands for International Bittering Units. Without getting too deep into the details, IBU indicates how bitter a beer is due to the type and amount of hops used in the recipe. It is not officially based on a scale of one to 100, but that range does cover the bitterness of typical beer styles. A light lager or wheat beer might have 10 to 15 IBUs while a hoppier Pilsner or Pale Ale might be 20 to 30 IBUs. Hoppy IPAs are generally in the 40 to 70 IBU range, while bigger "hop bombs" such as Double IPAs might reach 80 to 100 IBU. Meanwhile, sour beers barely even register on the IBU scale. Note that not all breweries publish IBU levels for their beers. 
Tread along the BC Ale Trail sampling the best of summer brews and explore beautiful British Columbia. For more information, visit https://bcaletrail.ca/. 
Social media: 
·         #BCAleTrail & #ExploreBC 
·         Instagram: https://www.instagram.com/bcaletrail/  
·         Facebook: https://www.facebook.com/bcaletrail   
·         Twitter: https://twitter.com/BCAleTrail/   
·         YouTube: https://www.youtube.com/channel/UCKTgNmr7K3nhVoz-E2wj9wQ   
About the BC Ale Trail 
In partnership with Destination British Columbia and the BC Craft Brewers Guild, the BC Ale Trail emphasizes how a visit to or around British Columbia is enhanced with a pint of craft beer culture. With an increasing preference for local craft beer in BC and growth of artisanal beer in North America, the BC Ale trail embraces the "buy local" movement, helps showcase independent breweries, and connects visitors with the unique culture at the heart of communities all over the province. 
For more information, visit https://bcaletrail.ca/  
Media release and images provided by Deepa Pillay, Beattie Tartan. Feature image: Backroads Brewing.
[wdi_feed id="2″]