The Chilliwack Sunflower Festival Returns, August 1
After a blockbuster debut, the family-friendly event is bigger and better
Last year, Tulips of the Valley, the operators of the ever-popular Chilliwack Tulip Festival, debuted a new summertime tradition: the Chilliwack Sunflower Festival. Featuring five-plus acres of the iconic flower, it was a huge success, attracting thousands of attendees of all ages.

On August 1, the Chilliwack Sunflower Festival returns for its second year — this time, with a massive field of dahlias to complement the acres of sunflowers. In total, there will be 20 acres of flowers!
Every day from August 1 to September 15, make your way through 35 varieties of peak-season sunflowers — from two-foot Dwarf Sunspots to 12-foot Mammoth Grey Stripes, in varying shades of yellow, orange, and red. Pick your own Sunrich Orange sunflowers to take home (while supplies last), as well as cut sunflowers and field flowers, sunflower-inspired gifts, and onsite-grown spring bulbs of tulips and daffodils.
Plus, this year includes the addition of 54 varieties of dahlias, a giant pumpkin patch, and a field of pick-your-own Chilliwack corn (while supplies last).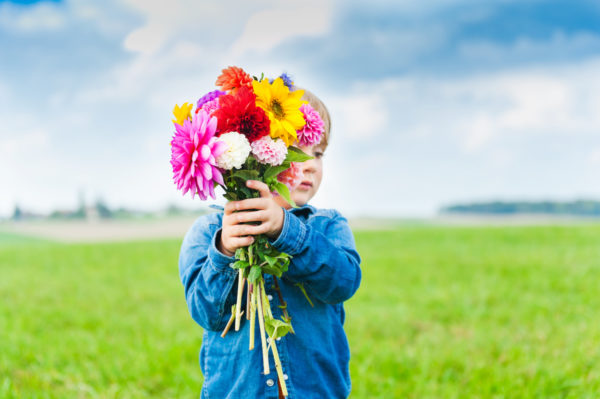 The Chilliwack Sunflower Festival provides countless opportunities to take perfect keepsake photos and videos. Throughout the grounds, find swing sets, an operational windmill, a vintage bicycle, face cut-outs, and more. Weekends include the added attraction of the Rotary Club of Chilliwack Fraser train, which offers free rides through the fields.
Guests of all ages will also love the many outdoor lawn games available to play: bolaball, "giant" Jenga, dominoes, tic-tac-toe, checkers, and more.
Afterward, retreat from the late-summer sun and enjoy cold drinks, ice cream, and snacks in a special covered area. Local food trucks will be on site daily.
On-leash pets are welcome — a water station and complimentary pick-up bags will be available.
"The success of last summer's inaugural Chilliwack Sunflower Festival exceeded all expectations," says festival co-founder Kate Onos-Gilbert. "It was so gratifying to welcome thousands of families, couples, and individuals to our fields, and to see them marvel at the bounty of seasonal beauty that Chilliwack produces at this time of year. The festival has grown so much since last year, too — so I encourage those who attended last year to make a return visit."
The Chilliwack Sunflower Festival runs every day from August 1 to September 15 (hours vary; check website for full details). Location is 41310 Yale Road. Ticket and season-pass prices vary for individuals, families and bus groups; children five and under are admitted free.
Visit chilliwacksunflowerfest.com for directions, complete ticket pricing, and more information.

About Tulips of the Valley
Tulips of the Valley is the operator of the Chilliwack Tulip Festival and the Chilliwack Sunflower Festival. The Chilliwack Tulip Festival takes place over a four-week period, usually in April, sometimes into May, depending on the weather. The Chilliwack Sunflower Festival takes place from August 1 to September 15. Both events feature a plethora of fun and flowers for festival-goers of all ages. For more information, please visit, chilliwacktulipfest.com and chilliwacksunflowerfest.com.
Media release and images provided by Morgan Somerville, Serena PR.
[wdi_feed id="2″]