"It's like if Starbucks opened a church. I know that sounds terrible, but it's actually great."
What does it mean to belong? The tight-knit Campbell family prides themselves on their West Coast open-mindedness – from drug use to political resistance, nothing is off the table. But when their daughter Clara comes home from college and announces she's become a Christian, their tolerance is put to the test. Pacific Theatre presents the world premiere of Jesus Freak, a flip-flopped exploration of family tribalism from BC playwright Peter Boychuk (Shelter From The Storm, Fritters in Kandahar).
Boychuk wrote the show specifically for Pacific Theatre, and artistic director Ron Reed plays the Campbell patriarch, a goofy activist struggling with his daughter's sudden shift in values. "I loved a couple of Peter's earlier plays exploring parent-child dynamics," said Reed. "Shelter From The Storm is about a sixties draft dodger and his surfer daughter living in Tofino: it premiered the year my own daughter moved to Tofino to surf. So when he invited me to read for the father of a daughter in Jesus Freak, and mentioned that he'd been writing it with Pacific in mind, it felt very right for our season." The show is the second in Pacific Theatre's 2018-2019 slate focused on familial conflict, following the similarly charged-but-loving world of Kim's Convenience.
Kaitlin Williams, who directed Kim's, plays daughter Clara as she struggles to 'come out' to her family – particularly to her brother, who has already come out as gay. As the siblings attempt to negotiate the new normal, their personal relationship is caught in the looming shadow of larger political and ethical divides. But ultimately, Williams says, reaching across the fault lines of family is universal work. "I love that Peter has captured on a micro, familial level what I feel we are struggling with on a macro, cultural scale," she says. "What do we do with the people we disagree with? What about when 'those people' happen to be people we love?"
Great questions for life – which make them great questions for the theatre.
Jesus Freak opens Friday, March 1st and runs until March 23rd at Pacific Theatre.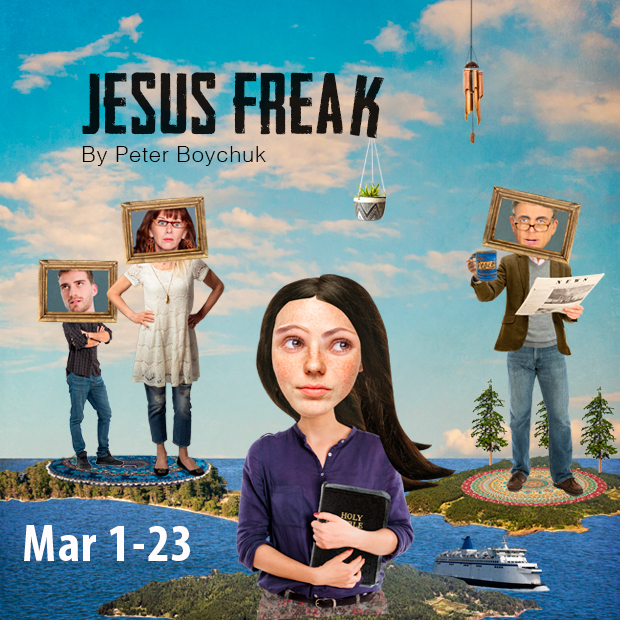 PRAISE FOR PETER BOYCHUK
"Boychuk's writing offers real meat on the bone."
– The Vancouver Sun
"[Boychuk] commits to high emotional stakes, and creates pleasing subtlety within charged relationships."
– Colin Thomas
ARTISTIC TEAM
Directed by Morris Ertman. Featuring Ron Reed, Katharine Venour, Kaitlin Williams, and Brandon Bate. Set Design by Brian Ball. Sound Design by Rick Colhoun. Lighting Design by Jill White. Costume Design by Jessica Oostergo. Stage Management by Samantha Pawliuk. Assistant Stage Management by Kira Fondse.
| | |
| --- | --- |
| Details: | JESUS FREAK by Peter Boychuk |
| When: | March 1-23, Wed-Sat at 8pm with 2pm matinees Saturdays. Pay-what-you-can preview Feb 28. |
| Where: | Pacific Theatre, 1440 W 12th Ave (at Hemlock), Vancouver, BC |
| Tickets: | $20-36.50 (not incl. HST). To book visit pacifictheatre.org or call 604.731.5518 |