Indulge in the Taste of Sunshine this Month at Provence Marinaside
Some are larger than a hand and come in neon shades of yellow and red, others are striped like crazy zebras while others are tiny multi-coloured gems; regardless of the size or the colour, what all tomatoes share in common is the taste of sunshine. August is peak tomato season in BC – a time of year when there is no such thing as over-dosing on these juicy, flavourful fruits. Eaten fresh-picked out-of-hand, chopped into salsas and salads, juiced, roasted or sun-dried – there are almost as many ways to enjoy their flavourful goodness as there are varieties.
For the entire month of August,
Provence Marinaside
celebrates all things tomato with its
Tomato Month Menu
– offering a special three-course prix fixe menu that will satisfy even the most addicted tomato-holic. This seasonal menu is value-priced at $62 with an optional BC rosé wine pairing which has been carefully selected by Wine Director Joshua Carlson. The wine pairing is value-priced at $25 or only $15 for a petit pour. The individual dishes and the wines are also available à la carte should you so choose.
The
Tomato Month Menu
starts with a choice of two appetizers – a refreshing
Tomato Watermelon Gazpacho
(cucumber, mint and tomato relish) paired with
JoieFarm Plein de Vie Brut 2018
(Naramata) or a favourite dish that has been brought back from past Tomato Menus –
Tomato and Nectarine Salad
(whole grilled Argentinian prawns, red onion, fresh basil, sherry vinaigrette).
Vanessa Vineyard Estate Winery Rosé 2018
(Similkameen Valley) has been selected to accompany the salad.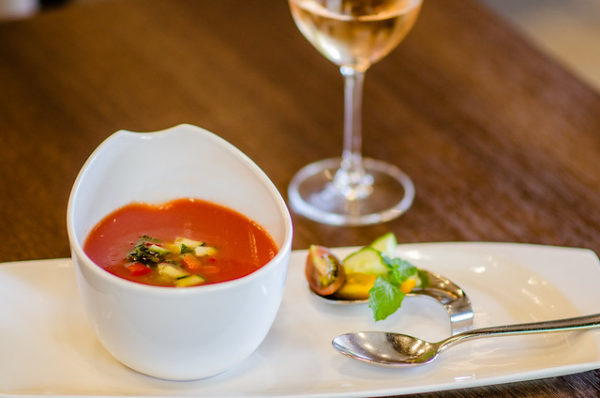 Tomato-lovers will have a hard time choosing between three tasty main courses:
Grilled Local Halibut: grilled yellow campari tomatoes, leafy greens, multi-coloured petit potatoes, smoked Roma tomato vinaigrette. Wine pairing: CedarCreek Estate Winery 'Block 1' Pinot Noir Rosé 2018 (Kelowna)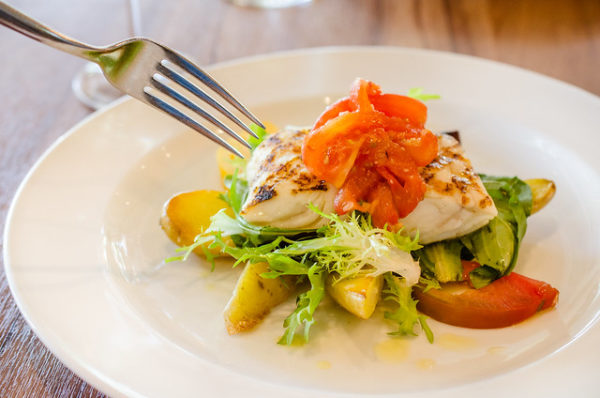 Seared Bavette Steak: heirloom tomato and herb salad, fingerling potato rounds, chimichurri sauce. Wine pairing: Orofino Vineyards 'Pozza Vineyards' Cabernet Franc Rosé 2018 (Similkameen Valley)
Tomato Aglio e Olio Tagliatelle: grilled Argentinian prawns and Hokkaido scallops, poached pink scallops, micro basil. Wine Pairing: Sea Star Vineyards 'Blanc de Noir' Rosé 2018 (Pender Island)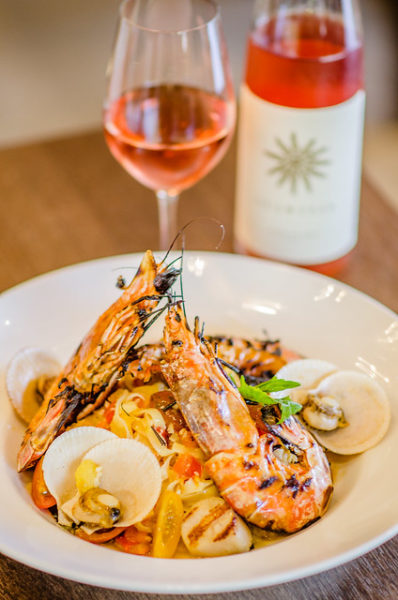 Dessert highlights the fruity character of the tomato in a Honey Tomato Panacotta (tomato brûlée, fresh whipped cream, cape goose berry) that is paired with a made-in-BC cocktail – Okanagan Kir Royale (Fitzpatrick Family Vineyards 'Fitz Crémant' and Elephant Island Cassis).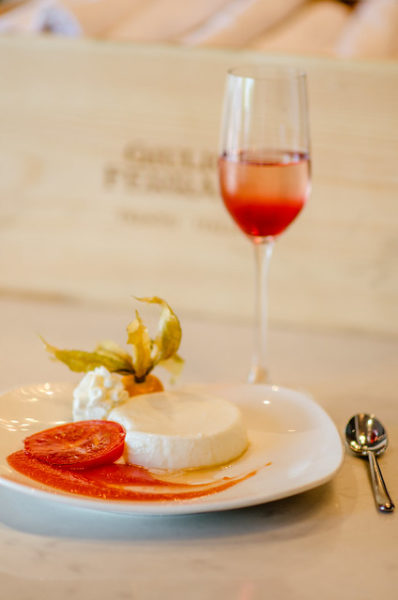 "I love creating the Tomato Menu every year. Tomatoes are the taste of the sun, and remind me of long summer days when I was a child in Provence," says Provence Marinaside's Executive Chef/Owner Jean Francis Quaglia.
Join Provence Marinaside this month for a 'taste of the sun' with its Tomato Month Menu, only $62 for three courses available now through the end of August.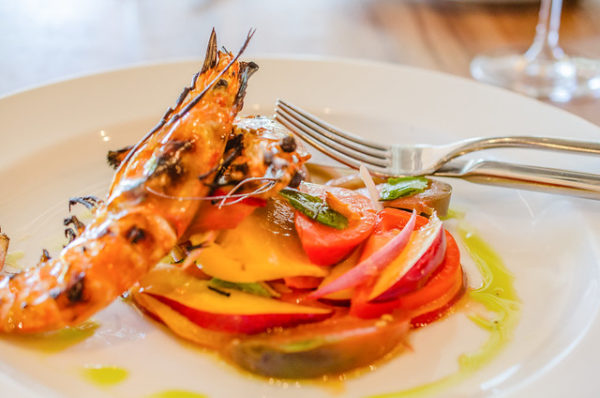 Media release and images provided by Nancy Wong, Culinary Communications.  All images by Emrys Horton, EPH Photography
Something is wrong.

Instagram token error.