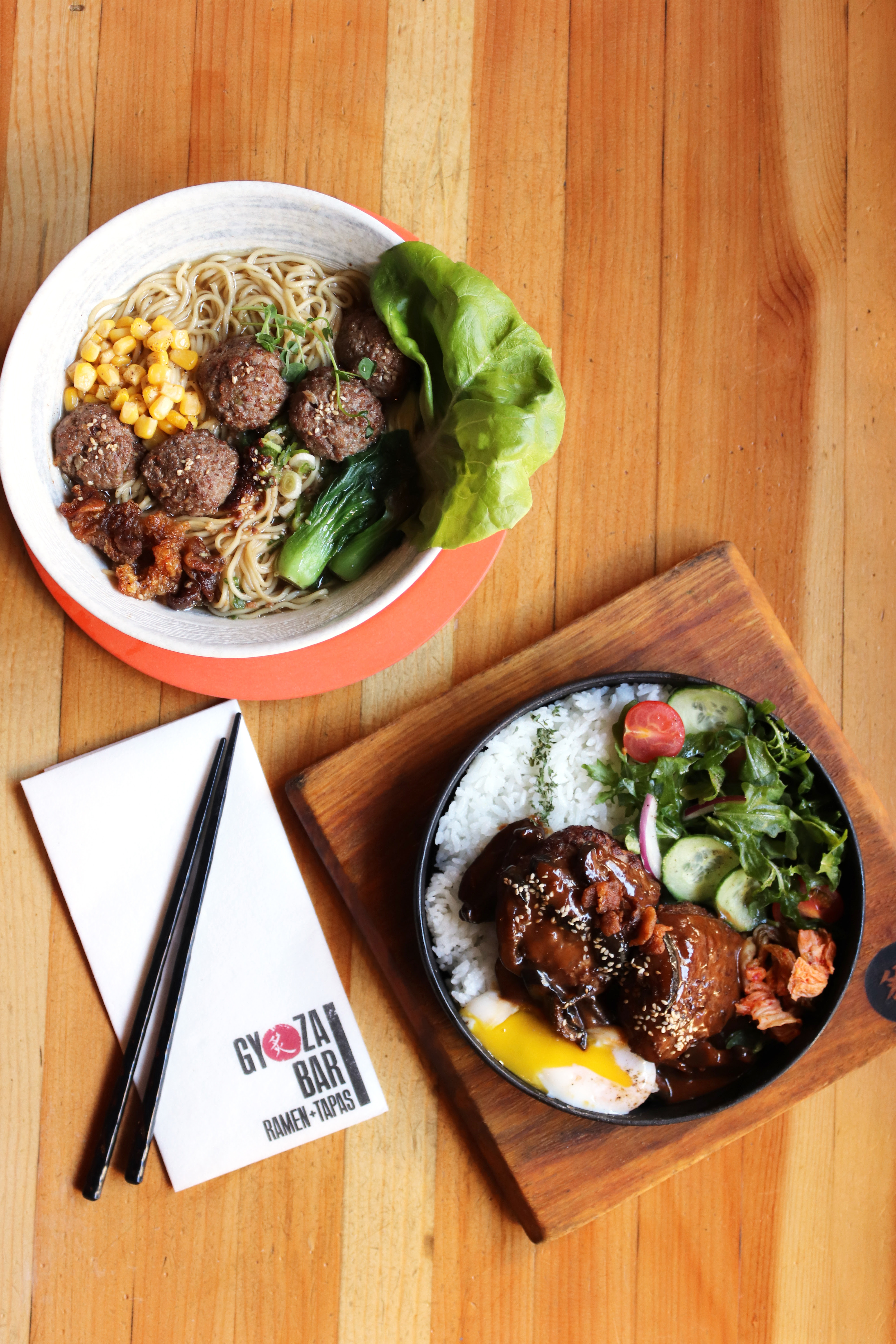 GYOZA BAR TURNS 5
Gyoza Bar celebrates 5th anniversary with launch of Miyazaki Wagyu menu items.
Five years ago, Aburi Restaurants opened Gyoza Bar, with the intention to bring inventive Japanese comfort food to 622 West Pender Street. To celebrate this milestone anniversary, Gyoza Bar is launching a limited, special menu for the month of September, focused on two new Miyazaki Wagyu dishes – the Miyazaki Wagyu Teppan Hamburg Steak and Miyazaki Wagyu Meatball Ramen.
"It's been a great five years," says Aburi Restaurants corporate chef, Alan Ferrer. "We wanted to celebrate this occasion with our guests who've made a place in their hearts for our ramen and gyoza in a city that has a multitude of choices. We decided for our fifth anniversary to bring some award-winning wagyu from Miyazaki and showcase it in a different way but still true to our comfort food roots. And, Miyazaki is where our founder Seigo Nakamura is from!"
Miyazaki is known for producing award-winning, quality kuroge (Japanese black) wagyu. The National Wagyu Awards, hosted by the Wagyu Registry Association in Japan, is held once every five years. Miyazaki wagyu has been awarded "Japan's number one beef" over Kobe and Matsuzaka for the past couple years.
The Miyazaki Wagyu Teppan Hamburg Steak ($19) lunch combo features two Miyazaki wagyu hamburg steaks topped with umami shiitake gravy, sous vide egg, kimchi, and wagyu crackling. It includes a couple sides – arugula salad with yuzu vinaigrette, steamed rice, and miso soup
For dinner, Gyoza Bar's Miyazaki Wagyu Meatball Ramen ($19) features an umami-rich wagyu katsuo broth and Miyazaki wagyu meatballs topped with baby bok choy, corn, butter lettuce, pea shoots, and wagyu crackling.
Guests can enjoy the two new anniversary dishes for the month of September, until September 30, 2019. Reservations available at gyozabar.ca.
Gyoza Bar | 622 West Pender Street, Vancouver, BC | www.gyozabar.ca | 604-336-5563 | Twitter: @GyozaBarVan | Facebook: http://www.facebook.com/gyozabarvan  | Instagram: @gyozabarvan
Media release and images provided by Sophia Cheng, Sophia Cheng PR.
[wdi_feed id="2″]