SUMMERLAND WILL 'LIGHT IT UP' FOR THE NINTH TIME
The annual 'Light Up The Vines' will have orchards and vineyards sparkling along Bottleneck Drive
Summerland's Bottleneck Drive Association celebrates the 9th annual 'Light Up The Vines' event to celebrate the holiday season. This free event welcomes visitors to tour along Bottleneck Drive and visit wineries, cideries, breweries, and distilleries who have decorated their vineyards, orchards and tasting rooms for the holidays.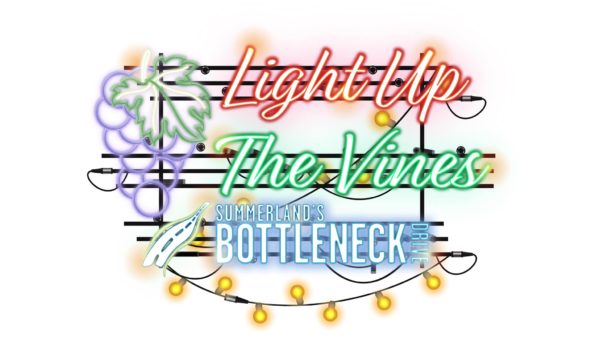 "Our local tasting rooms look forward to 'Light Up the Vines' every year. Everyone has fun decorating and getting ready to kick-off the Christmas season." Says Bottleneck Drive Association President, Rick Thrussell. "It's amazing how many guests travel from all over the Okanagan year after year to visit our vineyards, orchards and tasting rooms – all lit up for the holidays. And we encourage everyone to taste responsibly and arrange a designated driver or book a tour company in advance."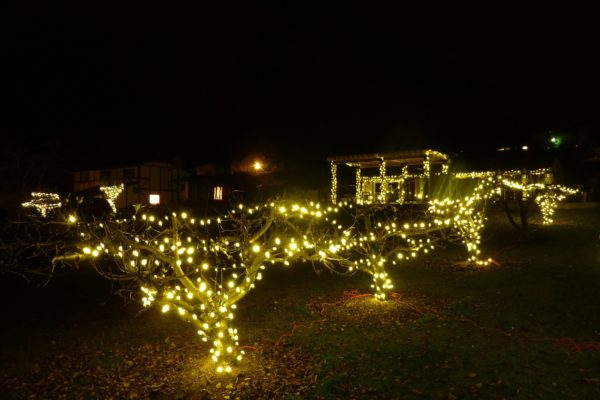 On Saturday, Nov.23 from 3-8 pm they will offer a "Sneak-a-peek" day that will allow visitors to get a taste of what's to come the following main event weekend.
The 'Light up Summerland' festivities begin on Friday Nov.29 from 4-9 pm downtown along Main Street for the annual 'Festival of Lights'. With a special Bottleneck Drive "Hospitality Zone" open from 5-9 pm and selling local beverages by the glass.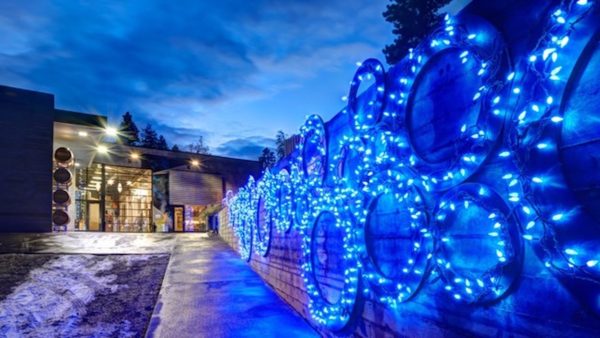 And on Saturday, Nov.30, and Sunday, Dec.1 from 3-8 pm Summerland's Bottleneck Drives 18 wineries, 3 cideries, brewery, and distillery will open their doors and turn on the holiday lights from 3 pm to 8 pm. Visitors can 'Sip 'n Shop' their way along Bottleneck Drive and enjoy tastings, live music, holiday lights and special discounts on some of the region's best wines, ciders, beer, and spirits. Just in time for holiday entertaining and gift-giving. Some of the tasting rooms will offer special treats like warm spiced cider or mulled wine, bonfires, complimentary snacks like crepes or bratwurst and DIY s' mores to name a few.
Visitors also have a chance to win a prize package valued at over $500 by collecting five stamps with a 'Light up the Vines' passport. Available at participating tasting rooms along the way. Tasting fees may apply and include donations to Critteraid and the Summerland Food Bank.
For more information about Light Up the Vines, click here.
Social: @bottleneckdrive on Facebook/Twitter/Instagram
Suggested: #bottleneckdrive #summerland #lightupthevines
About Bottleneck Drive
Enjoy the warm community environment and beautiful scenery while touring winding roads along Bottleneck Drive to award winning wineries, cideries, brewery and distillery – each with its own story to tell. Meet charming craft beverage creators, knowledgeable staff, while sampling a variety of products. It is a comfortable, well signed, easy-to-follow drive that offers sweeping views of vineyards, orchards and Okanagan Lake with new discoveries around each corner. Summerland's Bottleneck Drive industry association is made up of 23 members; including 18 wineries, 3 cideries, 1 brewery, and 1 distillery.
Media release and images provided by Donita Dyer, Bottleneck Drive Association.
[wdi_feed id="2″]