This Sunrock Shiraz was new to us but recommended by a friend to be included in our #FavouriteThings Holiday Gift suggestions. Have you tried it? We'd love to hear from you if you have tried the Sunrock Shiraz.
SUNROCK SHIRAZ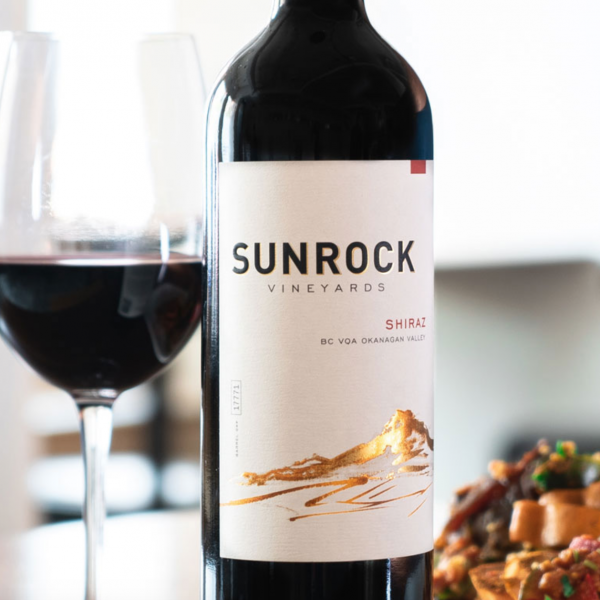 Rich aromas of dark cherries, smoky vanilla, and some  earthiness. Flavours of blackberries, baking spices, dark chocolate and vanilla fill the palate. The tannins and acid are soft and the finish is long and pleasurable.
This bold and flavourful wine can stand up to many varieties of meat and exotic flavours, try it with leg of lamb or Morrocan cuisine. This peppery Shiraz is also a lovely complement to richly flavoured cheeses, such as asiago, blue cheese and aged cheddar.
Sunrock Vineyards, the magnificent granite cliff overlooking the Okanagan hilltop vineyard, creates a terroir in perfect balance to create slow-ripened, ultra-premium fruit.
Established in 1999, Sunrock is 180 acres in size and is located at the northern tip of the Sonoran desert now known as the Osoyoos Lake Bench. With an ideal south facing gentle slope, Sunrock Vineyards sits on a large sandy terrace. A unique convective air movement minimizing disease pressure and frost risk is promoted. Due to the site being adjacent to a massive south facing outcropping known as "Sunrock" that reflects the sun's rays during the day and holds the desert heat well after sundown, ripening potential is extended into late October. These attributes contribute to the huge varietal expression for late ripening varieties that is possible only on limited sites in the Okanagan Valley.
Tasting notes and image provided by Bailey Jelinski, Think Milk and also courtesy of the winery. I received a complimentary bottle of this wine in order to facilitate this feature.
[wdi_feed id="2″]