I have been a fan of Unsworth's wines for some time but it was a recent visit in October that reminded me these wines are definitely some of my #FavouriteThings which makes them part of our Holiday Gift Suggestions for 2019. I personally recommend Unsworth wines whether you select the two I have featured here or any of their other very good wines at very good price points.
2018 Allegro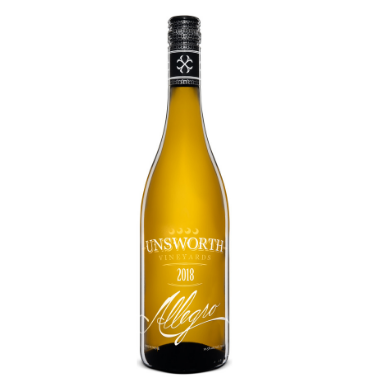 Online wine orders must be in multiples of 12, mixed cases are accepted.
Unique, expressive and luscious Vancouver Island grape varieties.
Allegro is a musical term referring to a cheerful, playful and lively tempo. We craft our signature dry and bright white blend with this definition in mind.
Pronounced honey, apple, and ripe peach with animated citrus and pineapple. Nice balance, medium-body and a rich finish.
40% Sauvignette
40% Petit Milo
20% Amiel
Vancouver Island soils are a complex story of volcanic origin layered with marine sediments and gravel carved and deposited by glaciers. Today, clay-loam soils lay on top of this gravelly base.
Between the 48th and 50th parallel with strong oceanic influence, grape growing on the islands is marked by its long sunshine hours and cool-climate.
Despite notoriously wet winters, summers are dry and droughts are not infrequent but temperatures typically stay below 30 degrees Celsius.
All of the above combine to create one of Canada's most beautiful and unique wine regions.
Rosé Charme De L'Ile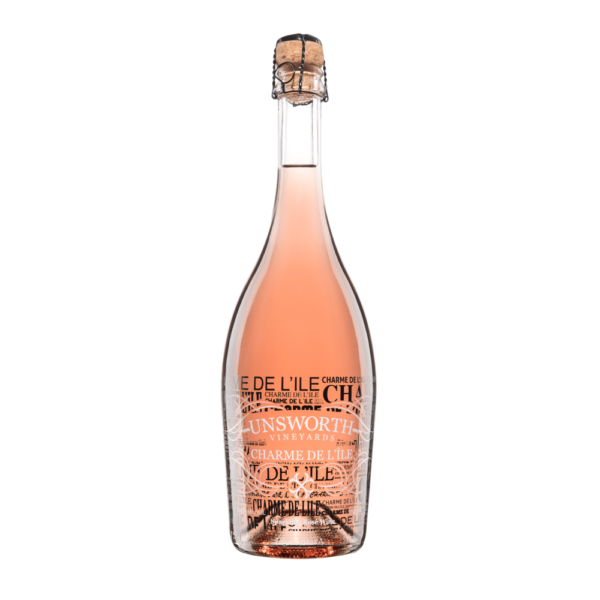 *Online wine orders must be in multiples of 12, mixed cases are accepted.
Charme De L'île (charm of the island) is the regional name shared with Vancouver and Gulf Island wineries for the sparkling wines made using the charmat method and representative of the local terroir.
Salmon in colour with bright, raspberry, strawberry and rhubarb notes. Dry with beautiful balance and a fine, persistent mousse.
This limited release Charmat-method sparkling wine is made from 100% Cowichan Valley Pinot Noir offering seasonally festive notes of cranberry, pink grapefruit and ginger with a creamier, bigger body than our regular Charme De L'Ile.  
Our signature non-vintage blend is crafted each year with a paradoxical goal of consistency and ever greater quality. And all while remaining grounded in a sense of place. It is 100% Pinot Noir. Up to 25% reserve wine.
I would also like to mention that I enjoyed a wonderful late afternoon lunch the day we visited. As a seasonal operation that endeavours to operate on an annual basis Unsworth has a CSR program or if you will a Communicty Supported Restaurant. This is an initiative I'm familiar with in terms of small farms and farm stands in smaller communities. It is a terrific idea and I encourage my readers that live in the Cowichan Valley area to consider how vital your support really is.
Many seasonal businesses have difficulty sustaining a year round operation due to a number of factors; steady employment being one of them. In order for a small business, such as a restaurant, to operate either continuously or even seasonally they need employees that want to live in their area full time not just seasonally. Initiatives such as the CSR help a restaurant like the one at Unsworth offer steady employment all year round.
What does a member get? Lots actually. Take a look at the offer (you can also see this on their website). If you enjoy dining at a local establishment that provides not only employment for others in your community, but also serves great food in a comfortable and charmig environment then you should consider becoming a member. You'll be glad you did.
COMMUNITY SUPPORTED RESTAURANT (CSR) MEMBERSHIP
Oct 17th 2019 to April 18th, 2020.
Unsworth Restaurant's CSR Program is modeled after Community Supported Agriculture (CSA), which offers a membership in exchange for a share of a farms produce.
This model is popular amongst many local farms for its ability to forge relationships between consumers and farmers, as well as provide an income source during low farming season. Restaurants share this challenge, as tourist visitation drops in the fall and winter.
We would like to offer our guests the opportunity to pledge their support to our restaurant by purchasing a CSR Membership at Unsworth Restaurant.
 CSR Menu for Nov 3rd – 31st.
Highlights:
Membership cost is $225 and includes five 3-course dinners, or 10 2-course lunches, or a combination of both from October 17th 2019 through April 18th, 2020.

Members receive a bi-weekly email featuring the CSR menu for that Thursday-Saturday simply call to reserve. Lunches to be enjoyed Thursday to Saturday

Once Members have experienced their initial five dinners or 10 lunches, they may continue to enjoy CSR menus
Questions? Contact us.
Here are a few images of our lunch where we enjoyed a salad and seafood chowder. Both were fabulous.
Built on family and a passion for wine & food.
Meet Tim and Colleen Turyk – the visionaries and proprietors behind Unsworth Vineyards.
The Turyk family has a long history in the Cowichan Valley area, spending summers at Shawnigan Lake – a much-loved lakeside community that has been attracting families for generations. Tim's mother Marjorie summered at the lake as a child and made it a part of her own family ritual, bringing Tim and his sisters there every year.
Having grown up watching Cowichan Valley's homespun wine and food culture evolve, Tim's ears perked up when he heard about a small vineyard and winery that was for sale in the fall of 2009. After 40+ years working in BC's fishing industry, he was looking for a new challenge.
One look at the spectacular property and early 1900s farmhouse, and Tim knew he'd found something special. Colleen saw the vision too and they bought the farm, so to speak.
It was the heritage around Marjorie that inspired the name – Unsworth was her maiden name.
From expanding the operation and restoring the farmhouse, to building a brand around sustainably managed vineyard practices, the Turyk's and their team have built Unsworth one vine, one bottle, one blend at a time.
Information about the winery, CSR, tasting notes and bottle images courtesy of the winery. Images of the food and wine from my lunch by MyVanCity. We paid $91.23 for lunch which included wine by the glass and a 20% gratuity. I received one complimentary bottle of wine for each of the wines featured here in order to facilitate this feature. All opinions expressed are my own.
[wdi_feed id="2″]