Provence Dinner Honours Domaine Jean-Luc Colombo
If you love good wine, Provence Marinaside is the place to be on Wednesday, February 26th as it hosts 'Jean-Luc Colombo in Provence' one of the feature dinners at this year's Vancouver International Wine Festival.
M.Colombo is a legendary wine-maker famed for his championing of the Rhône Valley's Cornas region and for mentoring many up and coming wine-makers such as Jacques Grange of the Louis Roederer-owned estate Delas Frères and André Brunel of the Châteauneuf-du-Pape estate Les Cailloux.
What isn't so well known is that M.Colombo has a long association with the family of Provence Marinaside owner Jean-Francis Quaglia. "Jean-Luc's wines were served by my mother, Chef Suzanne Quaglia, at her restaurant (Le Patalain) in Marseilles. They were the perfect complement to her food. It's an honour and a pleasure for me to be the second generation of Quaglia chefs to partner with Jean-Luc and present his wines," says Chef Jean-Francis.
Provence Wine Director Joshua Carlson recently returned from a wine-tasting trip to France where he met M. Colombo and they discussed the wines that would be served at Provence's dinner. "We are very excited to pair with Jean-Luc for this dinner. Jean-Luc's wines are true expressions of region. Whether it be Northern Rhône or Provence. We wanted the food pairing to highlight those expressions. This dinner should be real trip to the South of France, but of course, without the jet lag," comments Carlson.
The evening, which is co-hosted by the Consul General of France, begins at 6:30 p.m. with a cocktail reception followed by dinner at 7 p.m. Tickets for what is sure to be a once-in-a-lifetime memorable meal are priced at $225 per person and can be purchased here.
MENU
Reception
La Mauresque
Ricard Pastis de Marseille, orgeat syrup, water
Starters
Jean-Luc Colombo Cape Bleue Provence Rosé 2019
Tapenade and Crostini
Pissaladière
Sea Snails with Aioli
Marinated White Sardine Filets
(in oil with parsley and lemon)
Baguette
First Course
Jean-Luc Colombo Condrieu "Amour de Dieu" 2017
West Coast Style Bouillabaisse
(fish, clams, mussels, potato, gruyère et la rouille)
Second Course
Jean-Luc Colombo Côtes du Rhône Rouge
"Les Abeilles de Colombo" 2017
Rabbit
(stewed with green olives and tomato)
Third Course
Jean-Luc Colombo Cornas "Les Terres Brûlées" 2017
and
Cornas "La Louvée" 2017
Slow-Roasted Leg of Lamb
(harissa couscous, haricots verts)
Fourth Course
Jean-Luc Colombo Châteauneuf-du-Pape Rouge
"Les Bartavelles" 2017
Assortment of Cheeses
To End
Coffee or Tea
Mignardises
Please Note: Wines subject to change. Due to the nature of this event, Provence is are unable to accommodate food allergies or special dietary requests.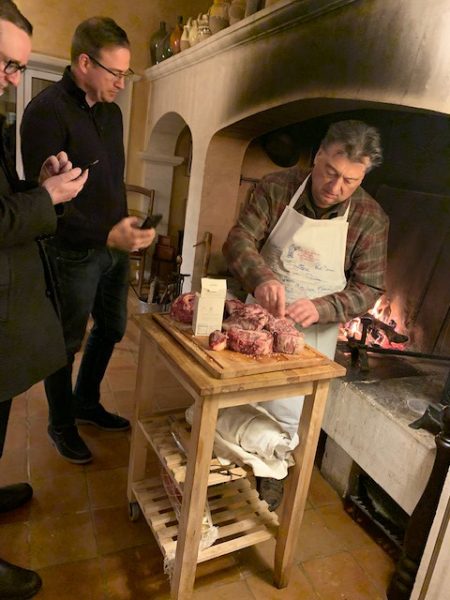 Jean-Luc Colombo preparing dinner at his home
PC: Joshua Carlson
Media release and images provided by Nancy Wong, Culinary Communications.
[wdi_feed id="2″]