We welcome vinAmité to our growing group of BC wineries that are participating in #ShiptoSip campaign to promote #BCWine.
It's time to hibernate, so let's do this, with wine!
We know how difficult it is to navigate through our new world. But you know what? We're all in this together. There's something about this that makes us appreciate the small things that much more. Right now, more than ever we've been given this opportunity to stand united while at the same time physically apart.
We've come up with some "wine pairings" to stay nourished, mentally active, and connected. We've got recipes, movies and projects to keep you busy while enjoying our wines. We've curated this 6-pack so that you can stay home. We chose simple recipes in which the ingredients may already be in your fridge, pantry or freezer (feel free to make substitutions and get creative!). We've also carefully selected movies that we think will enhance your experience and bring some joy, laughter and lightness to your day. They are all available through Netflix, Crave, or Amazon Prime. We've also thrown in some ideas for online learning, activities and resources.
CHANSON D'AMOUR • VIOGNIER • ROSÉ • GAMAY • MERLOT • COMPASS
THE WINES + THE PAIRINGS:
2018 Chanson d'Amour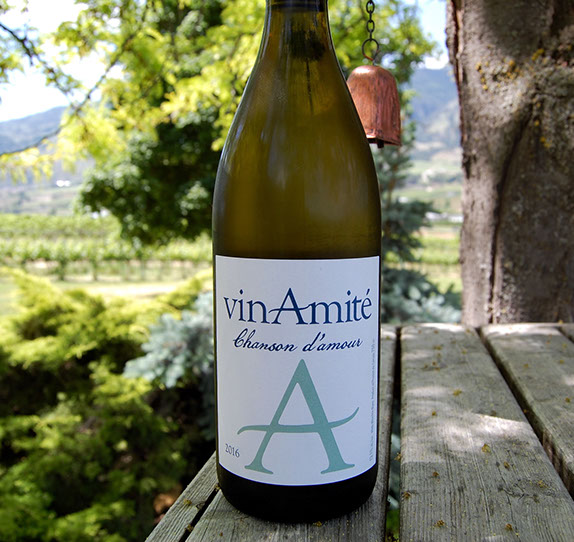 The bouquet of this joyful, lively wine is a floral and fruit-forward aroma that leads you to taste a refreshing and sophisticated balanced wine with notes of pear, orange and peach. This wine expresses a soft minerality inviting you to sit back and breathe easy with this new companion.
34% Orange Muscat, 33% Pinot Gris, 33% Chardonnay.
Wine and food Pairing: Salad with Apple, Goat Cheese and Cranberries 
Movie Pairing: Wine Country ~ available on Netflix
Activity: Start growing your own indoor garden with your veggie scraps
2018 Viognier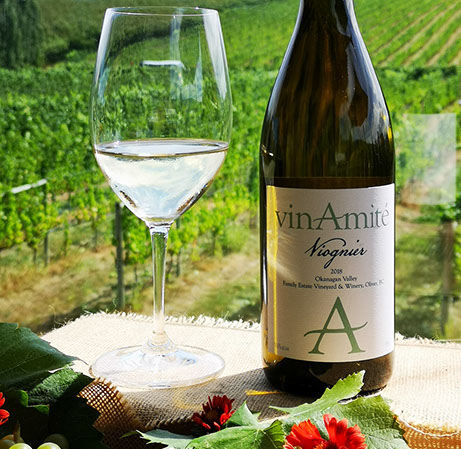 This clean, round Viognier is an excellent expression of the grape. Filled with aromas and flavours of stone fruit, lime zest, honey and banana. Tropical and approachable with a finish of caramel and apple.
Wine and food Pairing: Seared Scallop Risotto
Movie Pairing: Bottle Shock ~ Available on Amazon Prime
Activity: Stay connected online with friends and family for Happy Hour (anytime), it's free with ZOOM
2018 Rosé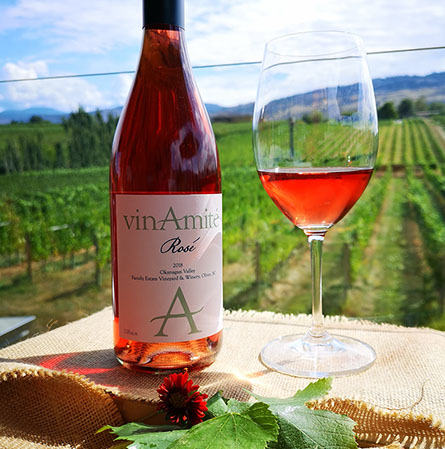 A fresh summer pie made with rhubarb and strawberries is on the menu with this wine. A little kiss of pepper and baking spices on the finish. The perfect picnic or patio wine.
68% Merlot, 17% Syrah, 9% Malbec, 6% Cabernet Franc.
Wine and food Pairing: Homemade Focaccia and Bruschetta
Movie Pairing: A Good Year ~ Available on Crave + Amazon (This movie is set in Provence, where rosé was realized. Fitting!)
Activity: Bubblebath and self care with candles and meditation. (Try to count all of the things that you're grateful for and you'll see there are so many reasons to stay positive.)
2018 Gamay Noir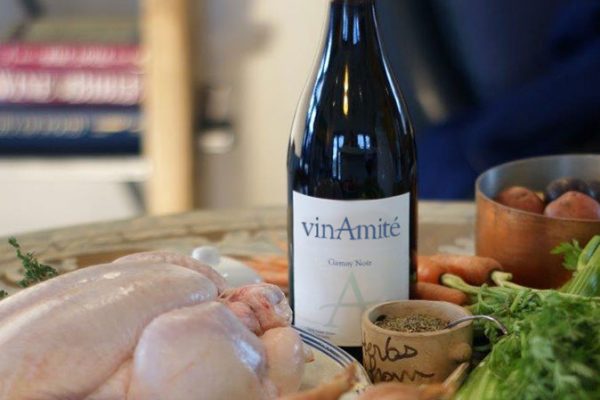 The expression of cherry and raspberry jam is crafted into this unique and delicate, slightly chilled, red wine. Its complex flavours of fresh-baked pies combined with savoury and spicy notes are graced with gentle tannins and French oak making this a unique and perfect fit for a lazy afternoon of happy thoughts.
Wine and food Pairing: Ratatouille This dish is comfort food to the max.
Movie Pairing: Ratatouille ~ Available on Disney +
Activity: Learn the French language (it's FREE for 6 months!)
2017 Merlot 
$32 available online now
Wine and food Pairing: Spaghetti and Meatballs.
Learn how to: Make your own pasta dough.
Movie Pairing: Lady and the Tramp ~Available on Disney + Snuggle up with your fur babies and enjoy. This movie/wine/dinner will make you smile.
Activity: Curl up in your favourite chair with a book available through Scribd. (May I suggest A Year in Provence by Peter Mayle)?
2017 Compass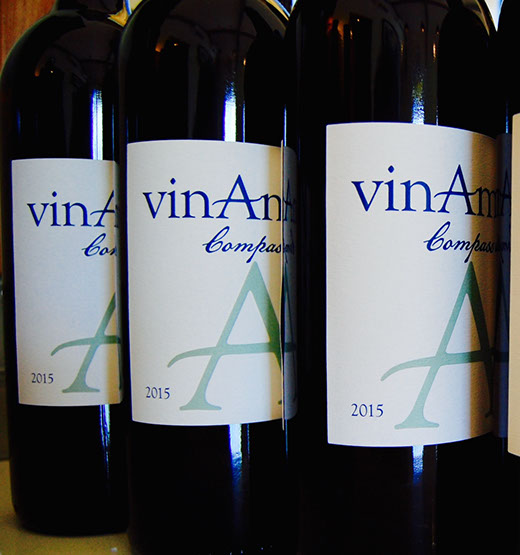 The aromas of savoury dark chocolate and a rich latte brings you front and centre to the taste of black currant, blueberry, black cherry, nutmeg, clove, mocha and leather, all rolled into a nice bundle of confident tannins resulting in memories of enjoying a Bordeaux sidewalk café on a relaxed afternoon of well-being. 48% Merlot, 27% Cab Sauv, 16% Malbec, 9% Cab Franc.
Wine and food Pairing: Boeuf Bourguignon This combo will make your heart happy.
Movie pairing: Julie And Julia~ Available on Netflix
Activity: Head to Paris: Take a Virtual Tour of the Louvre
SOLD OUT: 
Pinot Gris, Chardonnay, Petit Claret, Hidden Corner and Petit Verdot.
*Click here to ORDER THIS SIX PACK.
*Click here to add on to your order. ORDER 12 BOTTLES OR MORE
THE OFFER:
*This 6-Pack is only $165 tax in.
*Free Shipping (We ship with ATS, They will leave it at your door and then take a verbal signature.)
*Complimentary wine Jelly and truffle salt with your order of 6 bottles or more.
*We are also extending this offer to your friends and family, please share this post with someone you think may enjoy our wines and pairings.
*For every online order that we receive, we will enter your name
into a draw for a MAGNUM of COMPASS.
To qualify, post your #vinAmité photosto social media and tag us. @vinamitecellars. 🙂
*Feel free to call Catherine on her cell to place your order: 1-250-535-1323
*We will drop off  your wine off at your doorstep, personally and safely
in Oliver and Osoyoos.
*Click here to learn about THE WINE CLUB
*Click here for our TASTING NOTES.
On a different note, we've had to push our bottling dates to mid June as we didn't feel safe going ahead with our April dates. Because of this, we will not have any new releases ready until July, so best to stock up now.
vinAmité would like to thank you for your continued support. It's times like these that we need to support local.
This too shall pass.
Suggestions, tasting notes and images courtesy of the winery. Some vintages not as shown.
[wdi_feed id="2″]