Yesterday afternoon I had the good fortune to be included in a "virtual" wine tasting hosted by Town Hall Brands for Blue Grouse Winery.
This is a new way to taste wine along with other like minded wine lovers, bloggers, or your friends and it can be an interesting way to learn more about the wines you are tasting. In this case we were fortunate to have both winemaker Bailey Williamson and winery owner Paul Brunner join in the virtual experience.
Here are my takeaways from the virtual wine tasting:
Blue Grouse is located in the picturesque Cowichan Valley on Vancouver Island. If you haven't visited yet you really should. This is an idyllic setting with vistas over the vineyards. Like so many other wineries Blue Grouse is just now investigating ways and means to be able to re-open to visitors. This may be happening as early as June so keep in touch for more information.
The Cowichan Valley is now officially a Sub GI region which means that wineries here may now use that designation on their labels as of March, 2020.
Cowichan Valley experiences a warm summer climate with a growing season not unlike that of Williamette Valley in Oregon, but more temperate.
The vineyards of Blue Grouse average 45 to 80 metres in elevation and are 3 km from the ocean which definitely effects the wine growing and winemaking. Their wine making is terrior based with five different soil types over three vineyards. Growing grapes for Pinot Gris, Pinot Noir, Sparkling and Chardonnay. Planting 7 acres now with an additional 18 acres being planted in the fall and 10 acres to be added in the Spring of 2021 bringing it to a total block of 35 acres. Up from the original 8 to 9 acres when the vineyard was purchased.
The 25 acres will be newly planted with half Burgundian clones (115, 828, 777, 667, Dijon) and half root stock for pinot noir. The winery is on a journey towards certified organic and currently uses sustainable methods of farming.
What we tasted:
2019 Estate Pinot Gris

The wine was a nice, light straw in appearance with aromas of crisp green apples, lemon, cranberry, and white peach. After it sat for a bit I picked up very slight yeasty scents. I wasn't picking up much oak and it was not until after it was mentioned that I took more notice of the oak. I thought it was only lightly oaked. A rich wine with light acidity that is more pronounced as the wine sits. I enjoyed this wine very much and could see myself drinking it on it's own in the afternoon or with a seafood dinner.
Suggested pairings were: scallops, halibut, ling cod, cheese soufflé, prawns and spot prawns
Viticulture and Composition Designated Viticultural Area (DVA): Vancouver Island Pinot Gris 100% | Cowichan Valley – Blue Grouse Estate Harvest Date: October 10, 2019 · Brix 22.3 · TA 6.7 
Vineyard Notes
Our Pinot Gris vines are among the oldest on the Island (some 34 years old now). These fully mature vines are producing low volumes of high quality fruit. The Pinot Gris is found in two blocks both having southwest aspects. They are 100% organically farmed using alternate row cultivation, with minimal irrigation (the old vines are dry farmed). The Fairbridge soils vary from fractured silt-loam to gravel and sand. The grapes were hand harvested with a yield of 1.8 tons per acre. The 2019 growing season was hot and dry, with a cool period and some rain in early September. This slowed ripening and allowed for full phenolic development and mature aromatics
Winemaker's Notes
Just over 30% of the juice was pressed off and placed into one-year old French oak barrels for fermentation, while the balance was fermented in stainless steel tanks. Both the wine in barrel and tank, went through spontaneous malolactic fermentation, which has contributed to the wine's richness. We expect the wine to develop further in the bottle and age for 3-5 years.
Profile & Food Pairing
This mature vine Pinot Gris, which went through full malolactic fermentation, boasts aromas of butterscotch and vanilla with a medium-long finish and fresh acidity. The wine's depth and body are a result of the about 30% exposure to new oak for 3 months. This wine will make a great pairing with any seafood, in particular fresh, local prawns or pancetta-wrapped halibut. An ocean of flavour! 
Winemaker's notes from the virtual tasting:
Bright acidity leaning toward minerality which created a tension on the palate, roasted hazelnuts and caramel hints of vanilla, long finish, age able for 2-4 years perhaps more. As this wine warmed up and opened up there were more aromas of white flowers and hay fields.
ALC 12.7% — PH 3.3 — TA 6.2 — RS 0.9 
BOTTLING DATE April 2020 — PRODUCTION 265 cases 
SKU 977330 — UPC 626990423423 VEGAN
$25.99
2017 Reserve Pinot Noir

The wine had scents of roses, cherries and hard candy with light to medium tannins. I found it to be medium oaky. Flavours of light plum and ever so slight licorice with a fair amount of acidity. A young oak flavour, light bodied, fruit salad. Nice clarity of clear amber colour. As it sits the scents are more of dark plum with fresh fruity flavour.
Viticulture and Composition Designated Viticultural Area (DVA): Vancouver Island Estate Pinot Noir 100% VANCOUVER ISLAND – COWICHAN VALLEY: BLUE GROUSE ESTATE Harvest Date: October 15, 2017 · Brix 21.1 · TA 7.2 
Winemaker's Notes
Our Pinot Noir clone is unknown. It was one of the last vine imports into Canada from France in the early 1990's prior to quarantine regulations. The grapes were hand-harvested from yields of ~2 tons per acre. The vines grow in heavy clay-loam soils, with minimal irrigation. The Pinot Noir was cold soaked for two days after which it was warmed up to provoke spontaneous fermentation that spanned 10 days at a maximum of 29o Celsius. Following pressing, the wine went into tank to naturally settle out the heavy lees. It was then transferred to barrel (21% in new French oak and 79% in neutral American oak), where it underwent malolactic fermentation through December. After 12 months of oak aging, the wine was finished in our clay amphora for 5 months to allow for a more harmonious integration of tannins, fruit and acidity. Un-fined and un-filtered, the wine was bottled and further aged for 4 months prior to release. 
Profile
Our 2017 Pinot Noir was aged for 12 months in oak, 5 months in clay and 4 months in bottle. This vintage exhibits notes of dark cherry, blueberry pie and vanilla. Its flavour profile is of red currant and baking spices finished with fine grain tannins and nice acidity on the palate. 
Food Pairing This sophisticated wine, with an opulent mouth feel, is well suited for pairing with roast pork loin or plank grilled salmon. 
Winemaker's notes from the virtual tasting:
I found this opened up very nicely and exhibited aromas of cherries and red currents, some toasted almonds, the initial tannins softened and became much more integrated into the overall wine. If opened over the next 12 months, I would be inclined to decant for aeration.
ALC 12.0% — PH 3.5 — TA 6.3 — RS 0.7 
PRODUCTION 155 cases — SKU 932111 — UPC 6266990329305
$37.99
The Pinot Noir may be available at the following wine shops and restaurants:
Vancouver Island
Cascadia Liquor, multiple locations, Eagle Creek/Nanoose/Quadra Village
Liquor Plus Royal Oak
Spinnakers, both locations
Restaurants
Toque Catering
Zambris
Mainland
Cask and Barrel Kelowna
Firefly Vancouver
Gull Liquor
Restaurants
Nightingale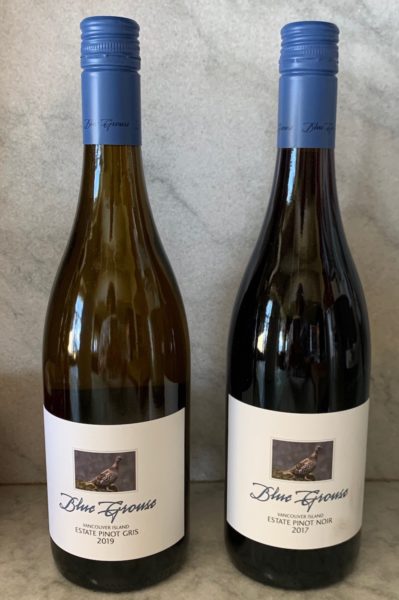 2182 Lakeside Road, Duncan, BC V9L 6M3 P: 250-743-3834 | F: 250-743-3836 | info@nullbluegrouse.ca 
My comments in italics; tasting notes and bottle shots courtesy of the winery. Feature image: MyVanCity. I received the bottles of wine complimentary to facilitate the wine tasting and this review.