Iconic Canadian Wine Pairs Well with Iconic Canadian Personalities
2018 Nota Bene buyers gain access to a celebrity-filled online party and more
What does the iconic Canadian 2018 Nota Bene wine by Black Hills Estate Winery have in common with celebrities Steven Page, Jason Priestley, Erin Cebula, Prevail and Kelsey Serwa? Besides being Canadian icons, each will be attending Black Hills Estate Winery's exclusive virtual release party to celebrate the 20th anniversary of Nota Bene.
The virtual party will take place on Friday July 17, 2020 from 6-7:30 pm PT.
20th Anniversary Nota Bene Virtual Release Party.
As 2020 marks the 20th anniversary of Nota Bene, Black Hills Estate Winery has a special promotion for the 2018 vintage release. Order 12 bottles of the 2018 Nota Bene online and receive a special access code to the 20th Anniversary Virtual Nota Bene Release Party, on July 17.
Visit the online store to place your order.
The party will feature a live music performance by recording artist, Steven Page, along with appearances from other Canadian celebrities including Jason Priestley, Erin Cebula, Prevail, and 2018 Winter Olympic gold medal winner, Kelsey Serwa. Black Hills winemaker Ross Wise MW (Master of Wine) will kick off the party with a follow-along tasting of the 2018 vintage of Nota Bene.
To ensure your spot, purchase 12 bottles or more of the 2018 Nota Bene HERE and receive the exclusive virtual party access code. Limited supplies available until June 30.
In addition to the launch party, purchase 12 bottles of the 2018 Nota Bene and receive:
Purchase 24+ bottles of the 2018 Nota Bene and receive: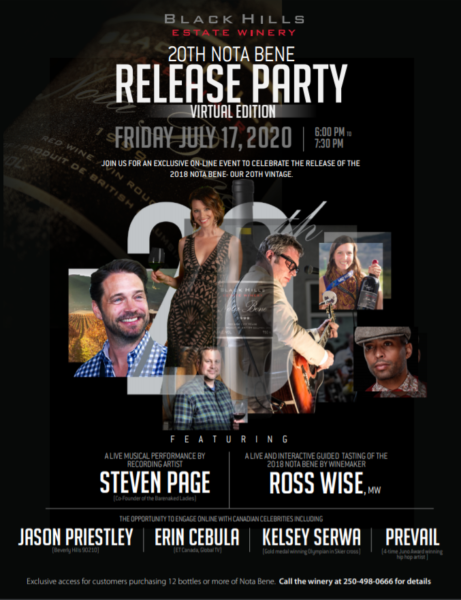 For questions regarding the event, contact Black Hills Estate Winery's chief wine evangelist, Glenn Fawcett.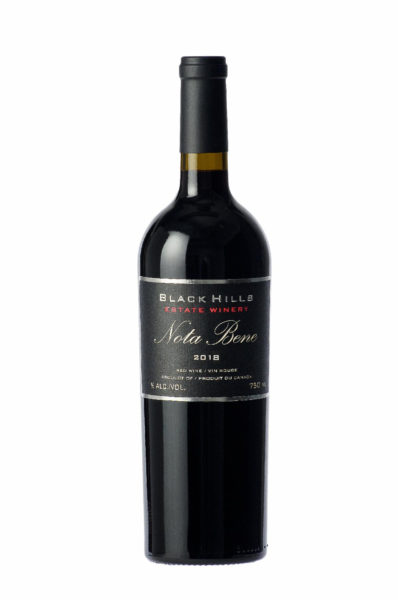 About the 2018 Nota Bene
Nota Bene is the flagship wine of Black Hills Estate Winery and the winery team is excited to be celebrating the 20th Anniversary Vintage release of the iconic blend. It is incredible to believe that this all started in a small Quonset Hut in 1999.
The 2018 vintage is the first vintage crafted by the winery's new winemaker, Ross Wise, MW. Wise is just one of seven in Canada to hold the title "Master of Wine"; one of four in BC, and one of only 396 worldwide. Wise brings his considerable talent and experience to the table while being fully respectful of the longstanding legacy and tradition of the previous 19 vintages of Nota Bene.
With Black Hills' passion for the continual quality evolution of Nota Bene, Wise saw opportunities for subtle adjustments that could enhance the wine's richness and complexity. One of those small adjustments was the addition of 1% Petit Verdot, contributing an interesting element to the colour and the mouthfeel of the wine. The winery team believes that subtle changes like this, combined with Wise's exacting winemaking practices, result in one of the best Nota Bene vintages yet.
This rich and complex wine, with deep flavours of blackberries and mocha, is made available as a pre-release to the public to commemorate the 20th anniversary of Nota Bene wines.
Early Critical Praise for the 2018 Nota Bene
"95 Points." – Michael Godel, Wine Align
"Perhaps one of my favourite vintages of Nota Bene so far." – Tom Firth
"94 Points" – John Schreiner
Founded in 1998, Black Hills Estate Winery produces wines exclusively from its estate vineyard on the Black Sage Bench, north of Osoyoos, British Columbia and will be releasing its 20th vintage this June.
The vineyard microclimate is one of the hottest, driest, and sunniest sites in the South Okanagan, allowing the vines to yield flavourful grapes of balanced intensity. Using sustainable vinicultural techniques and thoughtful winemaking practices, the winery is well-known for its signature blend: Nota Bene, an age-worthy Bordeaux-style red blend produced in limited quantities from select barrels, now in its 20th vintage. Black Hills also produces a selection of stunning ultra-premium blends, such as Addendum, Per Se, and Ipso Facto, and varietally-labelled Viognier, Chardonnay, Roussanne, Syrah, Tempranillo and Carménère.
Surrounded by panoramic vineyard views, the Black Hills team welcomes wine lovers to visit their Wine Experience Center in Oliver. This stylish facility provides a unique, sit-down wine tasting experience guided by highly trained wine professionals. Annual summer events held at the facility are bold, exciting and fun. Members of the Black Hills Wine Club enjoy front-of-line access to limited-releases and wines not available to the public. Learn more and order wine at BlackHillsWinery.com.
Media release and images provided by Giulia Sa Barreto, Town Hall Brands.