CedarCreek Estate Winery welcomes you back where the traditional wine tasting experience has been completely 're-imagined'. Offering new tailored guest experiences as they welcome back guests to their tasting rooms and wine boutiques for the summer season.
Reimagined summer tastings and tours + culinary experiences
Every tasting experience has been tailored to showcase what makes the winery shine. Guests can tour the cellars and vineyards, learn about the terroir, and enjoy thoughtful food pairings, all while raising a glass to summer in the Okanagan (available by reservation):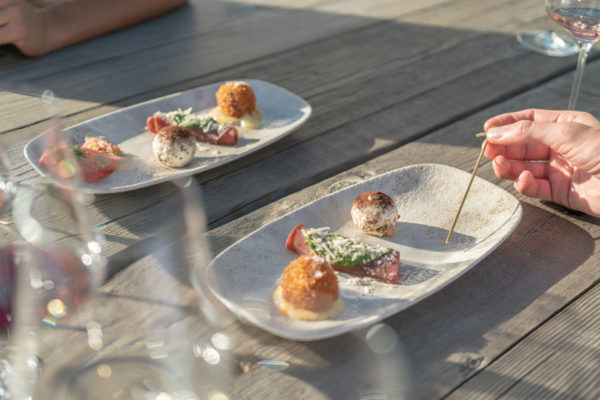 CedarCreek Estate Winery's dedication to achieving 100% organic farming has resulted in a portfolio of extraordinary wines that are a product of paying the highest respect to the land. Enjoy the wares of CedarCreek's winemaking processes through three different tasting experiences. In addition, Home Block Restaurant is offering prix fixe multi-course, wine-paired, lunch and dinner menus. Discover more at cedarcreek.bc.ca.
Respect the Land
Ask anyone who grows grapes and they'll tell you that roots are important.  In our case they run very deep, as the Fitzpatrick's respect for the land over four generations in the Okanagan has led to the establishment of three unique vineyard sites totaling 110 acres on bench lands overlooking the lakes of the Valley.
Organics at CedarCreek
During the 2019 Harvest, we completed our first audit with Ecocert and we are pleased to announce that our Home Block Vineyard and CedarCreek Winery have been officially certified organic. We believe whole-heartedly that caring for the land means thinking sustainably and farming organically. By eliminating all weed sprays and insecticides, and depending mainly on canopy work and careful attention in the vineyard, our soil is coming alive and our ecosystem is thriving. The results of this work is also reflected in the dynamic and high-quality wines we are able to produce.
"Organic farming doesn't mean we're hands off. In fact, we have to work harder but the end result is worth the investment." —Kurt, Senior Viticulturist at CedarCreek.
This transition to organic continues to influence our philosophies and practices in the vineyard and winery. Chickens, bees, worms, and cover crops are just a handful of the sustainable projects we are working to implement to create a dynamic and vibrant ecosystem.
"The way we farm with organics creates a demand for the the vines to drive their roots deeper," says Kurt, Senior Viticulturist at CedarCreek. "This deepening of the root structure creates change as the vines explore below ground and that's reflected in the canopies just slowing down and coming a bit more into balance."
Media release and images provided by Morgan Sommerville, Serena PR.