Just Hatched – Black Swift Vineyards flies the
coop in a Screaming Frenzy
Gobsmacked, Crown & Thieves, Talking Stories, Screaming Frenzy, Black Swift Vineyards – what do they all have in common? All 5 of these wine brands can be found incubating in the nest of the Westside Wine Trail winery the hatch lying in wait, getting ready to one day leave the nest and create a nest of their own. That time is now for Black Swift Vineyards and Screaming Frenzy with the opening of their new tasting room this week.
Proclaimed by Jason Parkes and Grayson Riordon, affectionately named the Prince of Tides, as "the hatch in a tuxedo t-shirt," the new winery can be found just down the road from its old nest, perched on the hillside at the gateway to the Westside Wine Trail on Boucherie Road.
Black Swift Vineyards takes its name from the elusive, high-flying black swift bird that flies in screaming frenzies and only produces one solitary egg each year. Building on that idea, the wines released under the Black Swift name are all single-vineyard focused. "We try to pick a spot that we feel suits that particular grape – places that I feel I've had success with before," remarks Jason Parkes. "More importantly, it's about giving our growers – who have been with us forever – the spotlight and respect they deserve. They put their heart and soul into their work and it really comes through in our wines."
With Screaming Frenzy, the focus is more on making approachable, every day wines while creating labels that often pay ode to or poke fun at the wine industry and themselves. "We want to bring a lightness and playfulness to an industry that can sometimes take itself too seriously," adds Parkes.
Located at 2345 Boucherie Road, the tasting room is now open Wednesday to Sunday from 11 am to 5 pm, with plans to open daily mid-summer. The tasting experience includes flights of Black Swift Vineyards and Screaming Frenzy, with COVID-19 distancing protocols in effect for the safety and enjoyment of all guests.
For more information on Black Swift, follow their updates from the nest on Facebook and Instagram.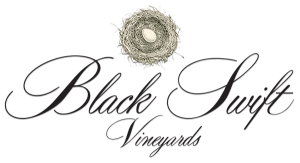 ABOUT BLACK SWIFT VINEYARDS
Black Swift Vineyards is a premium, single vineyard wine producer based on the rapidly evolving regions of the Okanagan and Similkameen Valleys. Our dedication is to produce world class of wines that showcase the unique character of our vineyards and region. While only around 9000 acres, these regions are distinct in the world of wine for their exceptional range and ability to grow a diverse array of premium vitis vinifera grapes. From North to South and East to West, we enjoy a multifaceted variety of soil types, topography, climates, and people. It is our quest to explore and celebrate these differences through farming various varietals in the localities that we feel suit them the most. In this way we hope to help share with the world the incredible depth, variety, complexity, and most importantly quality, that British Columbia wine has to offer.
Media release and images provided by Lindsay Kelm, Kelm Communications. Photo Credit: Nicole Richard – Wax Pencil Imagery