Today, Uber Eats launches Eats Pass, making it easier for Canadians to enjoy the food they love. Eats Pass is a monthly membership model available for $9.99 a month. By opting into the membership, Canadians will enjoy a $0 Delivery Fee and 5% off every restaurant order over $15. To help celebrate the launch, Eats Pass is now available for a one month free trial and for a limited time, these benefits will apply to all restaurants on Uber Eats.
Eating local has become more top-of-mind for Canadians than ever before, and Eats Pass makes it easier to order more often, try something new and feel good about supporting local restaurants. 
Eats Pass is easy to cancel or pause at any time, and gives Canadians unlimited access to all of their local favourites while they continue to stay at home. Eats Pass is available across Canada wherever Uber Eats currently operates (excluding Quebec).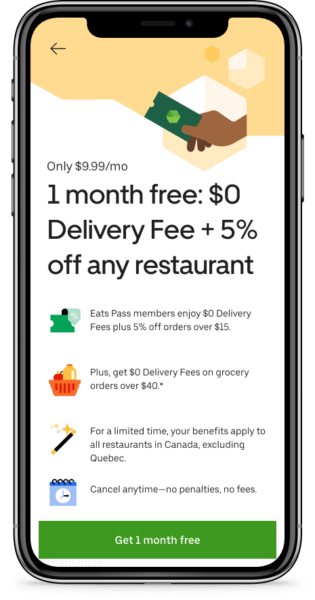 Eat, save, and support restaurants
Get unlimited $0 delivery with a free month of Eats Pass.
Join for unlimited access to local restaurants with $0 Delivery Fee & 5% off orders of $15+; 1st month is free, then it's $9.99/month.*
Even during busy times.
For a limited time, your benefits apply to all restaurants in Canada, excluding Quebec.
No penalties, no fees.
Information and images provided by Mackenzie Jaklin-Graham, Media Profile. If you would like to be featured on MyVanCity.ca please email myvancityval@nullgmail.com.