Township 7 Vineyards & Winery launches the seven stars club 
B.C. winery creates one of Canada's only sparkling wine clubs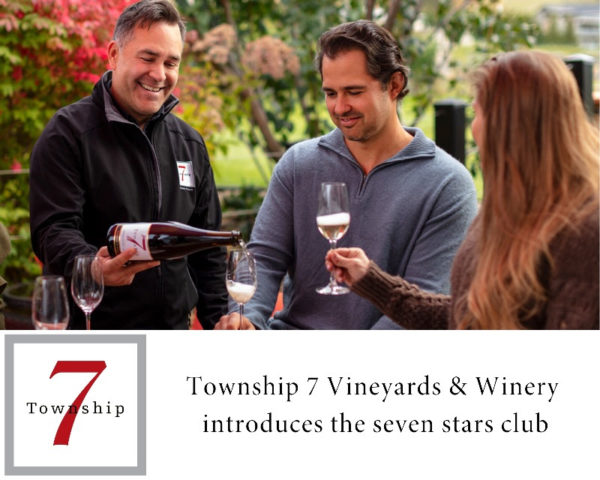 Township 7 Vineyards & Winery is thrilled to introduce the seven stars club, their limited edition sparkling wine collection for members.  Over two decades ago, Township 7 was amongst the first wineries in B.C. to create a Méthod Champenoise wine with their inaugural seven stars 1999.  In celebration of their 20th anniversary this year, they are again at the forefront in creating one of Canada's few sparkling wine only clubs.  The seven stars collection of sparkling wines are crafted in the traditional Méthode Champenoise style in which the wine undergoes a secondary fermentation in the bottle and are en tirage for a minimum of one year.  The winery's highly acclaimed small lot cuvées include: Polaris, Equinox, Vega and Eclipse, with more to come in the coming months and years including Sirius, a Langley estate 2015 vintage –- 54% Pinot Noir and 46% Chardonnay that will have been en tirage for five years when it is released.
"Twenty years ago we had a vision to craft a sparkling wine of distinction and we're honoured by the incredible reception the wines have received since that time. The highlight for me was attending the Champagne & Sparkling Wine World Championships in London last fall where we were awarded Best Canadian Sparkling Wine in Canada," commented Mike Raffan, Township 7 Vineyards & Winery General Manager.  "With our winemaker Mary McDermott's passion and extensive expertise in Traditional Method wines, we felt ready to take our seven stars sparkling program to another level with the launch of a club devoted exclusively to bubbly."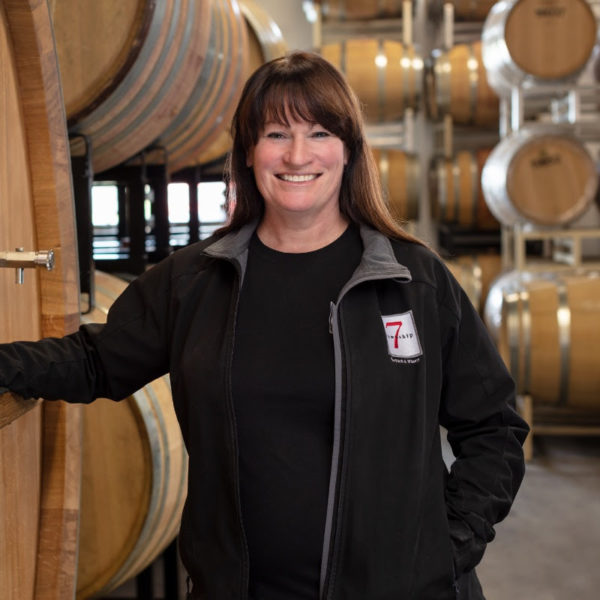 Mary McDermott, Township 7 Vineyards & Winery Winemaker said, "I am so excited for our seven stars club, as I love not only making sparkling wine but drinking it. It has been a passion of mine for many years. I appreciate that Township 7 has given me the opportunity to make a variety of Traditional Method sparkling wines, and allows me the freedom to experiment."
Members of the seven stars club receive two annual shipments of 6 seven stars sparkling wine bottles in the spring and fall with the option of picking up their shipment at 15% off the cost of the wines, or receiving free shipping to their door anywhere in Canada. Membership also includes invitations to special club only celebrations, full access to clubSEVEN wines, 10% off all Township 7 wine purchases outside of club shipments along with other benefits. More information is at township7.com/sevenstars.
Also in celebration of Township 7's twentieth anniversary, both their South Langley and Naramata Bench wineries are holding special festivities the weekend of September 11-13 with cake, live music, and of course sparkling wine.  Additional details are at township7.com/events.
About Township 7 Vineyards & Winery
We have a singular focus. It's only about quality wine! We believe premium winemaking starts in the vineyard. We carefully select specific sites throughout B.C. for their unique characteristics. Our fine wines reflect the special terroir of each vineyard and this is expressed in the bold flavours of the wine. Handcrafted to cellar, we hope you enjoy our robust reds and aromatic whites with loved ones. www.township7.com
Media release and images provided by Lori Pike-Raffan, Township 7 Vineyards & Winery.
If you would like to be featured on MyVanCity.ca please email myvancityval@nullgmil.com for details. Wine samples accepted for review.