Nothing scary about a sugar-free and artificial sweetener-free 100 calorie beverage for your sipping pleasure this Halloween season?
Better yet it's a yummy Black Cherry flavoured Nude Vodka Soda turned into a spirited "better for you" cocktail with this great and easy recipe!
Spooky Soda
Prep Time: 5 mins || Serves: 2
Tools: 2 Large No-Stem Wine Glasses, Muddler, Small Bowl, Spooky Straws
Ingredients: A Handful of Blackberries, 2 Cans of Nude Vodka Soda, 1 Kiwi, Ice Cubes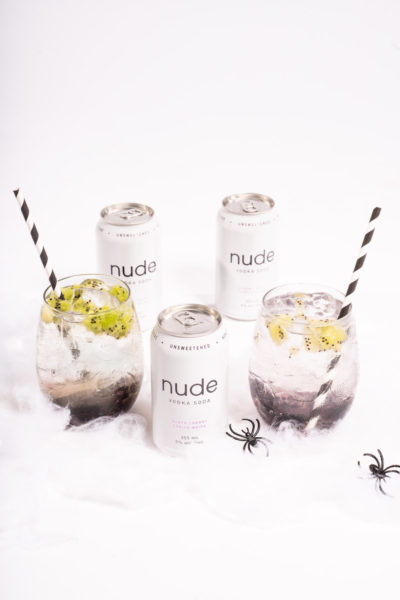 Directions
Add 2-3 blackberries in each glass and muddle
Add lots of ice in each glass on top of the blackberries – ice should be filled to the top of the glass

Pour the Nude vodka soda into each glass until it's filled to the top

Remove skin from kiwi, cut in half and mash for a minutes

Add muddled kiwi to the top, add a straw and enjoy!
Canada's Original White Can
Sugar-Free Vodka Soda
Our products are crafted with care so that you can enjoy them guilt free. Each can has 100 calories, no carbs, zero-sugar, and zero-sweeteners. All products are made with a triple-distilled, gluten-free Vodka, Gin or Tequila.
Nude Beverages was founded and developed as Canada's first white can, 5% sugar-free Vodka soda (each contains just 100 calories). Nude Beverages now come in many different flavours, all with zero-sugars and sweeteners, 'dressing them up' is a super-easy way to create a better for you cocktail that is simple and delicious.
Media release and images provided by Chloe Howe, Talk Shop Media.