PIZZA FOR THE PEOPLE: ANTHEM PIZZA MAKES ITS VANCOUVER DEBUT WITH $10 'ACE OF SPADES' MARGHERITA PIZZAS AND MOVEMBER DONATION
New 'Cloud Kitchen' Take-Out Concept Champions Punk Rock-Inspired 'Pizza with Purpose', Gives Slice of Each Pie Back to Worthy Causes
A new 'cloud kitchen' take-out concept that brings 'pizza with purpose' to the people in the midst of the COVID-19 pandemic and gives a slice of the pie back to worthy causes in the community bursts onto the scene this month when Anthem Pizza makes its Vancouver debut on Thursday, November 19.
Available for pickup and delivery daily from 3 to 10 p.m., Anthem serves up a menu of no-fuss 14" pies and sides with names inspired by rock icons like Bowie ('Hunky Dory' — prosciutto, banana peppers, mozzarella and pineapple jam), The Beastie Boys ('Sabotage' — chorizo sausage, pepperoni, roasted chicken, prosciutto, mozzarella) and Iggy Pop ('Blah Blah Blah' — Alfredo sauce, mozzarella, fior di latte, Grana Padano, Provolone, EVOO) in current-events-inspired boxes with a DIY punk-rock aesthetic that features the limited-edition works of David Bircham and other local artists.
To celebrate its official launch, Anthem will be offering its Motörhead-inspired 'Ace of Spades' (a.k.a. Margherita) pizzas for only $10 (regular $18) from Friday, November 20 through Monday, November 30. This exclusive offer is available only when using the promo code 'ANTHEM' and ordering online via anthempizza.ca for pickup at The Five Point Restaurant & Pub (3124 Main Street) and Park Drive (1815 Commercial Drive) and is limited to one pizza per customer nightly while supplies last.
Anthem is also a proud, community driven enterprise that thinks outside the box and aims to change the world one pizza at a time by giving back to different designated charities each quarter. To start, partial proceeds from the sale of all Anthem pizzas will be directed to the BC Children's Hospital Foundation and the Unison Benevolent Fund, which helps Canadian musicians in times of hardship, illness or economic difficulties by providing counselling and emergency relief.
Throughout November, Anthem will also donate 10% of its proceeds from each pie sold to Movember, a charity dedicated to addressing and advancing men's health issues such as mental health and suicide prevention and prostate and testicular cancer.
The colourfully edgy and collectible works of art pasted to the top of each Anthem box will also be available in suitable-for-framing poster form as well as emblazoned on Anthem T-shirts for $25 each plus tax and shipping via anthempizza.ca/shop, with further proceeds from sales donated to Movember and other charitable causes and initiatives.
"Every pie we're putting out is made with a very important ingredient: purpose," says Anthem Pizza Founder Matt Thompson, who also owns and operates beloved casual hangouts The Cannibal Café, Park Drive, Alphabet City and The Five Point. "The inspiration behind the creation of Anthem was not only to respond proactively to the COVID-19 pandemic by pivoting to a takeout-only model but also to do something good for local people and projects that need the love now more than ever. This is our Anthem — sung loud, hardcore and rebellious."
Read more on the purpose behind Anthem Pizza at anthempizza.ca/purpose.
HOW TO ORDER
Anthem Pizza can be ordered for delivery or pickup seven days a week from 3 to 10 p.m. at anthempizza.ca or via Skip The Dishes and Uber Eats, with delivery via DoorDash coming soon.
To stay up to date on the latest developments at Anthem Pizza, visit anthempizza.ca, become a fan of /AnthemPizza on Facebook and follow @anthempizza on Instagram.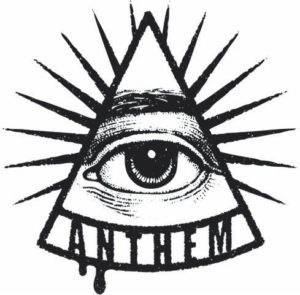 ABOUT ANTHEM PIZZA | Anthem Pizza is a new take-out concept that brings 'pizza with purpose' to the people and proudly gives a slice of the pie back by donating partial proceeds of each pizza sold to worthy causes and charities in the community like Movember, The BC Children's Hospital Foundation, the Unison Benevolent Fund and more. Available for pickup and delivery seven days a week via its website and third-party platforms, Anthem Pizza serves up a variety of 14" pies with names inspired by songs, bands and music icons like Bowie, The Beastie Boys and Iggy Pop in colourful, edgy and of-the-moment-inspired boxes with a DIY punk-rock aesthetic featuring limited-edition, collectible works from David Bircham and other local artists.
604-425-1129 | Hours: seven days a week from 3 to 10 p.m. | anthempizza.ca
Instagram: @anthempizza | Facebook: /AnthemPizza

Media release and images provided by Jan-Christian Sorensen, SMC Communications Inc.