Yesterday I participated in a virtual tasting and webinar hosted by Les Vins du Médoc and presented by Véronique Rivest. The purpose was to explore the eight appellations of the Médoc. 
I have provided two sets of brief comments; the first based solely on the nose, and notes were taken immediately after the wine was poured; the second comments were my thoughts and impressions as I tasted the wines after they had been decanted for 3.5 to 4 hours.
Following the webinar there was a tasting of the following wines. 
A gift from the good earth
CHÂTEAU LA GORCE MÉDOC, CRU BOURGEOIS 2016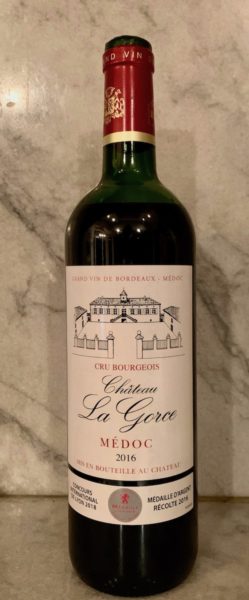 BCLiquorStore 
** (2.6) Stars BC Liquor Store
Initially, immediately after the pour, I detected a slightly dusty scent, overripe, almost spoiled fruit. The wine was lightly coloured and clear.
Second impressions were of dark stone fruits and dark cherries, leather, tobacco. I found it slightly oaky with medium tannins but lighter, easy drinking, delicate, dry, not powerful but very nice. Véronique tells us this is a good wine example of Médoc, an everyday wine that could age for 5 or 6 years but is also nice now.
CHÂTEAU CAP LÉON VEYRIN LISTRAC-MÉDOC, CRU BOURGEOIS 2016
BCLiquorStore 
APPELLATION  
Listrac-Médoc 
GRAPE VARIETIES  
58% Merlot, 39% Cabernet Sauvignon and 3% Petit Verdot 
ALCOHOL 
13%  
SOIL 
Clay-limestone and gravelly marl. 
WINEMAKING PROCESS 
Manual and mechanical harvesting, hand sorting, total de-stemming,  mechanical crushing, fermentation in stainless steel vats. Aged in oak barrels  for 12 months (60% new), fining with egg white. 
TASTING NOTES 
Racy and elegant wine, the ruby color is intense. The nose is rich and spicy,  in the mouth is well balanced: tannic and aromatic. The black currant  and raspberry aromas are very fresh, with subtle toasted note. Excellent  vintage.
"The 2016 Cap Leon Veyrin is medium to deep garnet-purple in color with a nose of blackcurrant cordial, warm plums and cherries with touches of violets and cigar box. Medium-bodied, grainy and oak-laced, it offers plenty of juicy fruit and good length. Drink: 2019 – 2030."
90 Points, Wine Advocate
Initial thoughts were that it was medium to dark in colour with alcohol on the nose.
Scents of fresh fruit salad, plum, medium colour and somewhat burnished in colour. Mellow, smooth, light tannins, riper fruits, good, rich, "the velvet of Merlot" flavours of black cherries. I did not think it was ready to drink yet.
CHÂTEAU PEYRABON 2010 HAUT-MÉDOC 

BCLiquorStore 
APPELLATION  
Haut-Médoc 
GRAPE VARIETIES  
60% Cabernet Sauvignon, 30% Merlot, 6.4% Cabernet Franc  and 3.6% Petit Verdot 
ALCOHOL 
13%  
SOIL 
Sandy gravel on clay subsoil. Clay limestone for 5 ha. 
WINEMAKING PROCESS 
The whole bunches of grapes are systematically sorted in the vineyard at  first, then de-stemmed before sorted by hand on vibrating sorting table.  Onboard Pellenc system "Selectiv process" used for mechanical harvest,  finished off by hand selective picking on sorting conveyor on arrival at the  winery. Wine-making follow-up: Thermoregulated concrete or stainless steel  vat. Vinification by selected parcels Fermentation around 25-26°C. Gentle  extraction by pumping-over / adapted releases. Length of maceration is  determined by tastings, depending on the grape variety and the parcels: from  19 to 24 days. Use of rotating vertical wine press, to obtain gentle extraction.  Press wine systematically separated. Malolactic fermentation takes partly  place in barrel. Traditional maturation in barrel (of which 22% are renewed  each year) during 14 months. Fining in vat before bottling with fresh egg white. 
TASTING NOTES 
A nose which deserves to be discovered with generous oxygenation to find  aromas of toasted cocoa, balsamic, eucalyptus and nice fruit-driven notes  of blackberry syrup and raspberries. A rich and dense wine, rather tasty. A  beautiful structure with an elegant character. Rich tannins with an elegant  astringency integrated into the texture of the wine. A medium-length finish.  (January 2016, Paolo Basso Sommeliers International).
**** (4.3) Stars BC Liquor Store
Initially scents of strong smoke, slight yeast, dark and slightly burnished in colour. Some subdued musk. Oaky, a bit of yeast scent, beef stroganoff, very dry, strong tannins, dark, rich, not as plush. A bit stinky but full flavoured with smoky, ripe fruits. Very good now. I had cork issues with this bottle and it may not keep so rather than re-cellar I will watch this one. The cork was replaced with a used cork I had on hand and covered with wax.
CHÂTEAU BRILLETTE MOULIS-EN-MÉDOC, CRU BOURGEOIS 2009

BCLiquorStore 
***** (5) Stars BC Liquor Store
Initially smoky, bbq sauce, cherry brandy. Darker and a burnished tone, less clear.
After sitting it was a very little bit stinky, prunes, jam tart or pie.  Prunes, plum, stewed red fruits, ripe, figs, very pleasant scents. Smells wonderful. Very tasty with medium tannins, rich with good body. I liked this one and consider it a favourite. Clay scents and tastes, ripe fruit notes, very good, I enjoyed this wine very much even though it had some quite forward tannins.
CHÂTEAU DU GLANA SAINT-JULIEN 2017

BCLiquorStore 
89/91 points Wine Advocate
Quite dusty with aromas of lighter fruit, medium colour, less clear.
Very light, fresh fruit. Good, solid but not great or exceptional. Brandy scents, berries, juicy. A very light, toasty taste but fresh and pleasant with medium tannins. Very pleasant, black pepper, less body, light but with a bite of smooth flavour. Very drinkable and I enjoyed the wine.
CHÂTEAU PETIT BOCQ SAINT-ESTÈPHE 2017

BCLiquorStore 
"With all the impressive Saint-Estephe tannins to the fore, this is a seriously structured wine. It also has density and solid black fruits that are ready to develop into a rich, full wine. Drink from 2023."
90 Points, Wine Enthusiast
Initially delicious scents of plum torte, delicate, medium colour.
Very pleasant ripe fruit, pastry, whiskey, fresh and pleasant, nice scents. Extremely light but with tannins. Floral and hard candy. Young and still a bit harsh yet with less body.
CHÂTEAU SIRAN  MARGAUX 2017

BCLiquorStore 
APPELLATION  
Margaux 
GRAPE VARIETIES  
46% Merlot, 45% Cabernet Sauvignon and 9% Petit Verdot 
ALCOHOL 
13.5%  
SOIL 
Outcrop with elevation up to 12 meters made from old alluvium covered  with fine siliceous gravels. 
WINEMAKING PROCESS 
Sustainable viticulture without chemical herbicide. Intra plot selection for  high precision, fermentation in thermoregulated stainless-steel vats from  60 to 180hl, maceration at 28-32º depending on the lots, pump over and  releasing of some tanks, vatting from 18 to 24 days, malolactic fermentation  in barrels. Aged 12 months in 35% new barrels French oak fine grain medium  toast with two racking process. 
TASTING NOTES 
This luscious, ripe wine is both balanced and generous. Acidity comes from  the freshness of the vintage, bringing out fruitiness to complement the  tannins. The wine will develop well.
"Features alluring black cherry and plum puree flavors gliding through, inlaid with subtle alder, lilac and black tea notes. Perfumy and velvety, with a suave finish. Merlot, Cabernet Sauvignon and Petit Verdot. Drink now through 2030."
91 Points, Wine Spectator
Initially ripe fruits, hard candy.
Very lightly scented, raw immature fruit, under ripe, chalk. Medium colour. Flavours of plum, smooth medium tannins, soap, light but tasty, pleasant, clay. I enjoyed this one but less so on a second taste. Light, young, not ready and a bit more tannins than I like.
Described by Véronique as "an iron fist in a velvet glove".
CHÂTEAU LYNCH MOUSSAS PAUILLAC, GRAND CRU CLASSÉ EN 1855 2017

BCLiquorStore 
"Owned by the prominent Casteja family, this wine reflects signs of the estate's improvement. It has structure without great weight, celebrating fruit as much as tannin. That means it will develop quickly, and is likely to be ready from 2023."
93 Points, Wine Enthusiast
Initially dusty, sawdust, marshmallow, chalk, kiwi, cranberry. Light, medium colour.
Scents of perfume, raspberry, dusting powder, fresh market fruits, ripe fruit, smooth, earthy with spice, Cassis. Very nice. I liked this one, young but very good. Perhaps my favourite? Fine tannins, nice, light, typical finish of oak.
They say "knowledge is King" which I'm not entirely sure that means anything but this next pictorial section of my review is for dedicated wine nerds and would-be wine nerds and comes courtesy of Médoc-Bourdeaux. I do believe that a bit of knowledge enhances your wine tasting experience. Enjoy!

Information and assets provided by Myriam Tardif, Sopexa Hopscotch Group. Bottle shots and feature image MyVanCity. I received a complimentary bottle of each of the wines for tasting and to facilitate this review. All opinions and text (in italics) is my own.
After the pour the bottles were recorked (including the Chateau Peyrabon, which had a dry cork, using a cork from a previously enjoyed bottle), waxed and will be cellared.