Usher in Spring with an Easter Feast To-Go Prepared by Railtown Catering
Plan for an effortless Easter celebration spotlighting classic dishes prepared to perfection. 
Award-winning catering company Railtown Catering readies to launch its much-loved Easter To-Go packages, available for pickup or delivery on Sunday, April 4 and Monday, April 5. These traditional multi-course packages make for a truly effortless Easter dinner, simply reheat and serve.
A conveniently pre-sliced Honey-Glazed Ham takes center stage of the family-style offering and is accompanied by various seasonal sides and dessert. Long-loved menu favourites include the decadent Scalloped Potatoes with Gruyère Cheese, fragrantly spiced fluffy Hot Cross Buns served with whipped butter and a toothsome Rhubarb Crumble.
Easter To-Go Menu
Entrée:
Honey-Glazed Bone-in Ham with House-made Caraway Mustard (pre-sliced)
Seasonal Side Dishes:
Organic Spring Greens with Asparagus, Haricots Vert, Grape Tomatoes, Marinated Artichokes, Toasted Almonds and Sherry Vinaigrette
Cucumber Salad with Fresh Dill and Sour Cream Dressing
Scalloped Potatoes with Gruyère Cheese
Buttered Sweet Peas and Baby Carrots with Mint
Braised Red Cabbage
Roasted Root Vegetables with Caramelized Shallots, Mushrooms and White Asparagus
Hot Cross Buns with Whipped Butter
Classic Rhubarb Crumble with House-made Vanilla Ice Cream
The festive feasts are available in both small (feeds 4-6) and large (feeds 8-10) sizes for $199 and $339 plus tax, respectively. Hot, ready-to-eat packages are also available for an extra charge of $50. Additional side dishes are available on an a-la-carte basis.
New this year, the Railtown chefs will be preparing a Rosemary-Crusted Lamb Leg, available as a premium add-on. This traditional Greek Easter protein is a cut above the rest, prepared medium alongside a mustard lamb jus. "Should you be able to ration leftovers, this makes for great sandwiches the next day," shares Railtown Catering Chef and Co-owner Dan Olson. The lamb leg is available in two sizes, small (feeds 4-6, for $69.00), and large (feeds up to 10 for $119).
All orders must be placed by 10:00 am on Wednesday, March 31. Packages are available for pickup at Railtown Cafe's flagship location, 397 Railway Street in Vancouver, on Sunday, April 4 or Monday, April 5, from 10:00 am – 5:00 pm. Delivery will be available throughout the Lower Mainland for an additional charge.
Railtown Catering will be offering a special early bird offer; those that reserve a package before March 23, will receive a $40.00 Railtown Cafe gift card. Both small and large package orders are applicable to receive the early bird incentive.
As with all of Railtown's holiday offerings, a portion of the proceeds from the sale of each Easter To-Go package will be donated directly to Mission Possible, a non-profit charity providing street-level care for those with immediate and critical needs in Vancouver's Downtown Eastside neighbourhood.
"While we may not be able to celebrate this year in a traditional sense, we believe there's a lot of comfort to be found in this traditional culinary offering," says Railtown Catering Chef and Co-owner Dan Olson. "We feel very privileged to be able to help make the holiday less stressful and give back to our community."
Orders may be placed by calling 604-568-8811 or online.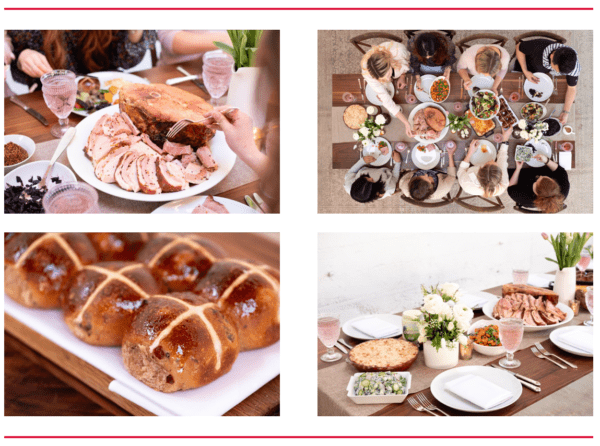 About Railtown Cafe and Catering
Led by Chef/Partners Dan Olson and Tyler Day Railtown Cafe and Railtown Catering offers a signature combination of classical French technique and inspired West Coast style. Since the flagship opening of Railtown Cafe in 2012 in the historic Railtown neighbourhood, the company has expanded to serving healthy and delicious food in three more locations; Main Street, Granville Street, and Howe Street. Through Railtown Catering, personalized food and beverage menus and event services are available for a wide array of private and corporate functions as well as daily office deliveries throughout Vancouver. Whatever the celebration or location, Railtown's friendly and intuitive team of chefs, event planners, and elite service staff have earned a reputation for creativity, innovation, and finesse by delivering a refined, first-class experience from start to finish.
For more information about catering, visit www.railtowncatering.ca, or @RailtownCaters on Instagram. To learn more about the happenings at the cafes, visit www.railtowncafe.ca and @RailtownCafe on Instagram.
Media release and images provided by Jason Haugen, Leila Likes.