In addition to the weekly wine review and the various other, usually wine-related, articles I write for My Van City, I am going to include a new one that will appear from time to time.  I'm calling it, 'From the Cellar'.
It will be much like the wine reviews, except that it will feature wines that have been aged.
It came to my attention that in an earlier review, I included a wine that is no longer made by a certain winery.  They were very happy with the mention and my positive comments, but they were concerned someone might try to track down a bottle and be disappointed when they found it wasn't being produced any longer.  So, from now on I will keep the 'Wednesday Wine Review' to recent vintages that should still be available and 'From the Cellar' for those that I have to blow the dust off of.  There are no hard and fast rules.  I recently bought a couple of reds at my local liquor store that were 2010 vintages (a great deal in my eyes).  While most people drink what they buy in a matter of days, if not hours, more and more people are realizing the benefits of holding on to some of their wines and are enjoying the benefits of doing so.
Prices indicated are the costs when purchased.
2013 Gewürztraminer
Pfaff Steinert
Alsace, France
$34.50
Golden yellow in colour with medium intensity.  The nose is rich and layered with aromas of lemon, honey, ripe apricot, passion fruit, mango, lychee, and floral notes.  Well balanced and unctuous on the tongue.  The aromas carry through on the palate followed by a long lingering finish.  Beautifully aged at seven years old.  Harmonious from beginning to end.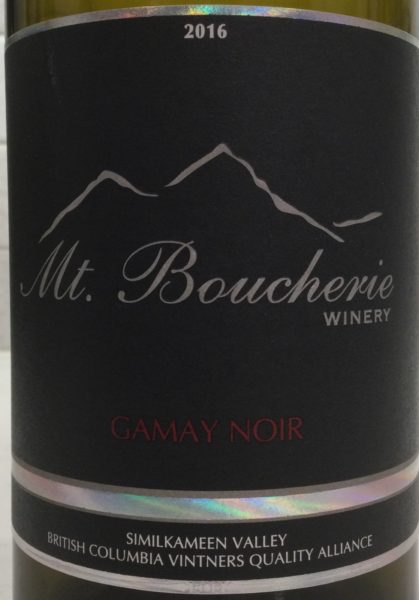 2016 Gamay Noir
Mount Boucherie
West Kelowna, BC
$21.00
I think I caught this at its perfect age.  It was beautiful and would rival any Beaujolais Cru.  Garnet with brick tinges and medium intensity.  The nose is layered and complex with dried cherry and strawberry, burnt orange peel, leather, smoky salami and spice.  Well balanced with silky smooth tannins.  The flavours reflect the nose followed by a medium-long finish.  A delight to drink.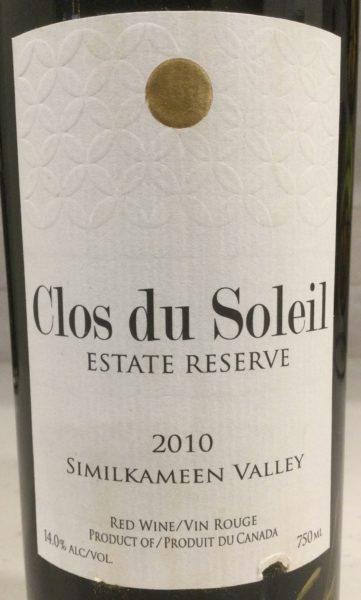 2010 Estate Reserve.
Clos du Soleil
Keremeos, BC
$59.99
A blend of Cab Franc 40%, Malbec 35%, Cab Sauvignon 20%, Petit Verdot 5%.  Garnet/black in colour with some bricking and deep intensity.  Dark fruit, dust, bell pepper, raspberries, pencil shavings, spice, and vanilla.  Well balanced with ripe tannins.  The palate is layered with flavours of black cherries, blackberries, plum, vanilla, dusty leaf, and sandalwood.  Lingering dark fruit on the medium-long finish.  At $60, this is a special wine for me, however with its elegance and finesse, you'd pay double for a Bordeaux of similar quality.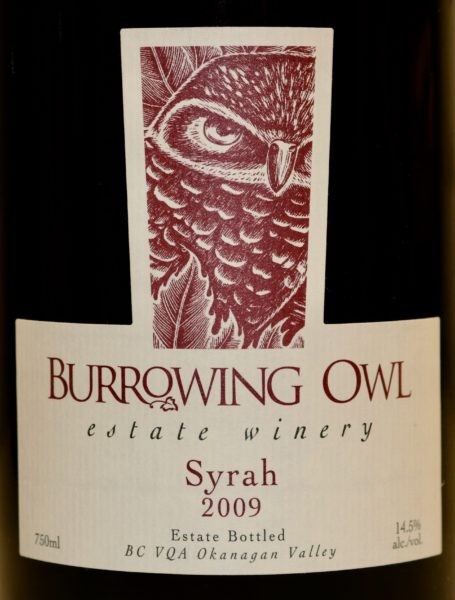 2009 Syrah
Burrowing Owl
Oliver, BC
$29.90
Garnet red with a slight hint of brick and deep intensity.  The nose is layered with dark fruit and berries followed by plum, cherry, earth, and undertones of cocoa and spice.  Well balanced with smooth ripe tannins.  Pleasing fruit on the palate followed by a medium-long finish.
2012 Vicuña Roja
Blackwood Lane
Langley, BC
$29.00
This is a blend that changes from year to year based on what is needed for their premium wines, but it tends to offer excellent value.  Delicious when released, but it also benefits from some cellaring.  Garnet red in colour with a hint of bricking (given its age) and medium-plus intensity. The nose is inviting with aromas of dark cherry, black currant, bright red berries, spice, vanilla, and a dusting of cocoa powder.  Well balanced with smooth ripe tannins.  The palate reflects the nose and is followed by a medium-long finish.  Even better than when I tasted it over a year ago.  Fabulous.
(All photos – Sam Hauck)