While last summer saw the rise of hard seltzers with big brands sinking their claws into the market, we're here to tell you that the biggest seltzer launch has just dropped. Not all hard seltzers are equal, nor do they live up to the hype. This month, there's a new hard seltzer in town – Vizzy – the first hard seltzer with
. It's basically the greatest glow up that could ever happen to a seltzer.
With unique dual flavours that are newer, bigger and bolder than anything you've tried before, Vizzy isn't just another hard seltzer. Did we just say bold? We did. And we mean it! Vizzy is hitting the shelves, which means thirsty Canadians can get their drink on while supporting a brand that stands for a bold and fun approach to positivity and good vibes. So go on, grab one of our four unique flavours – Pineapple Mango, Blueberry Pomegranate, Black Cherry Lime and Strawberry Kiwi –  and get ready for a brighter seltzer season.
Product:
Vizzy is a hard seltzer made with superfruit Acerola Cherry. Each can has a light, refreshing carbonation and hint of fruit flavour.

There are four unique dual flavours available – Pineapple Mango, Blueberry Pomegranate, Black Cherry Lime and Strawberry Kiwi.

5% ABV and 100 calories per 355ml.
Taste:

Pineapple Mango – Close your eyes and picture an exotic tropical paradise. Now open your eyes and let the natural flavour of sweet pineapple and juicy mango transport you to your happy place.

Blueberry Pomegranate – We took the rich, velvety taste of blueberries and paired it with smooth pomegranate to create this mind-blowing natural flavour for Vizzy Hard Seltzer. Grab one and let your taste buds frolic in this fruity-tangy blend of delicious natural flavour!

Black Cherry Lime – You know that lush, sweet flavour you get from black cherries? Combine it with refreshing natural cherry lime flavour – and enjoy a whole new level of zesty citrus heaven.

Strawberry Kiwi – Say "Oh Yeah" to a burst of a combined natural flavour of tropical kiwi and strawberries. Crack open this tasty Vizzy Hard Seltzer and take your palate for a walk on the juicy side.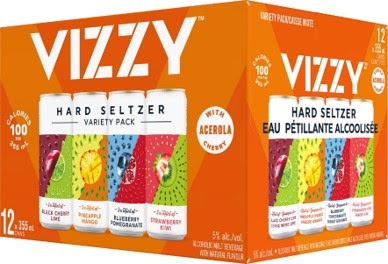 Availability:
Vizzy is available at your local liquor store in 355ml (12 packs) and 473ml (single cans).

$20.00-$25.49 12x355ml variety pack and $2.53-$3.29 per 473ml can
Information and images provided by Bianca Ball, Citizen Relations.