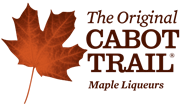 Bring the colours of fall into the comfort of your own home with these delicious Cabot Trail maple cream cocktails. Indulge yourself over the long weekend!
CABOT TRAIL SHOT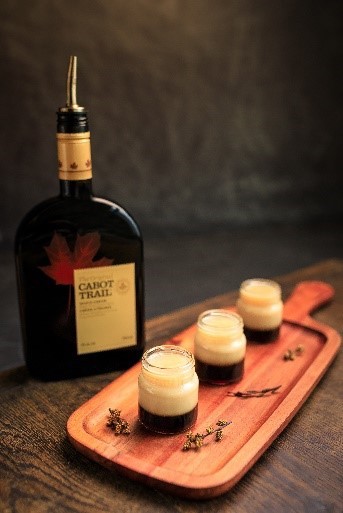 Ingredients
15 ml (½ oz) Cabot Trail maple cream
15 ml (½ oz) Kahlúa coffee liqueur
15 ml (½ oz) orange liqueur
Method
Pour the ingredients into a shooter glass in the following order: coffee liqueur, maple cream and orange liqueur.
MAPLE MARTINI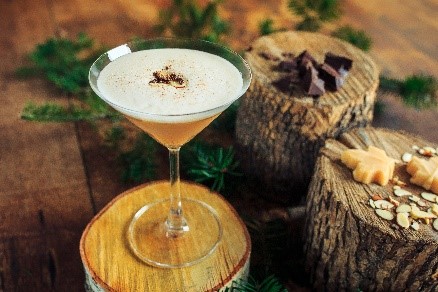 Ingredients
22 ml (¾ oz) Cabot Trail maple cream
22 ml (¾ oz) vodka
7.5 ml (¼ oz) Kahlúa coffee liqueur
45 ml (1 ½ oz) almond milk
One dash of egg white
One pinch of nutmeg
Chocolate flakes
Sliced almonds
Ice cubes
Method
Combine all ingredients in a shaker filled with ice cubes, except the chocolate flakes and the almonds.
Shake vigorously for a few seconds to foam and to combine all the ingredients.
Strain the content of the shaker into a martini glass.
Garnish with chocolate flakes and sliced almonds.
MAPLE COLADA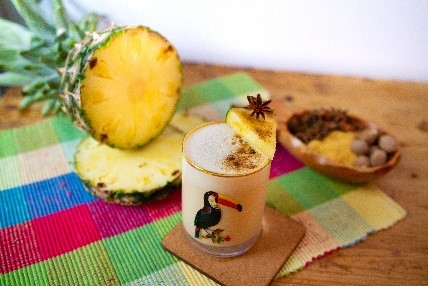 Ingredients
30 ml (1 oz) Cabot Trail maple cream
30 ml (1 oz) spiced rum
60 ml (2 oz) coconut cream
45 ml (1 ½ oz) pineapple juice
7.5 ml (¼ oz) lime juice
Pineapple slice
Pinch of nutmeg (optional)
Star anise (optional)
Ice cubes
Method
Pour all the liquid ingredients into an ice filled shaker.
Shake vigorously for 45 seconds to blend all ingredients.
Strain the contents of the shaker into an old-fashioned glass containing a few ice cubes.
Garnish with a slice of pineapple and a star anise.
Sprinkle with a pinch of nutmeg.
Tip:
You can also make this cocktail recipe in a blender instead of a shaker.
CANADIAN COFFEE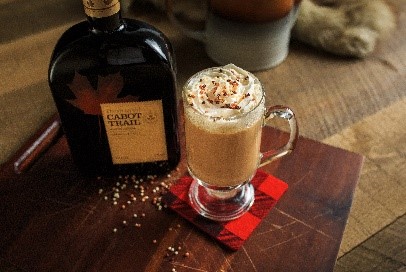 Ingredients
45 ml (1 1/2 oz) Cabot Trail maple cream
Hot coffee
Chantilly cream
Chocolate pearls (optional)
Method
In a coffee cup or a toddy glass, pour in the Cabot Trail maple cream.
Top up with hot coffee.
Garnish with Chantilly cream and chocolate pearls.
Media release and images provided by Valérie Lavoie, Massy Forger Langlois Public Relations.
If you would like to be featured on MyVanCity.ca please connect with your pr agency or email myvancityval@nullgmail.com for full details. Samples accepted for review.