"In this series I will be sharing my take on which BC Wine pairs well with some inspirational recipes"
So not wine, but this is a seasonal recipe that just happens to call for cider. Ward's makes some great ciders and has quite a selection to choose from. The question was which Picker's Hut/Ward's cider did I sacrifice for the recipe versus which Picker's Hut/Ward's cider did I pair with the dish?
At the same time I was using an overabundance of mushrooms I had on hand. For the Mushroom Wellington I used a yummy port style wine, Black Brant, from Wild Goose Vineyards.
It made a very delicious seasonal combo. For the squash I used a Delicata purchased from a local farm stand and varying from the NYTCooking recipe for inspiration I did not peel the squash. Delicata cooks well enough the peel is soft and very edible. It's good for you!
Winter Squash braised in Cider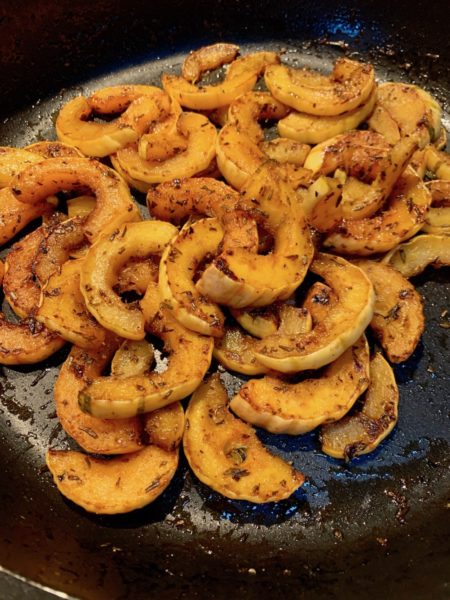 Ingredients
winter squash of your choice
butter
Ward's Sangria Cider
fresh rosemary, finely chopped
balsamic vinegar
salt and pepper to taste
Slice the squash lengthwise and remove the pulp and seeds. Melt the butter and add the finely chopped rosemary and cook for 2 or 3 minutes on medium. Add the squash face down and brown nicely in the butter/rosemary. (this is a variance from the recipe which did not call for browning of the squash) Add cider and sprinkle with salt and pepper. (the recipe said to completely cover the squash with cider, I did not do that because I wanted the squash to be more caramelized.
By reducing the amount of cider slightly, and using a large pan, the cider emulsified without having to remove the squash as the recipe directs. I plated the squash sprinkled on some good quality balsamic and served alongside the Mushroom Wellington.
Mushroom Wellington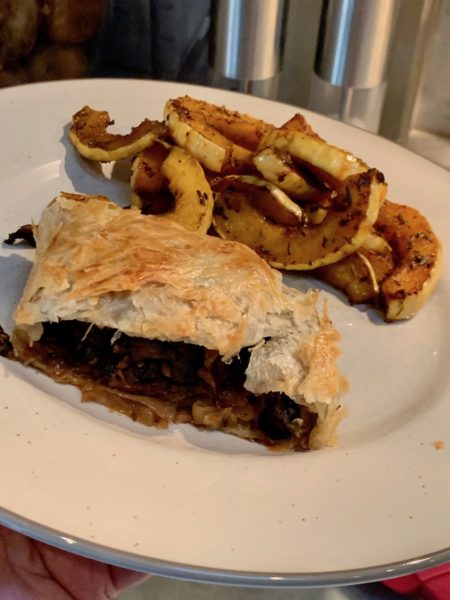 Ingredients
An assortment of mushrooms
olive oil and/or butter
salt and pepper
finely chopped shallot
garlic, minced
chopped rosemary
port style Wild Goose Black Brant*
Umani Bomb Shitake Chili Oil **
1 tablespoon soy sauce
fresh thyme
puff pastry (store bought)
slightly beaten egg with a dash of water
Depending on what type of mushrooms you use, either coarsely chop all of the mushrooms or reserve some mushrooms whole. (I just chopped, it was easier). Cook mushrooms, shallots, garlic and rosemary in the butter, or oil as you prefer, until caramelized. Remove from pan and set aside.
Onions
butter
salt and pepper
brown sugar
Ward's dry hopped cider
balsamic vinegar
Slice onions thinly (I used sweet white onions but the recipe called for yellow cooking onions) cook in butter, season with salt and pepper and add brown sugar, apple cider, and a dap of balsamic. Cook until the cider has totally emulsified.
Roll out puff pastry in a rectangle or individual squares as you prefer. Place the mixture onion in the middle, followed by the mushroom mixture and fold pastry over, sealing the pastry on all sides. Brush the pastry with the beaten egg wash. Bake as per pastry instructions.
Port reduction
olive oil
minced shallot
minced garlic clove
port
vegetable or chicken stock
thyme sprigs
butter
salt and pepper
Combine all ingredients except butter in a sauce pan and simmer for about 30 minutes while the mushroom wellington is baking. Reduce down and strain. Add back to the saucepan and stir in butter. Serve on the side with the Wellington.
Takeaways: I have taken great liberty with this recipe and simplified the method by reducing down the eleven (yes eleven) steps to about three. If you are a purist you will find the complete recipe on the NYTCooking website.
For myself, I would rather save my time for indulgences.
Postscript: Two days after I made and served this dish I took the leftovers out of the refrigerator to have for Friday night's leftover dins. Wow, just wow! I could not believe what a transformation. This dish, which had initially been good, was way over the top incredibly delicious. I would make this in a heartbeat again, and especially would make this or company, with a caveat. Two things I would do differently; make the filling at least one day ahead, the flavours were so much more the second time around, and, use those little, round, individual puff pastry shells and serve this an an appie. The dish was so indescribably rich it was a bit much as a main for would make a sensational, impressive first course.
Note: Ward's and Picker's Hut have an assortment of ciders so feel free to use whichever cider appeals to you.
Pairing:
Picker's Hut Premium Handcrafted Cider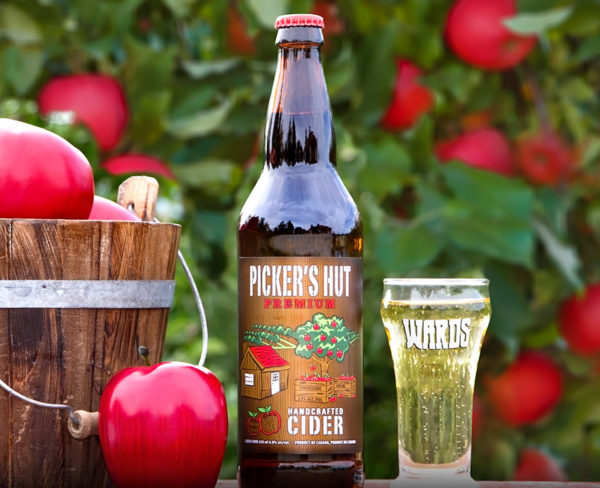 This fruity and aromatic premium cider is fermented using a champagne yeast. A long, cool ferment results in a crisp, clean, medium dry finish.
Key Ingredients: A blend of cider specific apples and premium champagne yeast.
Appearance: Vibrant with a golden straw hue.
Aroma: Fresh apple with notes of pear and melon, and subtle notes of ginger and cinnamon.
Mouthfeel: Medium body with medium carbonation.
Taste: Crisp apple forward with subtle notes of pear esters and melon on the finish, and just a hint of ginger.
Food Pairing: This cider has a higher ABV percentage and body than some of our other ciders and can stand up to bolder flavours found in Thai cuisine.
Ward's Cider
Wards Cider is situated on a fifth generation family orchard that was settled by Great Grandad Ward in 1918.
Great-great-grandfather Ward, was a man's man and a true adventurer. He couldn't resist the lure of promised riches – so, he left England for the excitement of the California Gold Rush. He didn't find gold, but he did fall in love with America. And, as a result, after returning to England he named his newly born son after George Washington.
Great-grandfather George Washington Ward followed in his father's adventurous footsteps and left England's shores for America – but, instead of the United States, he came to Canada and began growing apples in the Okanagan Valley. Remaining true to his roots, he created an old English style cider – "dry, not too sweet" (just the way he liked it). And, that's exactly what you will get at Wards Cider.
Wards packinghouse was built by great-grandfather Ward in 1922, and has transformed into a cidery and winery – fully equipped with a tasting room!
Wards Cider is made from 100 percent tree-ripened, handpicked cider specific apples from our orchards in the sunny Okanagan Valley. It is the perfect all natural and gluten-free alternative to beer, and remains true to the old family recipe of back-to-basics and wholesome.
Wild Goose Black Brant *
Named for the graceful Brant goose, this sea bird stops regularly in Qualicum Beach on Vancouver Island on its annual journey between Alaska and Mexico. Like the goose, this wine makes a short stop at the winery every year. This classicaly fortified, port-style wine is made using traditional methods and natural grain distilled spirits. Beautiful as an aperitifi or digestif, this drink will keep you warm in mind and body.
About Vumami Foods
Vumami Foods was started by Lauren Isherwood and Nicholas Baingo, a British Columbian couple who went vegan and found they really missed the deep, rich, umami flavour that came with eating animal protein-based meals. Through much trial and error, they found a perfect blend of Eastern and Western flavours, mixed with cooked shiitake mushrooms, that provides the savoury flavour and mouthfeel that they missed and their first product, Umami Bomb, was born. Umami Bomb is a one-of-a-kind premium shiitake chili oil that adds tangy, tempting flavour to almost any dish. Vumami Foods was founded in Osoyoos, BC and is now produced in Sidney, BC. For more information please visit www.umamibomb.com. Follow them on Instagram at @vumamifoods. ** I used the medium in this recipe.
Tasting notes and bottle shot courtesy of Ward's and Wild Goose. I received a complimentary bottle of Black Brant to facilitate a 2019 #FavouriteThings feature. I received a complimentary assortment of Ward's ciders for review. All opinions are my own.
If you would like to be featured on MyVanCity.ca please connect with your pr agency or email myvancityval@nullgmail.com for full details. Samples accepted for review.