"Build a Better Mouse Trap and the world will beat a path to your door" *
Little Engine Wines makes wine that is a testament to their terroir, sustainable practices, working by hand, and management of the land that results in a healthy balanced vineyard, producing premium fruit with minimal chemical intervention.  In other words; premium wine.
Recently winery owner Steven French, co-proprietor, had an idea. French acted on that idea and the result is an innovative and creative method of wine tasting. Gold and Silver Mini-Virtual Tasting Sets are now available by contacting the winery directly at wineclub@nulllittleenginewines.com.
Included with each mini-virtual tasting set is a link to an exclusive virtual tasting video. The videos were professionally produced and range from about four minutes to about six minutes in length. Featuring Scott Robinson, Winemaker. The video is well done, interesting and informative. Again, another innovative idea to pair your tasting experience with a virtual tasting experience.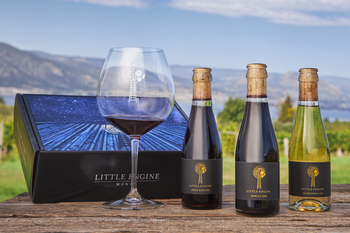 GOLD TASTING
A collection of our Gold Series Wines including Chardonnay, Pinot Noir and Merlot.  Perfect for the enthusiast or those coming back for a more elevated experience.
Gold Mini Tasting Set $60.00
SILVER TASTING
An introduction to our portfolio with our Silver Series including Chardonnay, Pinot Noir and our Union Red Blend.  Our Silver Series wines are crafted to be approachable to enjoy now, or cellar
Silver Mini Tasting Set $50.00
Over the past three evenings I have had the opportunity to taste and enjoy the wines for the Little Engine Silver Mini Tasting  Set. I wanted to taste each wine on it's own, savour and enjoy along with food, which for me, is always the best way to know what the wine has to offer.
Starting with the Little Engine Wines Pinot Noir from the silver mini tasting set paired with a baguette, pork rillette and a Camembert cheese from France.
The Pinot Noir has aromas of raspberry, boysenberries, light plum, with hard candy scents. The Pinot Noir has medium body, medium tannins and is deliciously smooth with flavours of fresh grape juices. It pairs very well and I found it rich with good acidity. The wine stood up well to my combination of baguette and rillette with Dijon mustard. Challenging pairing but it was excellent. The wine had a wonderful sweetish finish. 
Winery notes:
Ruby in colour, the aroma is a symphony of ripe cherry and cranberry, with figs and star anise. A vibrant and juicy start on the palate with a slightly savoury character, accented with flavours of dried fruits and cranberry. The wine has a smooth yet firm palate with soft, approachable tannins. Subtle acidity lifts the wine into an intense, lingering finish. Approachable and silky upon release this wine will develop well through 2024 under ideal cellaring conditions.
Night two was for tasting the Little Engine red blend, Union.  For this wine I searched my cupboards for a suitably sized decanter and decanted the Union for about an hour before tasting.
The Union exhibited aromas with dark fruits, black cherries, mandarins, blackberry pie, rhubarb and light plum. As the wine sits in the glass the scents are softer and smoother. After just a short time to open up the wine continues to evolve. Sweetish in the mouth with great acidity and flavours of cinnamon. Jammy in taste and scents. A very nice medium body. Excellent, showing very light tannins. The Union was terrific with the food pairing.
Winery notes:
Bold aromas of blackberry, enhanced by savoury notes and spices; cloves, anise, vanilla. The rich and round palate is fruit forward emphasizing blueberry, raspberry, cassis, and fig with notes of licorice & mocha backed by a full mid-palate lead to structured yet approachable tannins, creating a slightly silky texture. A lingering finish of burst dark fruits.
Enjoy now through 2027 under ideal cellaring conditions.
Merlot (68%), Cabernet Franc (30%), and Malbec (2%).
Night three takes me to the Little Engine silver Chardonnay. Again paired with the baguette, rillette and stinky Camembert. 
Scents of cut grass, green apples, straw, honey, pear and pancakes. Wonderfully fruity that was sweetish and smooth. Flavours of yummy grapefruit with good acidity. Lightly oaked with tastes of Meyer lemon.
I very much enjoyed the Chardonnay, and I am quite particular about Chardonnay. A bit of a late convert to the grape I am not fond of those that are overly oaky or over powering. The silver Chardonnay is very drinkable and did stand up to the food pairings (for this one I skipped the Dijon).
Winery notes:
Stylistically produced with used oak and stainless steel tank, a refreshing nose of peach blossom & jasmine, dry honey, asian pear & pineapple continues into a textured palate showing subtle spice, citrus zest and poached pear. Fresh acidity is retained through its crisp, lingering finish.
Best enjoyed upon release through 2024 under ideal cellaring conditions
The cheese is a stinky one with strong taste, creamy and exceptionally delicious; the perfect foil for a wine pairing. Cheese from Les Amis du Fromage. Always a favourite of mine the rillette with Dijon on baguette. Rillette from Oyama Sausage.
Silver, Gold and Platinum Series make up the portfolio of Little Engine Wines. Focusing on ultra low tonnage, the finest French Oak, small batch ferments and a relentless pursuit of excellence the collection offers a wine suited for enthusiasts and collectors.
Due to limited production, sets are limited to two per customer.  If you would like purchase additional sets, please contact the Winery.
* The phrase "Build a better mousetrap, and the world will beat a path to your door" is a phrase attributed to Ralph Waldo Emerson in the late nineteenth century. According to Wikipedia The phrase has turned into a metaphor about the power of innovation.
Images (except as noted) and winery notes courtesy of the winery. Winery images and video photo credit: Brandon Elliot Photography.  Other images, as noted, MyVanCity. I received a complimentary silver mini tasting set to facilitate this review. All comments and opinions (in italics) are my own.