"Today I am sharing a BC wine pairing with a recipe from a local chef" 
I was a bit slow to discover this little gem but then I haven't been far from my rural enclave on Vancouver Island this year. Not too far away we do have two wineries and Beaufort had been on my list to visit. It is a lovely spot with a friendly, knowledgeable team. I enjoyed the wine tasting and realized I had totally missed out on a wine dinner that combined two of my favourite local farmers.
Beaufort and Clever Crow were kind enough to share this recipe from their vegetarian, long table, wine dinner. It was a small, initimate affair and those lucky enough to garner a seat raved about their experience.
Caramelized cipollini tartlets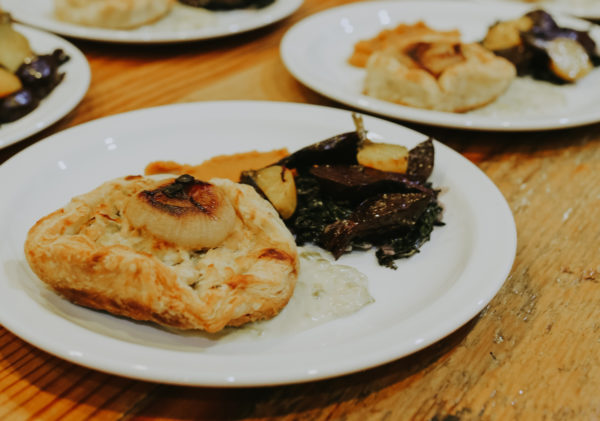 Makes 6 tartlets
This recipe comes from Brian McCormick at Clever Crow Farm in Black Creek, BC.  Chef Brian (aka Farmer Brian) made these gorgeous rustic tartlets for a vegetarian pairing dinner at Beaufort Winery in the Comox Valley. 
Savoury shortcrust pastry
300g AP flour
150g very cold butter, cubed
1 pinch of salt
1 tablespoon chive flower blossoms (optional)
ice cold water
Place the flour, salt and chive blossoms into a large mixing bowl. Add the cold cubed butter and, using your fingers (or a pastry blender), rub the fat into the flour. Stop when the mix resembles very coarse breadcrumbs. Add just enough water to bring the dough together into a firm mass (do not knead). Wrap the pastry in plastic and place in the refrigerator for at least 3 hours, but ideally overnight.
Creamy leek filling
2 medium leeks, washed, trimmed and finely sliced
1 spring of thyme, leaves stripped
25g butter
250ml whipping cream
salt and pepper
pinch of fresh grated nutmeg
Heat the butter in a large cast iron skillet until foamy. Add the leeks and thyme leaves and fry over a medium heat until soft. You do not want any colour on the leeks––keep them on the move so they do not stick to the bottom of the skillet. Add the cream and reduce the heat to low. Cook the leeks for approximately 10 minutes until the cream has reduced and the mixture has thickened. Stir in the nutmeg and salt and pepper to taste. Remove pan from the heat and leave to cool.  
Caramelized cipollini onions
3 cipollini onions (or shallots),peeled
25g butter
1 pinch salt
Preheat oven to 375 degrees F. Cut a small amount off the top and bottom of the cipollini so that they don't roll, then halve each onion right across the middle. Heat the butter in a large cast iron skillet until foamy. Add the cipollini, middle side down, and cook over a medium high heat until the cipollini start to turn a deep golden brown. Using a flexible spatula, gently turn the onions. Sprinkle the salt over the cipollini and place the skillet directly into the oven. Cook for 10-15 minutes until the onions are tender, but still intact. Remove the pan and leave to cool.
Assembly
Preheat oven to 375 degrees F. Using aluminium foil, make 6 rings approximately 1/2" high and 3" in diameter. These rings will support the tartlets as they are baking. Place the rings on a large baking sheet lined with parchment paper and set aside.
Remove the pastry from the fridge and roll out on a lightly floured board to 1/8" thickness. Using a small bowl or plate as a template, cut out 6 x 4" diameter circles. Place each pastry circle on top of an aluminium foil ring so that the sides of each tartlet are a little higher than its middle.
Add approximately 2 tablespoons of leek filling into the centre of each tartlet and then nestle half an onion in each. Brush the edges of each tartlet with a little beaten egg or mayonnaise. Carefully place the baking sheet into the oven and bake for 20-25 minutes, or until the pastry is cooked through and golden around the edges. 
Serve the tartlets warm with seasonal vegetables or green salad.
Wine pairing:
Beaufort Ça Beautage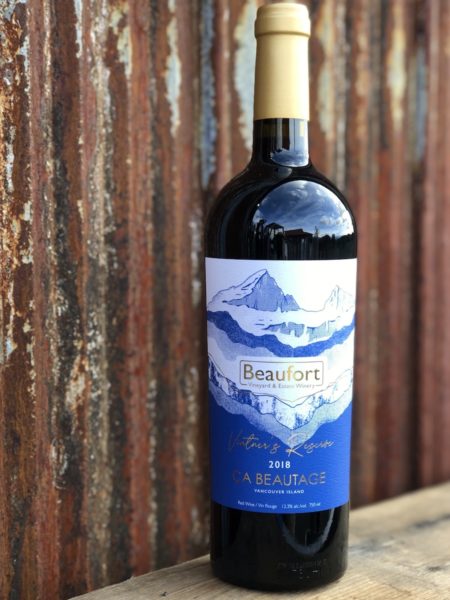 Ça Beautage is a blend of 100% Beaufort-grown varieties; Marechal Foch & Leon Millot. An expressive and fresh wine with aromas of blackberry and blackcurrant. Black fruit on the palate too, finishing with smoky plum. Intense garnet in colour, with soft tannins and an acidity that does not belie our cool coastal climate. Aged in neutral American oak barrels. Enjoy Ça Beautage in its youth, alongside vegetarian dishes.
Vintage: 2018
Blend: 100% Estate grown Marechal Foch & Leon Millot
Alcohol: 12.3% | RS: 2g/l (dry) | Size: 750ml | SKU: 57495 | Cases produced: 320
Tasting room price: $29.90 available online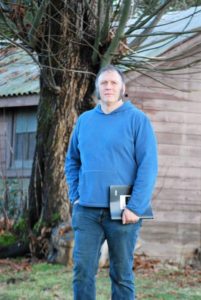 Chef Brian McCormick
Chef Brian McCormick wears many hats.  He has worked as sous chef for Chef Ronald St. Pierre at the Kingfisher, and at Locals Restaurant.  He was most recently executive Chef at Berwick Comox Valley before buying a farm in Black Creek, BC, where he became a full time market gardener in 2016. At Clever Crow Farm, he creates value added products from the produce he grows, and occasionally finds time to don his chef hat and sharpen his knives up at Long Table dinners and events.
Lia & Brian McCormick
www.clevercrowseasalt.ca
Beaufort Winery
Vineyard
The first vines at Beaufort were planted in 2007. Our vineyard acres have increased to 12 since that time (the farm is 80 acres in total). In September 2019, Beaufort became the first organically certified vineyard on Vancouver Island. Our vineyard soils are predominantly sandy silt loam, formed by glacial deposits. All blocks are well drained, with a sunny southwesterly exposure on a gentle slope. Central to the health of our vines (and therein, the quality of our wines) is the health of our vineyard soils. From building organic matter with green manure to bolstering soil biodiversity by way of biochar, our commitment to regenerative farming and the creation of dynamic, living soils underpins much of our work in the vineyard.
Similarly, we are defined (in no small part) by our cool coastal climate. Warm, sunny summers; mild, wet winters; the temperature mitigating effects of the Georgia Strait, and the mountain sentries that protect us from Pacific storms all play their part in the vintage. Our limited growing degree days (the accumulation of heat over the growing season to ripen fruit) allow for the slow and steady development of grape sugars. We champion our cool coastal climate, and the Vinifera and hybrid varieties that thrive in our region.
We grow 10 different varieties on 12 acres; Ortega, Siegerrebe, Pinot Gris, Petite Milo, Gewurztraminer, Schonburger, Marechal Foch, Leon Millot, Lucie Kuhlmann and Pinot Noir. In 2019, approximately 90% of the grapes we used for the vintage were grown at Beaufort. While we will occasionally use grapes from other small and sustainably managed vineyards on the Island, our focus is on estate grown fruit.
Almost all vineyard tasks are completed by hand; pruning, tucking, shoot thinning, leaf removal and harvest. We strive for vine balance and optimal ripeness at harvest, so being in the vines throughout the growing season really helps us to keep a close eye on how the vintage is shaping up.
Given our northerly position on the Island, bud break can occur any time from early April onwards, depending on weather conditions. Pollination and fruit set take place anytime from May and into June. Leaf and shoot thinning occur throughout the growing season, as does tucking. Harvest is a go anytime from the beginning of September, typically. Cane pruning happens during the winter months, typically in Jan-Feb when the vines are dormant.
We're always delighted to chat in more depth about our vineyard and about our awesome Island region. Contact us here.
Winemaking
In winemaking, it seems that striking a balance between tradition and innovation is imperative. But it's not always easy to reconcile the two. Every vintage presents new opportunities and new challenges, and learning to nimbly navigate an ever-changing set of variables is truly a lifetime's work. Freya knows that every vintage begins in the vineyard; We make wine where we are, in a style that emerges within the limits set by climate and site. Through organic and regenerative practices, we can encourage the best that site has to offer. Beaufort wines are fresh, bright, and food-friendly—they reflect everything about the particular vintage;  our work in the vineyard & cellar, the weather, and the nuances of the fruit.
All of our wines are handcrafted in small batches, with decisions tailored on the crush pad to bring out the best in each variety. We don't do recipes.
Whites are handled gently at crush, and fermented mainly in stainless steel with an eye to preserving aromatics and acidity. Occasionally, Hungarian oak is used for white fermentations.  We endeavour to find the right amount of time on the skins for our reds, which are then aged in either French or American oak barrels for upwards of 12 months. Vinifera single varietals will have good tannic structure, elegance & ageability. French Hybrid varieties will have softer tannins, intense colour and fruit in the glass, and an early approachability.
Sometimes, we throw all of the above out the window; like when we full cluster press for a spontaneous ferment, or when we pick just that little bit earlier for a traditional method sparkler, or when we blend a batch of Island vermouth. We make good, clean wines. And our aim is to make even better ones. In the pursuit, we allow for a dialectic between modern techniques and zeitgeisty methods such as 'low intervention' winemaking. We like to think we're pushing the envelope, by keeping ideology off the path to progress.
Our annual production is approximately 2500 cases.
Recipe, Tasting notes, images, and information about Beaufort Winery courtesy of the winery. Chef bio and image courtesy of Clever Crow. Also contributing to the menu Kehler Vegetable Company.