A Planet-Saving Cocktail Ingredient You Already Own: Food Waste
Treat yourself and the planet to a refreshing cocktail this Earth Day
Your latest signature cocktail might contain something unexpected: your compost.
Reduce your emissions this Earth Day by turning your home's food scraps into a creative new cocktail. These versatile mixes elevate drinks, save money and combat climate change.
When more than 900 million tonnes of food are wasted every year, we all have a responsibility to use everything we can. Finding creative new and delicious ways of using food scraps is something top bartenders and chefs are doing to make restaurants greener, but it can have an environmental impact when practiced at home too.
Cordials like oleo saccharum use citrus zests and sugar to extract essential oils overnight. These flavourful elixirs add vibrant citrus notes to cocktails without adding acidic citrus juices. Make an orange cordial by mixing the zest of four oranges with a quarter cup of sugar in an airtight container (a mason jar or Tupperware). Let sit overnight at room temperature and strain the extracted oils and reserve for use in a cocktail.
Use that orange cordial in a fresh take on a Lot 40 Old Fashioned: mix a shot of the rye whisky with the orange cordial and a dash of Angostura bitters in a glass over plenty of ice and stir for a minute. Garnish with an orange slice.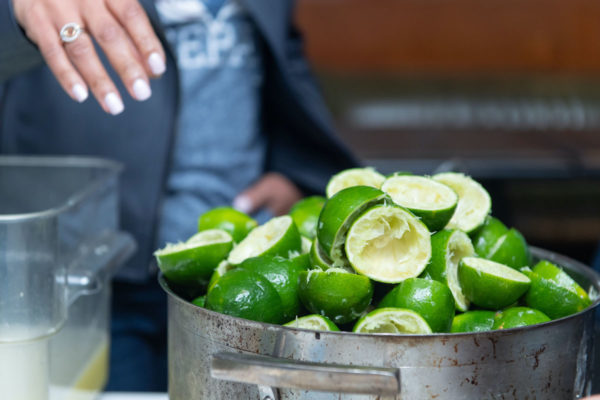 Bartenders add extra flavour and find a second use for produce through infusions. Add citrus zest, cucumber peels or even tomato vines to simple syrup (boil equal parts sugar and water until sugar is completely dissolved) for a classic cocktail with a twist. Prep a delicious strawberry cucumber syrup by tossing strawberry tops, cucumber cores and cucumber peels into the simple syrup and let sit for one or two days.
Spirits can be infused too – a handful of lemon zest and a few teaspoons of sugar can turn a bottle of vodka into a delicious limoncello.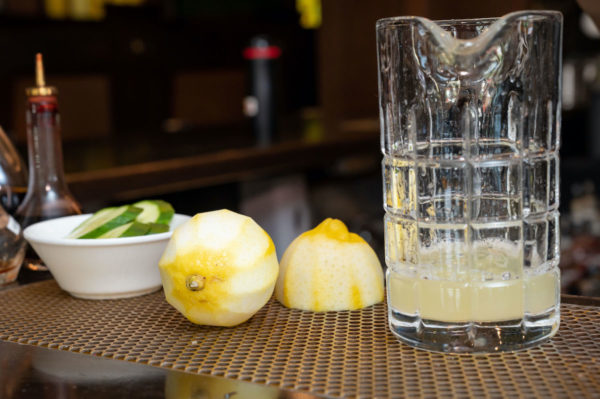 If you're a tea drinker, try an upgraded Gin Sour. Reserve your once used tea bags in a large mason jar and fill with Ungava Gin and let sit for a week. Remove the tea bags for a tea-infused gin. In a cocktail shaker, mix two parts of this infusion with one part strawberry-cucumber syrup and one part egg whites (bonus points — use the liquid from a can of chickpeas (aquafaba) instead of egg whites, you won't know the difference) topped with ice and shake aggressively for one or two minutes, until
foamy. Stain and serve in a martini glass with a slice of cucumber.
Drinks like hard kombucha are popular and refreshing, but other fermented chasers make for an exciting, easily assembled cocktail. Tepache, for example, is a spiced and fermented drink in Mexico made from pineapple scraps, baking spices and chili peppers.
Start with a ripe and cleaned pineapple. Trim the rind, leaving a centimetre of flesh intact and extract the pineapple's core. In a large, disinfected pot, mix two cups of brown sugar with six litres of water and some cinnamon, cardamon pods, star anise and dried chili flakes. Add the pineapple rinds and core and cover with a lid or cheesecloth for three days. Strain, refrigerate and it's ready to serve.
Add a shot of Absolut Vodka to a highball glass with ice and top with tepache and garnish with a lime wedge. Treat all the adults in the house with a pitcher of this rum and tepache for a sunny spring afternoon on the porch.
Pay attention to what foods are going in your compost bin or frequently used ingredients in your meal prep. These cocktails are about using ingredients you already have, not going out and buying more produce to make a cool recipe.
About Corby Spirit and Wine
Corby Spirit and Wine Limited is a leading Canadian manufacturer, marketer and distributor of spirits and wines. Corby's portfolio of owned-brands includes some of the most renowned brands in Canada, including J.P. Wiser's®, Lot 40®, and Pike Creek® Canadian whiskies, Lamb's® rum, Polar Ice® vodka, McGuinness® liqueurs, Ungava® gin, Cabot Trail® maple-based liqueurs and Chic Choc® Spiced rum, and Foreign Affair® wines. Through its affiliation with Pernod Ricard S.A., a global leader in the spirits and wine industry, Corby also represents leading international brands such as ABSOLUT® vodka, Chivas Regal®, The Glenlivet® and Ballantine's® Scotch whiskies, Jameson® Irish whiskey, Beefeater® gin, Malibu® rum, Kahlúa® liqueur, Mumm® champagne, and Jacob's Creek®, Wyndham Estate®, Stoneleigh®, Campo Viejo®, and Kenwood® wines. Corby is a publicly traded company based in Toronto, Ontario, and listed on the Toronto Stock Exchange under the trading symbols CSW.A and CSW.B. For further information, please visit our website or follow us on LinkedIn, Instagram, or Twitter.
Media release and images provided by Nicolas Mertens, Enterprise Canada.