Sweden Loves J.P. Wiser's Canadian Whisky
Canada's J.P. Wiser's 10 Year Old Whisky is a hit in Sweden.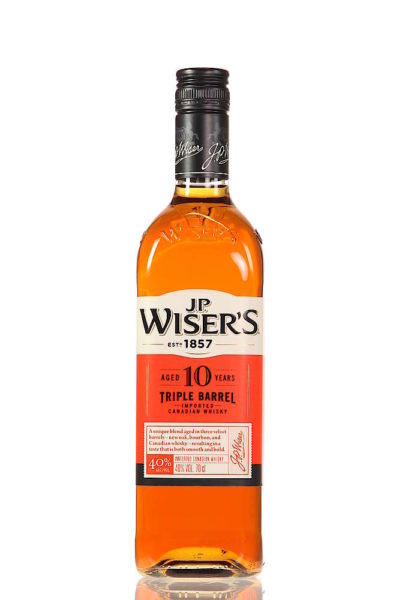 Distilled at the historic Hiram Walker & Sons facility in Windsor, the triple barreled corn and rye whisky is the fastest growing Canadian whisky in the largest Canadian whisky market in the European Union.
Over the past year, Swedish sales of J.P. Wiser's 10 Year Old have jumped 21 per cent ahead of a strong whisky category performance of nearly 12 per cent. Only introduced in Sweden in 2018, Wiser's has already established a four per cent share of the whisky market in the Nordic country — nearly double what is held by fellow Canadian competitor Seagrams VO.
"Our success in Sweden with J.P. Wiser's 10 Year Old demonstrates that there are key markets in Europe where Canadian whisky is hugely popular and long-established brands have remained relatively unchallenged," says Dave Mitton, Global Brand Ambassador, International Canadian Spirits. "We believe that the quality of our age statement liquid is superior to similarly priced established brands. Our year-on-year growth demonstrates that once consumers have had the opportunity to trial our product, it leads to repeat purchasing."
Some of the key actions that have contributed to the brand's success include:
·         Increased Distribution — The Swedish Systembolaget has 418 stores throughout Sweden, and similar to Canada all stores are owned and operated by the government. J.P. Wiser's performance has facilitated a distribution increase from 60 per cent distribution in the network to 75 per cent distribution on 700ml bottles.
·         Social Media Activity — Corby has supported Pernod Ricard Sweden in developing J.P. Wiser's banners that have been geotargeted in Sweden on Facebook and local market management of the J.P. Wiser Facebook page.
·         Establishing Premium Price ‑— Successfully implemented a price increase to 231SEK (CAD$35) with Systembolaget which established J.P. Wiser as premium to both Lord Calvert  (219SEK) and Black Velvet (229SEK).
About Corby Spirit and Wine
Corby Spirit and Wine Limited is a leading Canadian manufacturer, marketer and distributor of spirits and wines. Corby's portfolio of owned-brands includes some of the most renowned brands in Canada, including J.P. Wiser's®, Lot 40®, and Pike Creek® Canadian whiskies, Lamb's® rum, Polar Ice® vodka, McGuinness® liqueurs, Ungava® gin, Cabot Trail® maple-based liqueurs and Chic Choc® Spiced rum, and Foreign Affair® wines. Through its affiliation with Pernod Ricard S.A., a global leader in the spirits and wine industry, Corby also represents leading international brands such as ABSOLUT® vodka, Chivas Regal®, The Glenlivet® and Ballantine's® Scotch whiskies, Jameson® Irish whiskey, Beefeater® gin, Malibu® rum, Kahlúa® liqueur, Mumm® champagne, and Jacob's Creek®, Wyndham Estate®, Stoneleigh®, Campo Viejo®, and Kenwood® wines. Corby is a publicly traded company based in Toronto, Ontario, and listed on the Toronto Stock Exchange under the trading symbols CSW.A and CSW.B.  For further information, please visit our website or follow us on LinkedIn, Instagram, or Twitter.
Media release and images provided by Carly Williams, Enterprise Canada. If you would like to be featured on MyVanCity.ca please email me at myvancityval@nullgmail.com for full details. Wine and spirits samples accepted for review.