"This series features both the BC Wine new vintages and a few favourites"
Today's #ShiptoSip 2021 aka #wineonline features the wines of The View. Both wines are single vineyard, estate blends. Each one is an artful, authentic expression of the cool climate of the vineyards and terroir. The wines from the View are great value and the Silver Lining Bundle is sure to be a hit!
Silver Lining Red 2019

50% Pinotage, 50% Pinot Noir
Tasting Notes: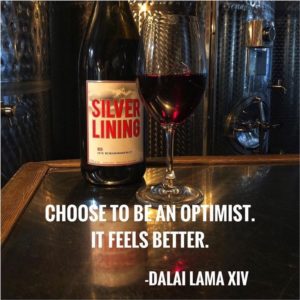 Infuse some positivity into your day with our Silver Lining label, featuring fun, inspirational quotes on the power of posi tive thinking from great minds such as Plato, the Dalai Lama, Winnie the Pooh and even Dr. Seuss.
Silver Lining is an approachable, juicy blend of single vine yard, estate grown Pinot Noir and Pinotage. Bright notes of dark cherry and raspberry are complemented by a pleasing peppery spice.
Wine and Food Pairing
Pairs with turkey and cranberry sauce, pork tenderloin, grilled salmon, and roasted root vegetables. Also fabulous with chocolate and cherry cheesecake.
Silver Lining White 2018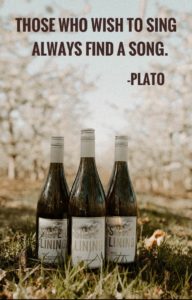 Gewürztraminer 64% Ehrenfelser 17.5% Riesling 15.5% Pinot Gris 3%
Tasting Notes:
Positively mouthwatering, this Gewürztraminer, Riesling, Ehrenfelser blend has notes of tropical fruit, white peach and Honeycrisp apple with a zippy citrus finish.
Wine and Food Pairing
Pairs with Indian, Thai, Asian Fusion, zesty salads and seafood.
Silver Lining Bundle
"Silver Lining Bundle" with 3 bottles of each wine plus a Silver Lining fridge magnet and a complimentary tasting for up to 4 people ($20. value) plus free shipping.
Price is $120.00 plus taxes and deposit and includes shipping to major BC centres. While we wait for the offer to be up on the website on June 1st you can get a jump on the crowd by ordering your bundle by email order@nulltheviewwinery.com

The back label is comprised of a favourite quote on the power of positive.
Single Vineyard, Estate Crafted Wines from Kelowna's Southeast Bench
The View Winery boasts spectacular views of Kelowna and Okanagan Lake. Sandy loam soils combined with long hot summer days and cool evening breezes from the lake are perfect conditions for The View's signature fresh, fruity, aromatic wines. Originally built by Great Granddad Ward in 1922, the building in which we craft and cellar our wines was once the original Ward's Apple Packinghouse and is the last from its era in the Okanagan. For five generations our family has supported a commitment to tradition, authenticity and excellence. Our alluring wines point to the future and celebrate the past.
The View Winery and Vineyard #1 2287 Ward Road, Kelowna, BC (250)860-0742 ● orders@nulltheviewwinery.com ● theviewwinery.com
Notes and image courtesy of the winery.