ADVENTURE AWAITS WITH THE 2019 PLATINUM HOME BLOCK PINOT NOIR
Limited Release, Available While Quantities Last
Our Home Block vineyard, planted on the eastern shores of Okanagan Lake in 1991, has shown us time and again that it produces truly exceptional Pinot Noir. This wine is a unique blend of clones and blocks grown on clay, silt, and stone and showcases the vineyard as more than the sum of its parts. The 2019 Platinum HomeBlock Pinot Noir was harvested in a near-perfect vintage and reflects the deep fruit character and robust structure that the 2019 growing season is becoming known for. I ferment it with wild yeasts and age it in French oak for a year to allow the different expressions of Pinot Noir to marry into a wine that perfectly captures the character and variety of our founding vineyard.
-Taylor Whelan, Winemaker
SAVOUR THE TASTE OF THE HOME BLOCK RESTAURANT
Open Daily From 12 pm – 8 pm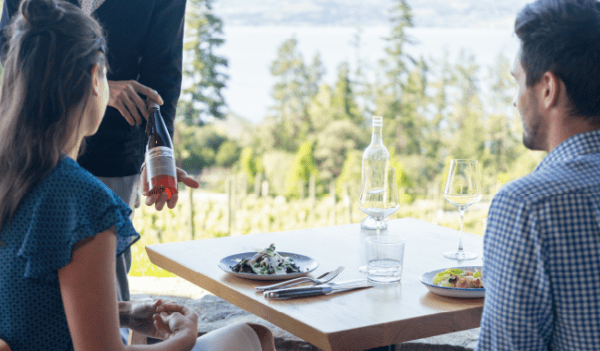 Rain or shine, indoor or outdoor patio, we have a seat available for you at Home Block Restaurant. We look forward to welcoming you back to the winery, by reservation only. Follow the 'Book Now' button below to learn more about our new menu offerings and to reserve your experience.
Information and images courtesy of the winery.