The Expanded Patio Lives On at the
Water St. Cafe!
In-Room Dining may be back at your Water St. Cafe, but with these warm summer days coming our way you can still enjoy our expanded patio. Warm sunny days, cobblestone Gastown streets, the familiar hum of the Steam Clock, and all your favourite Water St. dishes – every day at your Cafe. Plus, daily Happy Hour!
New & Improved Gift Cards Now Available!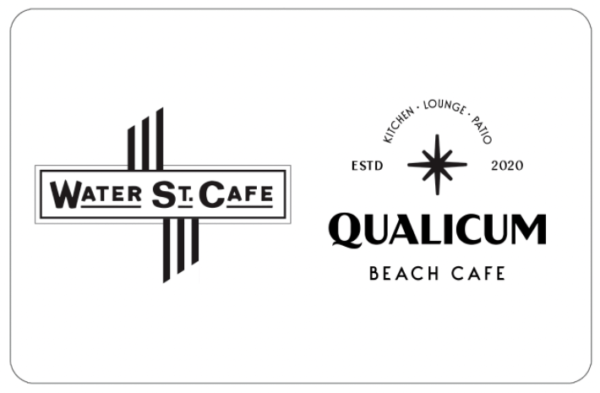 We are excited to offer our guests a new and convenient way to share the gift of the Water St. Cafe. Visit our website at www.waterstreetcafe.ca/gift-cards to purchase your gift card or new e-gift card. What's even more exciting is that you can use these gift cards at both our Water St. Cafe and Qualicum Beach Cafe locations!
JAZZ FEST IS COMING TO THE WATER ST. CAFE &
2ND FLOOR GASTOWN!

JUNE 25th – JULY 4th
Weekend Jazz Brunch Shows ~ 11:30am-2:00pm
Weekday Evening Shows ~ 7:00pm-9:00pm
Weekend Early Shows ~ 6:00pm-7:15pm
Weekend Late Shows ~ 8:15-9:30pm
Follow @2ndfloorgastown on Instagram and Facebook for all shows and details.
Reserve online!
For general inquiries, you can now email us at info@nullwaterstreetcafe.ca.
Please click the links below for more details
15% OFF Take Out
7 Days of Brunch 11am to 3pm
Daily Happy Hour 3pm to 530pm
Dinner service 4pm to late
2nd Floor Gastown Dinner & Music!
We look forward to hosting you. You are appreciated!
Information and images courtesy of the restaurant.