Esteemed Champagne House Celebrates Summer in the Okanagan
OAK Estate and Veuve Clicquot Collaborate for a Picture-Perfect Picnic
Summer is here and one of the best things about the season is eating alfresco, especially a picturesque picnic with friends and family. Enjoy a rare opportunity to picnic in the vineyards of the Okanagan at OAK Estate for Summerland's Veuve Clicquot in the Vines event.
With the return of outdoor gatherings, OAK Estate in Summerland is pleased to partner with prestige champagne house Veuve Clicquot to offer a truly memorable experience. Taking place on July 10th, the picnic includes a basket for two featuring ethically raised and sustainably cured meats, local artisan cheeses, estate fruit preserves, fresh baguette, sparkling water, and a seasonal sampling of strawberries with chocolate fondue. A bottle of Veuve Clicquot complements the locally curated menu.
Throughout the vineyards, socially-spaced and personal picnic spots complete with blankets, large umbrellas and DJ vibes round out the experience. Guests are encouraged to sport 'picnic chic' attire and post their look on the Instagram wall.
This is the first time Veuve Clicquot is bringing one of its signature experiences to the grounds of another winery. The esteemed champagne house selected OAK Estate Winery in the Okanagan for its stunning location and relationship with president Alysha Harker.
Guests will have exclusive access to the grounds of OAK Estate during this special event, which will include lawn games (Jenga and petanque), and summer tunes by DJ Joe Pound, a perennial favourite in Whistler and at the Roxy in Vancouver.
Tickets to the Veuve Clicquot in the Vines event are $299 per couple. Only 25 spots for two are available for each of the three reserved time slots: 11:00 am – 1:00 pm; 1:30 pm – 3:30 pm; and 4:00 – 7:00 pm.
Capacity is in keeping with current PHO regulations restricting gatherings to no more than 50 people. If regulations change, there is the potential that additional tickets will be released. Interested parties are encouraged to visit OAK Estate's website for tickets, further details and updates.

About OAK Estate Winery
Located in Summerland, BC on a bluff with a stunning view overlooking Lake Okanagan, OAK Estate was created by lifelong friends Andrea Miller and Alysha Harker who are passionate about the Okanagan and all it has to offer. OAK, which stands for 'One of a Kind', was perfectly named because Andrea and Alysha are driven to create experiences that allow people to celebrate the moments and relationships that matter most. For them, there's no better way to do this than over a glass of wine or champagne, with good food, a great view and amongst the people you care about. They believe that today matters and should be celebrated because every relationship and every moment is truly unique. As OAK Estate is going through the licensing process to be certified as a winery, it is currently open only as an exclusive event facility catering to weddings, special celebrations, and OAK's own line-up of one-of-a-kind-experiences. Stay in touch with OAK Estate Winery and be the first to know what exclusive events are happening at www.oakestatewinery.com or on Instagram @oakestatewinery.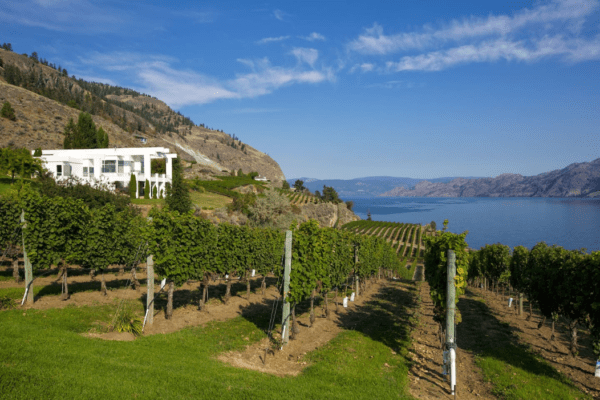 About Veuve Clicquot
More than champagne, Veuve Clicquot is an attitude that sparkles with joie de vivre, embodied by the House's signature sunburst-yellow colour. Madame Clicquot, the audaciously innovative woman known as la grande dame of champagne, took the reins of the House in 1805 at 27 years old and became one of the first businesswomen of modern times. She cultivated a culture of excellence and adopted "only one quality, the finest" as her motto. Her passion, vision, and innate sense of French art de vivre live on today in the House that bears her name. Veuve Clicquot spreads delight through its remarkable champagne range, including the iconic Yellow Label, and its joyful experiences around the world.
OAK Estate Winery
20818 McDougald Road
Summerland, BC Canada
V0H 1Z6
(250) 485-2075
Media release and images provided by Nancy Wong, Town Hall Brands. Photo courtesy of Veuve Clicquot