With thanks to Julian Park, BC Wine Trends for sharing this article.
The 2020 harvest in British Columbia was a replay of 2019. With another February freeze causing bud damage and low yields. A very early October cold snap and snowfall caused harvest challenges.
When the crush was completed, and although the yields were down by as much as 30% at some vineyards compared to an average year, the fruit quality was excellent.
Harvest comments for the Okanagan Valley, by location.
Kelowna
U Andy Gebert | St Hubertus & Oak Bay Estate Winery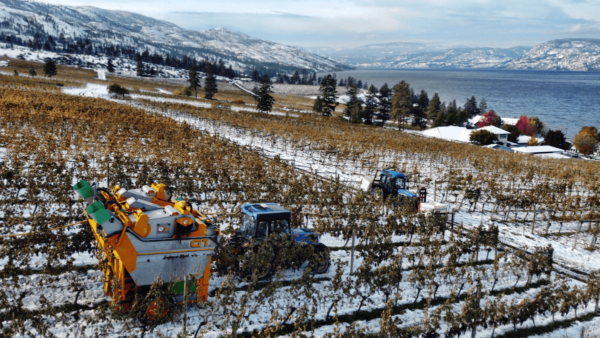 Well, we are still waiting for a Locust invasion of the vineyard, what will round out a (*****) 2020 season.
All in all not a bad vintage in the barrels. Good solid flavours on very clean fruit, out of a slightly lower -5% fully organic crop. Alcohols levels are also a 0.5-0.7% lower. The lower crop is well compensated with higher bulk wine prices.
It was an "interesting" vintage full of challenges from securing our Mexican crew member to supply chain interruptions, and to cap it all of the snow in October during picking.
Other than this it was a good Vintage.
Please visit the St Hubertus & Oak Bay website to see their current portfolio of BC wines.
David Paterson | Tantalus Vineyards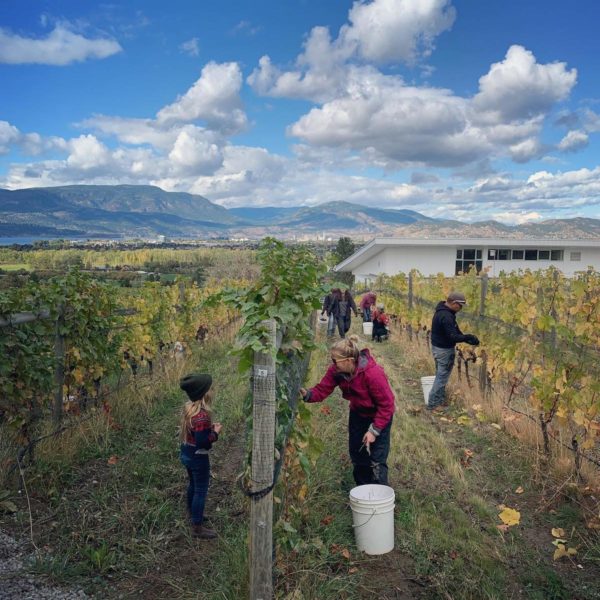 This year marks our 16th harvest here at Tantalus! We kicked off on September 16th with both Pinot Noir and Chardonnay harvested for our sparkling base wines. Our first pick was noticeably later than previous years, due to a cool and rainy Spring in the valley and, most recently, from smoke from fires south of us in the Pacific Northwest.
Thankfully the smoke cleared and the valley is seeing a return to our usual autumn weather with plenty of warm, early-20s days and cool evenings in the forecast. We couldn't ask for better conditions for our varieties to slowly gain sugar while hanging onto the bright, crisp acidity we love in our wines.
Please visit the Tantalus Vineyards website to see their current portfolio of BC wines.
Joanna Schlosser | Niche Wine Company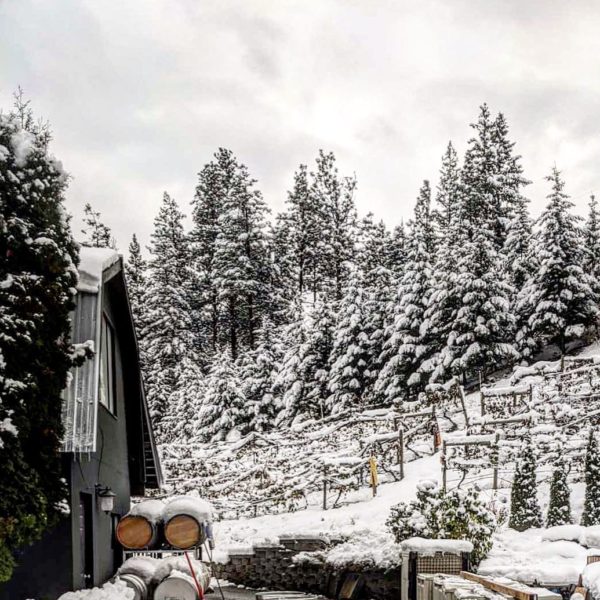 We kicked off this harvest with a bottle of bubbles to celebrate 10 years of harvest for Niche! Almost exactly 5 weeks later, we've crushed 12 tons of grapes from our own farm and an additional 6 tons from neighbouring farms in Osoyoos and Naramata— a far cry from the 3 tons we crushed in 2010.
You may have heard already that grape volumes were down almost 30% across the Valley but when it comes to grapes, a lower yield is not always bad news. The 2020 vintage delivered healthy fruit with beautiful flavour profiles. This confirms something we've known for quite some time — small can be mighty.
On Thursday we picked the last of the Pinot and not a day later Mother Nature delivered almost a foot of snow. Timing is everything! The Gewurztraminer, Chardonnay, Pinot blanc, and Riesling are happily fermenting in the winery and the Pinot noir and Merlot are cold-soaking snow-side. All's well that ends well and most importantly… wine is on the way! For more details, follow #nicheharvest2020.
PLOT TWIST SNEAK PEEK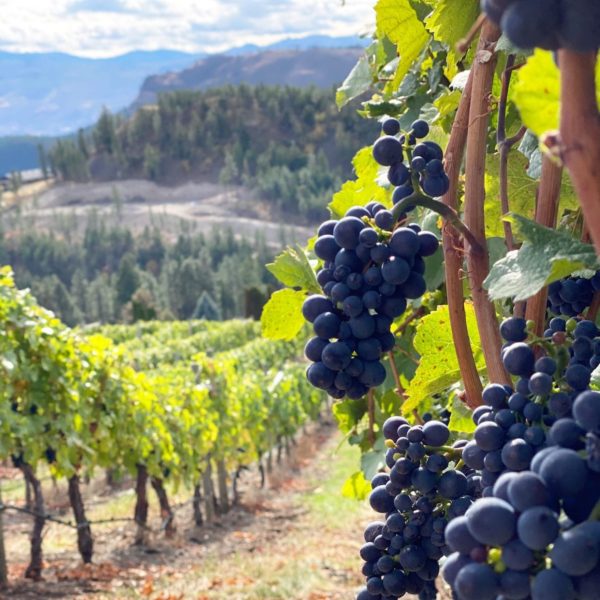 The Plot Twist Project is a series of wines inspired by our winemaker's need to experiment and our desire to deliver something exclusive to our club members! These wines are made with minimal intervention, maximum farming effort, and promise to be totally delicious.
This year, this series of wine will include the return of the Riesling, the introduction of a Sauvignon Blanc, and a one-barrel-batch of buttery Chardonnay.
Please visit the Niche Wine Company website to see their current portfolio of BC wines.
Peter & Anita | Scorched Earth Winery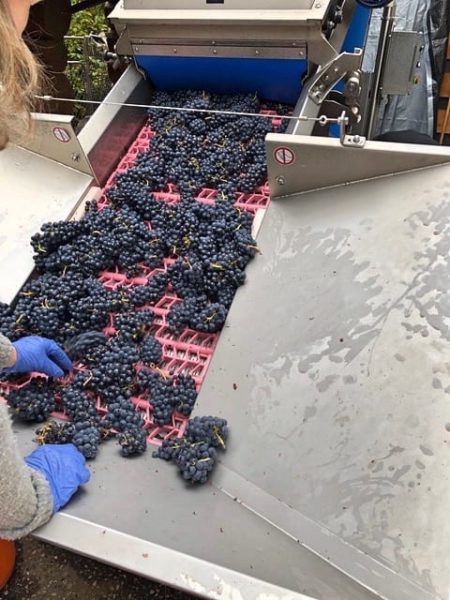 2020 was such an interesting year. The year started off great. It was the year of all years considering you'll only see 2020 once in a lifetime. But perfect vision it was not. The spring was rainy and too long and the summer was great but too short.
Fall came fast and we were looking forward to a perfect harvest. The forecasters predicted sun, sun, and more sun! But instead, it was sun, rain, rain, and rain. We were so lucky and were able to pick our vineyard clean before the unprecedented snowfall and cold snap.
The crop this year was smaller partly due to our resident bear and mother nature. For some reason, the weather made for smaller grape bunches.
Here's to 2021! Going to carry on doing the same thing and praying for great weather, oh and no restaurant closures!
Please visit the Scorched Earth Winery website to order their excellent BC wines.
West Kelowna
Jessica Vanmaele | Kalala Organic Estate Winery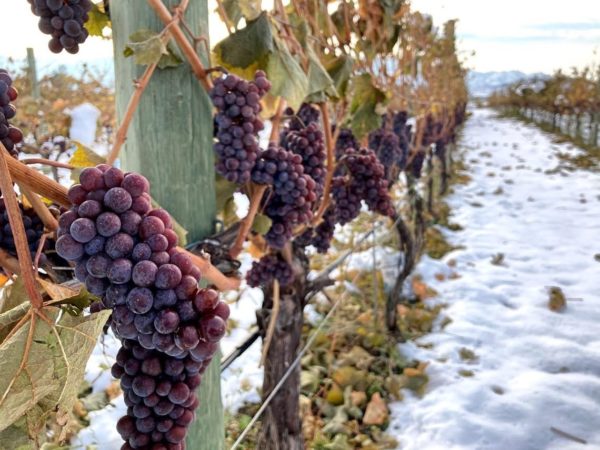 2020 was a crazy year for everyone, but thankfully we saw a really great year in the vineyards. The weather was hot and sunny with a few days of rain in between. We were very fortunate to have prolonged warm weather at the end of September and beginning of October which allowed us to hold off on harvest just a bit longer. The only issue we faced was finding pickers! This seemed to be the case across many vineyards' given the tight restrictions surrounding COVID however, we did find a great group of people and we finished our harvest on October 28th, 2020. Only 5 days after the Okanagan hit record levels of snowfall! We are thankful that we were able to harvest everything with no damage to the grapes or plants.
Our crop was slightly lower than 2019 however, no issues with the grapes or vines and the grapes we did harvest will produce excellent BC VQA wines. We only have a few rows left of Chardonnay that will become our 2020 Chardonnay Icewine!
Kalala Winery is also excited to announce our new Premium Wine Casks that we released just before harvest started. We released two currently, our Harmony White blend and Rose, and our Harmony Red blend is coming soon. Each cask holds 3 litres of wine or 4 bottles. Available online, at our wine shop, and at select private liquor stores in the Lower Mainland.
Summerland
Jordan Kubek | Lightning Rock Winery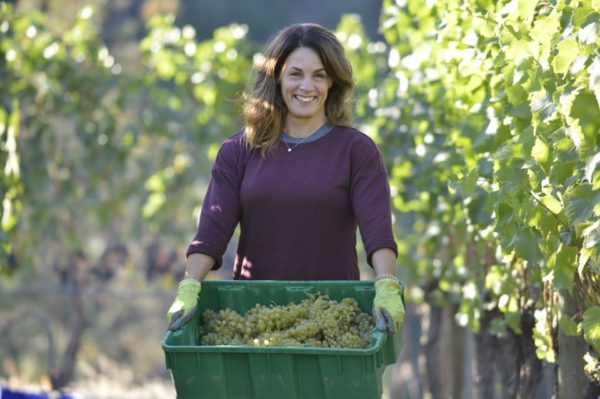 Something good to report in 2020, because it was our best year yet. Having now four years of experience with our three vineyards in Summerland, we dialled in the yield and organic practices we follow. We even started to follow the biodynamic calendar, picking and pressing on fruit and flower days as much as possible. Tasting through the cellar, we are excited with how alive and vibrant all the wines are tasting, especially our Pinot Noirs. To read more about Lightning Rock's Pinot Noir go to – Lightning Rock Winery – Sparkling Wines and More
Since our wines are either sparkling wines or varietals that are early ripeners the long, dry, September with mid 20 degrees days and cool nights allowed the grape phenolics to ripen without gaining excessive sugar. We had everything in and deep watered the vineyards a couple of weeks before the cold snap near the end of October, but we will see how the vines were affected in the Spring.
WINE RELEASES
Another great year for us was 2018. A long, dry and sunny growing season made fabulous Pinot Noirs. We recently released our two single-vineyard expressions. Elysia Vineyard is an east-facing slope of granite bedrock with thin alluvial topsoil. Canyonview Vineyard is south-facing terraces of loam and river stones, about 1km away. 2018 Elysia Pinot Noir is delicate and floral with loads of minerality and 2018 Canyonview Pinot Noir is warm baking spices and chalky cherries. Picked a day apart from each other and made in the same way it is amazing how different they are.
Please visit the Lightning Rock Winery website to order their excellent BC wines.
Penticton / Naramata
Wilbert Borren | Four Shadows Vineyard & Winery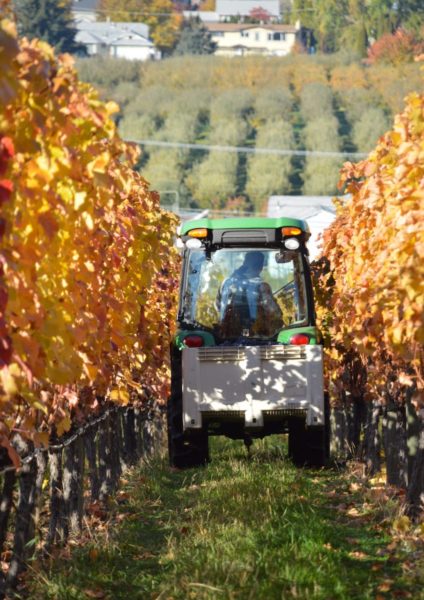 Along with most everything in 2020, the growing season kept us on our toes. With a warm spring, very cool and wet early summer (June/July), followed by intense heat and sunshine, then capped off by an early snowfall, we kept close tabs on our crops' response to the growing season's varied weather patterns.
On our 17 acre estate, situated at the southern end of the Naramata Bench, we are privileged to enjoy the advantage of growing every bunch of grapes used to produce our wines. This allows us to stay well acquainted with their progression throughout the entire growing season. While flowering was nearly two weeks behind average, the crops progressed very nicely through July, August and September.
Yields were slightly below last year, but the quality throughout our vineyard was consistently great. Harvest began around the usual date, on September 27th. We harvested Chardonnay over two days, and then had a very brief interval in picking while Pinot Blanc and Riesling reached the Brix we desired. The Riesling in the top block is extremely well-rooted, which allows the vines to draw deeply from the earth. We are very excited to see how beautifully this year's Riesling crop will reflect the terroir of our estate and the season.
This year's Zweigelt crop was absolutely exceptional, we were very excited to harvest such beautiful fruit over a few beautiful sunny days. Harvest wrapped up on October 19th, when we picked the last of our Merlot.
We kept crews small this season, and appreciate that we were able to conduct our harvest in a safe manner. The first of our reds have completed fermentation and already are showing great promise in the barrels as they begin the ageing process.
Overall, 2020 was a great season and we look forward to releasing some of our 2020 whites (including a new style for us) this upcoming spring.
Please visit the Four Shadows Vineyard & Winery website to see their current portfolio of BC wines.
Rob Hammersley | Black Market Wine Co.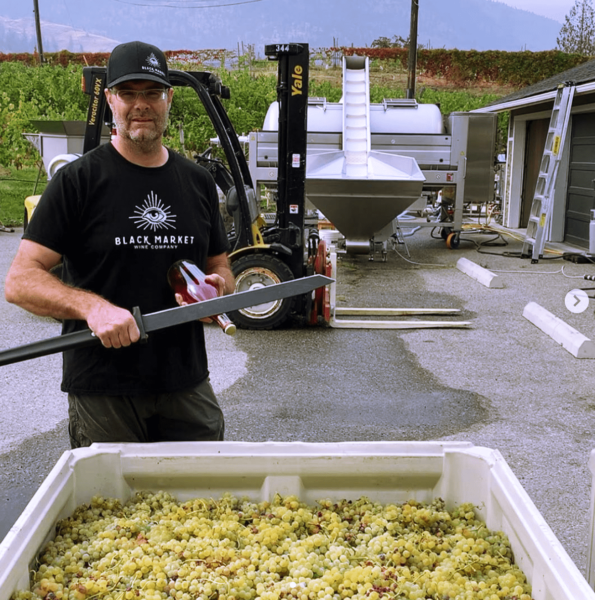 The lower elevations of our Conviction Vineyard are susceptible to winter damage, and we did experience some bud damage due to the February cold snap. While most of the vineyard is over 30 years old, I am endeavouring to improve the root structure on some of the younger vines to help them handle the winters better.
The estate winery yields are up slightly compared to the lower 2019 yields. Although the yields are generally down in the Okanagan, the quality of the grapes remains high.
Please visit the Black Market Wine Co. website to see their current portfolio of BC wines.
Okanagan Falls
Noble Ridge Vineyards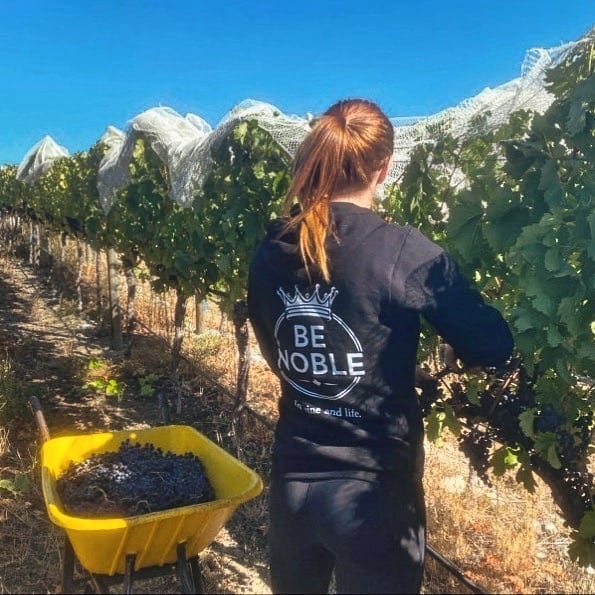 "What stands out in this vintage so far is the most amazing month of September. It really helped to bring out the fruit and flavour development. I'm a happy guy!"
Benoit Gauthier, Winemaker
"Harvest is an exciting time in the vineyard. The product of the growing season and hard work of the vineyard team comes to fruition. This year, the grapes were beautiful, the quality excellent and the yield was approximately equal to last year (which is extraordinary given that many vineyards experienced a drop in production of 10 – 30 %). Great job vineyard team!"
Jim D'Andrea, Proprietor
Please visit Noble Ridge Vineyards website to see their current portfolio of BC wines.
Osoyoos
Caroline Schaller | Osoyoos Larose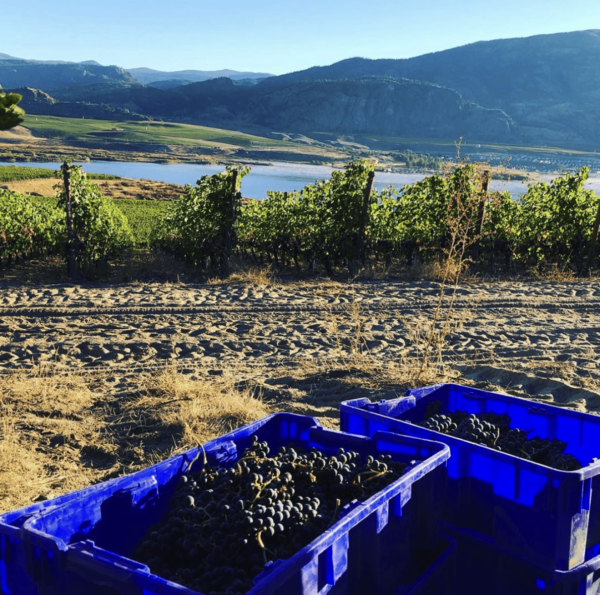 We had a long cold spring, finally, summer settled in mid-July. Thanks to the summer we are experiencing in the Okanagan, the vines have caught up with their delay and we even thought we would start the harvest earlier than in other years.
Then a period of smoke gave again delay to the vines. We started the harvest at the end of September with more a typical balance, the alcoholic degrees are lower and the acidity higher. The good thing is that with the lower sugars we were able to expect good maturity on the tannins. The frost came quickly, while we were picking the Cabernet Sauvignon.
We finished the harvest with Petit Verdot and were one of the last wineries to harvest the reds. The balances this year are really very interesting, the more complicated years here seem to be more interesting for the balances of the grapes and the wines then, the challenge is to manage to keep this freshness which will push the fruit in the wines. I am happy to have some fruit bombs in the cellar!
Conclusions
The low yields and excellent fruit quality means 2020 will be a stellar BC vintage. The wines have beautiful flavour profiles, higher acid and lower alcohol levels.
References
What can I expect from the Okanagan's 2020 vintage? Christopher Waters, Globe & Mail.
This article, including all images, was provided by Julian Park, BC Wine Trends. Link to original article here.