December should have been Kurt's month for the Tasting Ten presentation.  However, as we were in the time of COVID and we had been restricted to outdoor gatherings, he put this together for early October.  As it turned out, due to a cancellation, we held the tasting a few doors up the street from where we usually meet, at Wayne and Sal's Corkscrew Inn, where there was lots of space to be socially distanced.
In 2019, Kurt put together a flight of 2005 Bordeaux from the Haut Medoc and St. Julien regions. (See story here: https://myvancity.ca/2020/01/29/tasting-ten-2005-bordeaux-by-sam_wineteacher/) His 2020 presentation was a continuation of that theme, this time featuring wines from Margaux, Paulliac and Pomerol
There is an old quote about 'Drinking the Wines of Bordeaux'.  It goes as thus: "The French drink their Bordeaux wines too young, afraid that the Socialist government will take them away.  The English drink their Bordeaux wines very old because they like to take their friends down to their wine cellars with the cobwebs and dust to show off their old bottles.  And the Americans drink their Bordeaux wines exactly when they are ready to be drunk because they don't know any better."
Author unknown (From Windows on the World by Kevin Zraldy, 2008)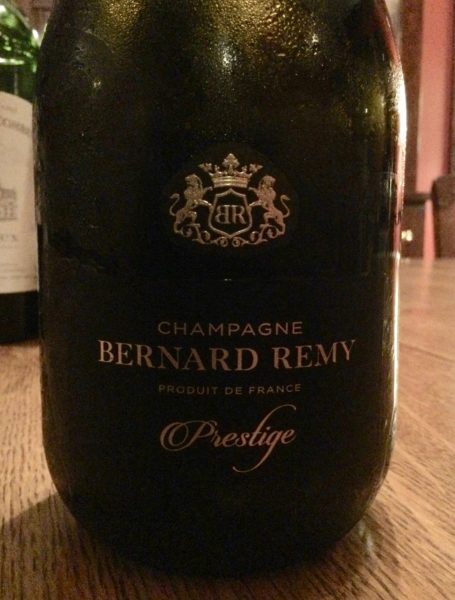 We began with a Champagne reception – Prestige from Bernard Remy, which is located a short distance from Reims and Epernay.  It is a blend of 60% chardonnay, 30% pinot noir, and 10% pinot meunier.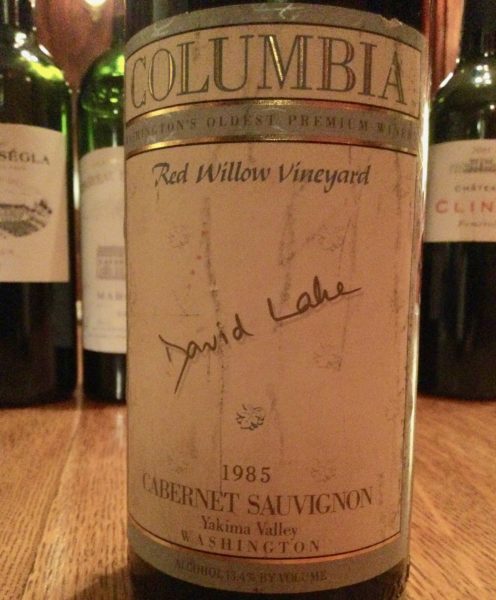 The first wine in the flight was in fact, not from France but rather a particularly old cabernet sauvignon from Washington state – A Tribute to David Lake MW from Columbia Red Willow Vineyard.  There was a little apprehension as to whether this 1985 wine had held up and was still drinkable or if it had reached its peak many years ago.  Could a Washington cab last for thirty-five years?  To everyone's surprise, it was quite drinkable and for some, rather enjoyable.
As these were big wines, Kurt aerated and decanted the wines three and a half hours before we arrived.
The next two wines were from the Margaux region of Bordeaux, the southernmost and largest commune of the Médoc.  The land here in the Médoc is very flat and borders the Gironde downstream from the city of Bordeaux.  In fact, "The name Bordeaux derives from 'au bord de l'eau', meaning along the waters." (Wine Bible, Karen MacNeil, 2001) Here, the soil is light and gravelly which means it offers little in terms of nutrients, but it drains well.  The region is considered to make the Médoc's most polished and fragrant wines.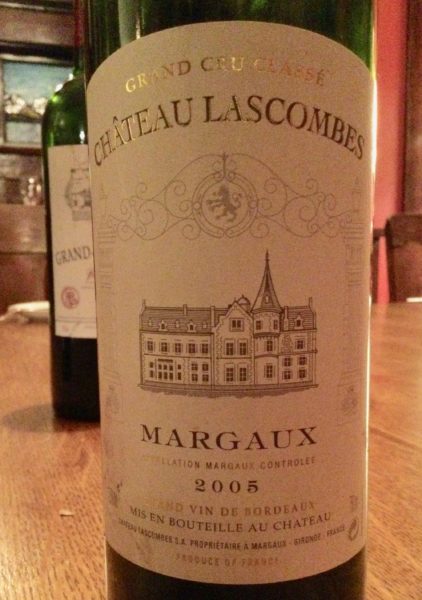 Chateau Lascombres
Interestingly, this winery was restored and expanded by Alexis Lichine and then later sold to Bass, the brewers of English beer.  (this was one of the most controversial wines of the night.  Half the group scored it as their lowest, while three others had it ranked highly).

Chateau Rauzan Segla
According to Jancis Robinson, this estate has improved greatly since the 1994 takeover by the family behind the Chanel fashion brand.
(nearly everyone rated this one highly)
These were followed up with two selections from Paulliac, a left bank region, just north of St. Julien in the Haut Medoc. This is the home of such iconic wineries as Chateau Lafite-Rothschild, Chateau Mouton-Rothschild, and Chateau Latour.  The terroir here is quite varied creating noticeable differences between chateaux.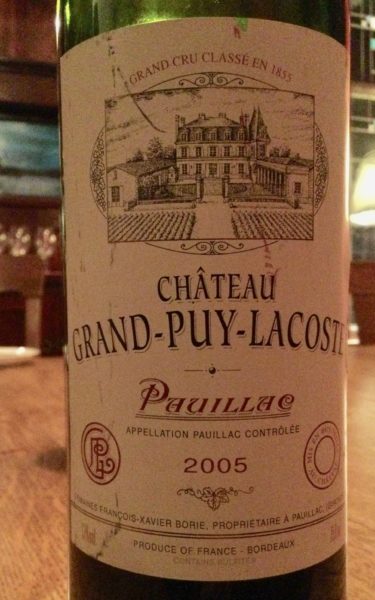 Chateau Grand Puy Lacoste
This is a site, very close to Chateau Lafite Rothschild, one of the top-rated Bordeaux Chateaux. Unlike many others, Lacoste has one continuous vineyard on the high ground surrounding its chateau rather than small properties scattered around the area.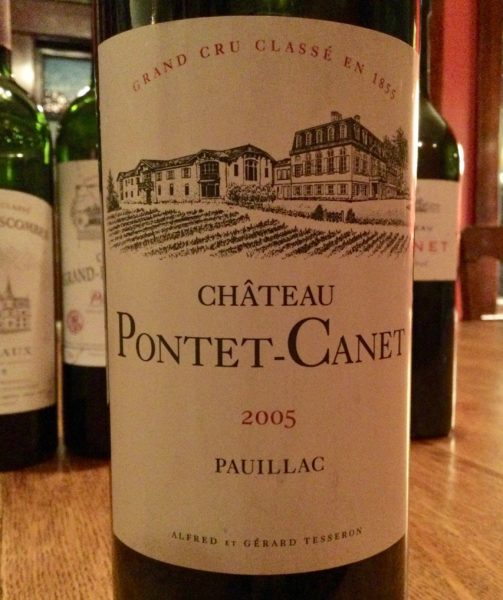 Chateau Pontet Canet
This winery sits on a 'croupes' or gravel mound (100 feet high) that it shares with Chateaux Mouton Rothschild about a mile and a half west of the Gironde.
The final red Bordeaux was from Pomerol, the land of Petrus and Le Pin.   Pomerol lies on the right bank (as you drift downstream) of the Dordogne River, not far from St. Émilion.  The soil here is very gravelly, with a little sand in some areas and some clay in others.  It is a small region, producing only 15 percent as much wine as St. Émilion.  Here, merlot (70-80%) and cabernet franc (approx.. 20%) are the key players.  Pomerol is a relative newcomer to fine wine production.  It has been described as the most hedonistic wine of Bordeaux.  As Jancis Robinson says, ". . . the consensus is that Pomerols are the gentlest, richest, and the more instantly appealing clarets."  It is also the smallest appellation in Bordeaux.  The chateaux are small family affairs and subject to change as individuals come and go.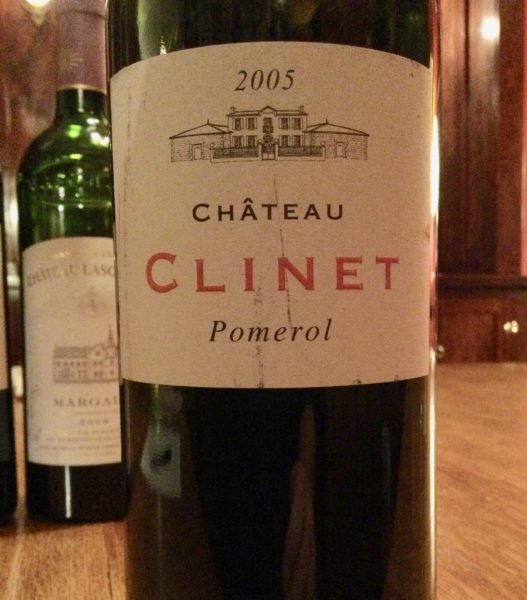 Chateau Clinet
This winery is a relatively new 'star' in Pomerol.
As with the previous tasting from last year, I found most of the wines to be young, in that they were still rather high in acid and tannins, though with the food at the end these were mitigated somewhat.  They were all good to very good, though none were excellent.  The two that showed best for me that evening were the Chateau Rauzan Segla and the Chateau Clinet (most people's favourite).
The takeaway?  If you are lucky enough to have some 2005 Bordeaux in your cellar, let them be, they still need time to rest.  If you want to open one sometime soon, aerate or decant for several hours before serving.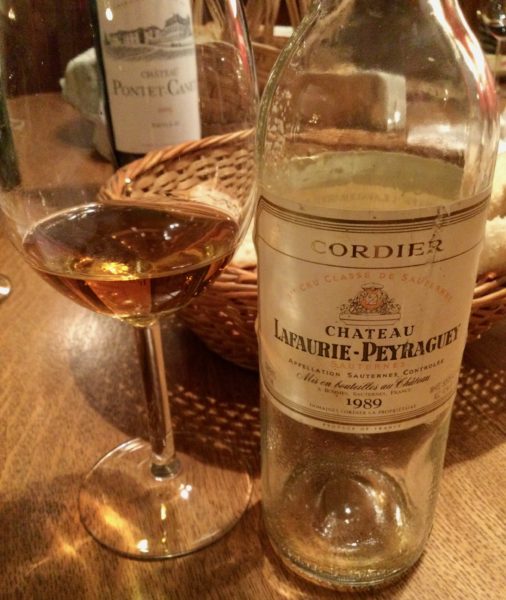 With the wonderful selection of bread, meat, cheese and dessert at the end, Kurt opened a bottle of wine from Sauternes, a 1989 Chateau Lafaurie-Peyraguey which was absolutely divine and for me, the highlight of the evening.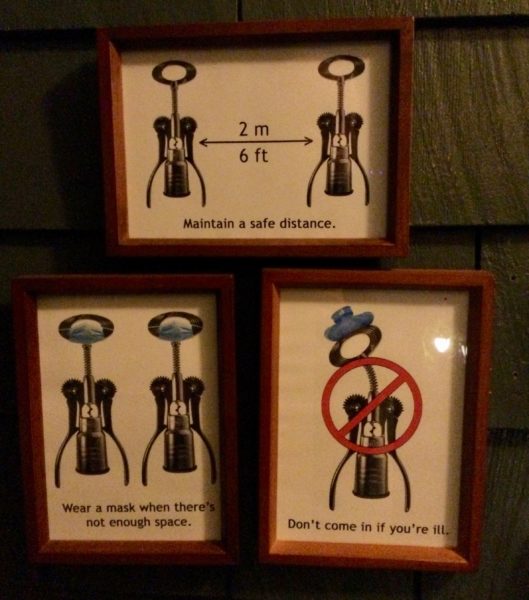 Then, Wayne took those who were interested downstairs to his Corkscrew museum.  It was fascinating, to say the least.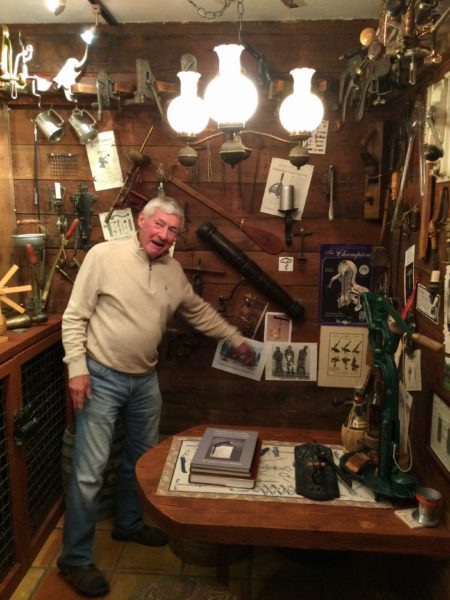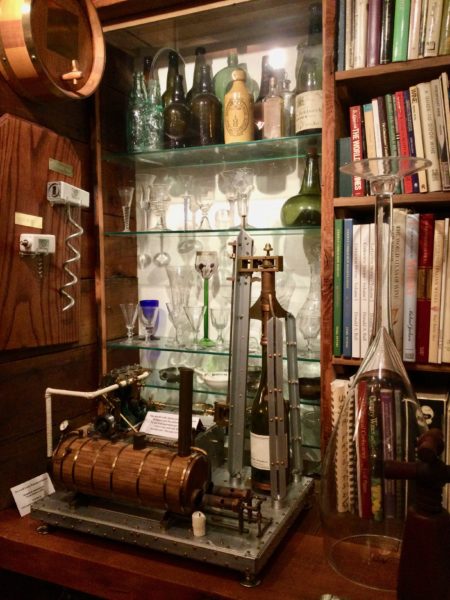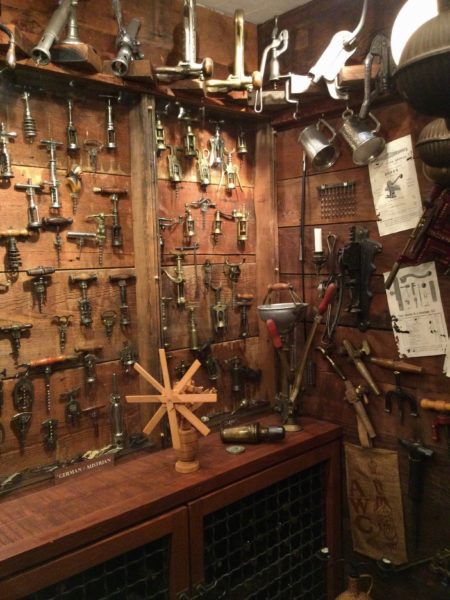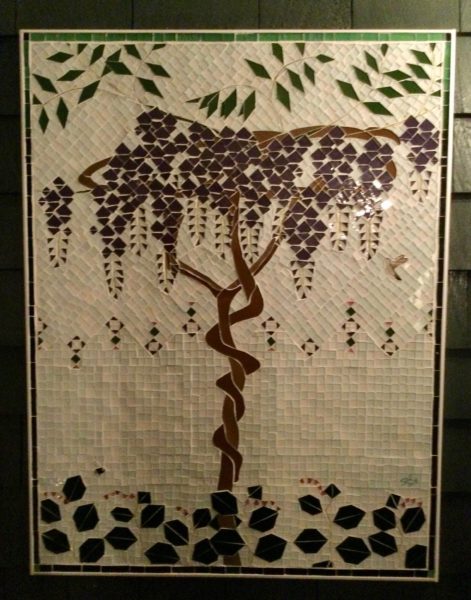 Sadly, this unique B&B has been one of the casualties of the COVID pandemic and has now closed to guests.  For more, go here:
https://www.corkscrewinn.com/home
(All photos – Sam Hauck)